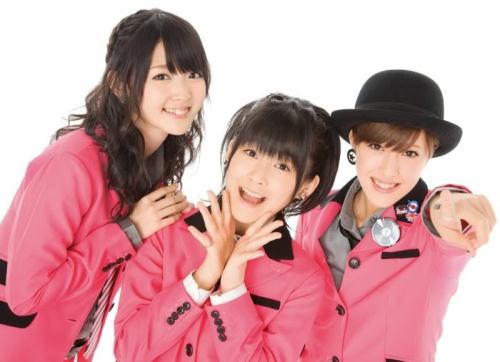 ♪ Buono! – Bravo☆Bravo ♪
Momoko's down with the flu, so we only have Airi and Miyabi in the studio today, which is a first. The girls wish her a speedy recovery and hope that the listeners take care as well.
Back to the usual, Miyabi announces that the day after the broadcast, 22nd of February, would be 'Neko no Hi' – 'Cat Day'. It's Japanese wordplay again – the twos can be read as 'nyan', which is the Japanese equivalent of 'meow'. Similarly to Inu no Hi, when you put it together, the 22nd day of February gets you 'Nyan nyan nyan'.
Airi: The Yurushite-nyan person isn't around for this broadcast though.
Miyabi loves cats, while Airi is allergic to them. Miyabi adds that while she's allergic to cats too, she still likes them (Airi: 'That's heartbreaking'). Allergies don't stop Miyabi from looking at them though, albeit against glass displays. Airi mentions that ℃-ute leader Yajima Maimi also likes cats, and has amassed a collection of cat photos. However, she's got dogs at home, which aren't getting replaced any time soon. Miyabi finds cats soothing, and would probably have cats if it wasn't for her allergies. Airi herself wouldn't, but notes that Momoko, even if she does go 'Yurushite-nyan', doesn't like cats.