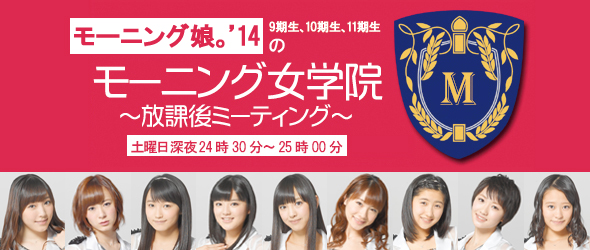 March 14 marks not only White Day, but also the beginning of Morning Musume's spring concert tour. Maa-chan thinks it might've been fun to throw chocolate into the audience at their opening concert to celebrate. Ayumin points out that the problem with this suggestion is that White Day is supposed to be a day when girls receive chocolate from boys, not the other way around. Maa-chan responds to this by saying that the members of Morning Musume are all boys — a claim which she doesn't elaborate on.
Song: Morning Musume '15 – Yuugure wa Ameagari
Random Topics
The hosts roll a dice to determine a topic of conversation

Maa-chan's talk topic: "Your ideal timetable"
Maa-chan immediately yells out "play time!" and the other two must explain to her that this is not adequate — she needs to plan it more like a schedule for a day of school. Maa-chan thinks about it a bit more, and comes up with:
1st hour: P.E.
2nd hour: game of tag time
3rd hour: lunch
4th hour: time for everyone to come up with new, fun games to play
5th hour: music
6th hour: movie watching time (includes popcorn)
Ayumin asks if "game of tag time" is separate from the hour of P.E. that precedes it, and Maa-chan assures her that it is, adding that she thinks she might propose this schedule plan to her teacher.