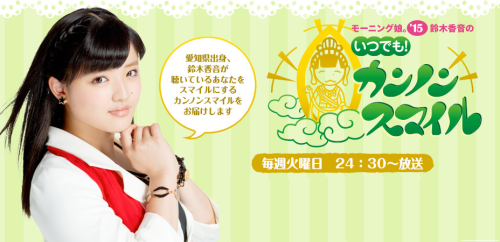 Maria is back for this show and Kanon starts two off with a discussion on their latest single. Starting with Sukatto My Heart, Kanon mentions that at the beginning of the dance, Maria is part of the small feature dance at the beginning of the song. When Maria found out she was chosen for that part with the four other members who were part of the dance team in Oh My Wish, she was super surprised and felt that she had to do her best no matter what. Moving on to Ima Sugu Tobikomu Yuuki, Maria-chan also has a solo part in this song. Initially, Maria thought for sure it would be a while before she received her own solo line because she isn't very good at being precise with rhythms. But, she paired up with Riho to work on things she felt she was bad at. During their concerts, when Kanon saw Maria was improving with practice, Kanon thought "Wow, she's working so hard!", since, she felt that Maria seemed like the type to not truly listen but actually is always listening closely to advice. For Kanon, she received a main vocal part on Oh My Wish! for which she is very thankful to receive. Lastly, they both recommend everyone checking these songs out.
Song: Morning Musume '15 – Sukatto My Heart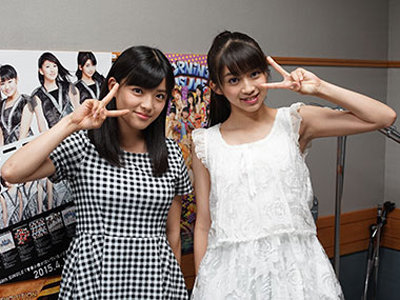 The two that hail from Aichi are back!
I, Suzuki Kanon Will Open Up To My True Feelings Message Corner!
Message 1: "Maria, please tell us your name origin."
As far as name origin goes, originally Maria was going to be named Rikako but, because of some sort of circumstance she doesn't really know about, her mother changed her mind. She named her Maria as it has a sense of "being loved by the world" and the last kanji in her given name is the kanji for love, which represents the "being loved" part. Kanon thinks that's a pretty great origin story. She asks if Maria has had any stories to tell regarding her name. She's a bit confused at first, but Kanon gives an example: when they were represented on a tv programs web page, she saw people seeing her name and commenting that the name had a wonderful feeling, 'like that girl must be really loved'. Understanding, Maria expands on her parents thought process, revealing her parents thought about just representing her name in katakana or hiragana, but then picked kanji for the name instead. Also, the name also holds meaning in English, which was also a nice factor.