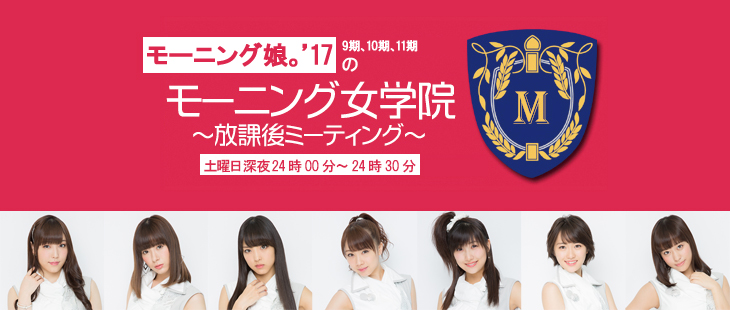 Oda-chan: What day is it today?
Iikubo: What day? Um, a normal day, heading into spring?
Oda-chan: Stop kidding around.
Fuku-chan: A day when spring makes an eager start?
Iikubo: Graduation season?
The bantering goes on for a while until Oda-chan reminds them that it's her 18th birthday.
Iikubo: You're still 18!?
Fuku-chan: You're already 18!?
Iikubo: Don't you have too much presence for an 18 year old? (laughs)
Oda-chan: You know, I've been called a thirty-six year old ever since I was fourteen.
Oda joined Morning when she was thirteen, so it's been five years – quite some time.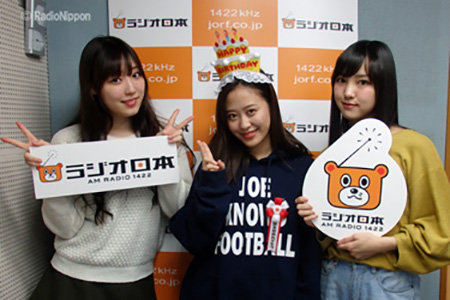 Opening Question
A word to the 13ki, and if you want to push it, to Oda-chan.
Fuku-chan: You're all unique, aren't you?
Fuku-chan suspects that the fans are familiar with Oda-chan's uniqueness. For Kaga-chan, Fuku-chan finds it difficult to respond to her words. And while Yokoyama-chan looks quiet, she's actually pretty aggressive. And then there's how the 13ki interact: things'll start with Kaedy teasing Yokoyama-chan, and Yokoyama-chan will come back at Kaedy with just as much force.
Iikubo: It's sometimes hard to get involved with you. Probably because of that uniqueness that Fuku-chan pointed out.
Iikubo doesn't know how to respond to them sometimes as well. Iikubo recounted an incident with Kaga-chan where Kaga-chan asked for shounen manga and anime recommendations. However, whenever Iikubo suggested something, Kaga-chan would say that she was familiar with the recommendation. Unfortunately, Iikubo couldn't figure out whether Kaga was familiar with them in that she had already gone watched or read the suggestions, or was just familiar with their names.
Oda-chan: 13ki really are like a married couple, aren't they? As for myself, I should become more efficient, right?
Watching the relationship between Reina-chan and Kaedy from the very start, Oda-chan can only see them as a married couple. A slim girl with short hair paired with a short girl with medium-long hair – Oda-chan likes that. And when she looks back on their relationship, when Kaedy teases Reina-chan, Yokoyama will responds with something or the other. The way Kaedy follows up, it's like she's apologising for her wife. Oda-chan does like the Renady pair.
Fuku-chan: Renady… That sounds nice, Renady…
Iikubo: Renady, huh?
Oda-chan: Doesn't it sound like some sort of legendary Pokemon? (laughs)
Fuku-chan: Like Celebi. (laughs)
♫ Morning Musume。´17 – Brand New Morning ♫