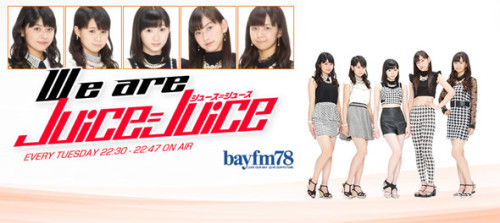 Lumpy
Karin brings us this opening word as she has come to the conclusion that she loves lumpy foods. She loves strawberries, as most everyone knows, and they're sort of lumpy and pulpy but she finds that it isn't just the taste she enjoys but the texture. Uemu asks if this goes for other things as well, like salmon roe, and Karin affirms that most of her favorite foods are on the lumpy side. She also prefers to have her drinks be thicker and pulpy, which Uemu says she also enjoys. Karin adds that she has noticed Uemu also shares this affinity for pulpy, lumpy things, since they both enjoy kiwi seeds and such in their juice whenever they get it, but she also remembers something that happened recently with Uemu and food. The Juice=Juice members all went out to eat and they asked Uemu if she wanted anything in particular and she said, "takenoko," or bamboo shoots. However, when the plate got to their table, Uemu started freaking out and asked why these perfectly normal bamboo shoots were so wrong. It turns out she had meant to order "kazunoko," or herring roe, instead. Uemu retorts. "But they look the same! They have the noko in common you know so it's easy to confuse them!" Uemu said what surprised her was that there had been a picture of the kazunoko that she was ordering from and they came out looking so different.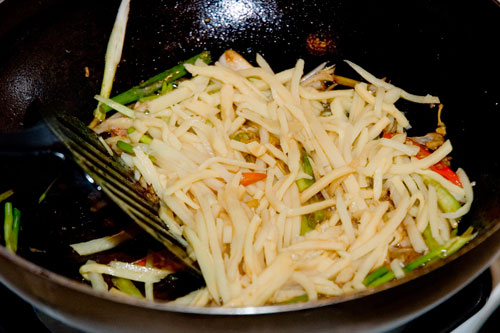 This is not herring roe, despite what the 'noko' might lead you to believe
Karin continues in the food discussion and asks if Uemu has any fall foods she's looking forward to eating. She says that roasted sweet potato tops her list, although she enjoys miso soup this time of year as well. Karin enjoys sweet potato as well, although lately whenever she really wants one she cooks it in the microwave to get it quicker. She discovered this when she wanted one but there wasn't anyone around selling them. She and Uemu both delve into their best sweet potato salesperson impressions as a result.
Song: Juice=Juice – Date ja nai yo, uchi no jinsei wa Continue reading →