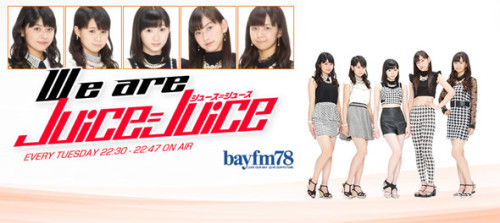 So in the quietest intro the show has ever had, we learn that Yuka is on the brink of losing her voice (which leads to the most pitiful "yay" I have ever heard sprinkled throughout the show) and so we wouldn't be able to hear her with any other noise happening. She assures us that she feels fine, just can't really talk. Kanatomo then reveals that because they are celebrating their 1st anniversary of their major debut, they will be having a special radio show this time with all five members.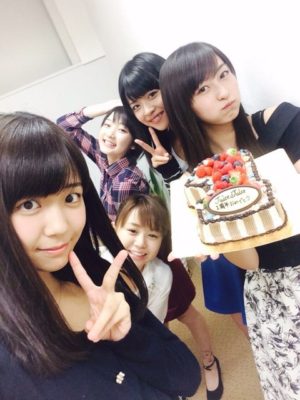 Kanatomo introduces the first song, saying that out of the two songs in their next single, Senobi is much more of the typical Juice=Juice fare. It's another in a long line of mature songs and has some lyrics about painful love and growing up, so she think it represents Juice=Juice very well. Sayubee says that at recent performances of the song, the audience members have sung the "woah woah woah" sections for them and it makes her very happy to have the fans involved with the song.
Song: Juice=Juice – Senobi
In celebration of their 1 year anniversary, they want to incorporate all 5 members into the Voice Blog in the next two weeks, as it is the specialty of We are Juice=Juice. This week, we have the three high school members presenting and reflecting on the past year with Juice=Juice.
Voice Blog(s)
Overnight Stay by Takagi Sayuki
Since starting their tour, Sayubee says that they have had a lot more occasions when they stay overnight away from home. She loves staying at the hotels and spending time with everyone, but she feels much lonelier after they check out and go back home. When they first started staying away, though, she felt even worse because she had gotten so used to seeing her family every day that not seeing them was strange and frightening. However, since she has done it more and more, she is now more okay with being away from her family, and that's something that makes her realize how much she has grown as a person in the past year. "Juice=Juice LOVE!"
Bangs by Miyamoto Karin
Over the past year the number of performances for Karin and Juice=Juice have substantially increased, and as such most everyone has probably noticed how much Karin sweats. She starts sweating on her head and it gets into her hair and by the end of the performance her bangs are all stringy and messed up. One time recently she sweat so much that she couldn't put her bangs back into place at all and she had to go to the post-show handshake event looking like a mess. She would like to be able to go through one whole performance without her bangs moving so that she can shake people's hands looking as good as she did when the show started. The past year has made it clear to her that she needs to do more experimentation hairsprays and other products to try and keep her bangs in place.
Let's walk to the Osaka Library by Uemura Akari
The radio show left a rather large impact on Uemu in the last year. When they first started she had no idea what she was doing and she was worried that she wouldn't be able to do it properly, but slowly but surely she has learned various skills.
Uemu: But, I figured I'd get the hang of things at bayfm pretty soon, and I learned new things, like how to wear the headphones and stuff, so I think I can learn lots of different things, like, someone can say hey, let's walk to the Osaka Library and, what did I mean, like, I want to become smarter, too.
It was an eventful year.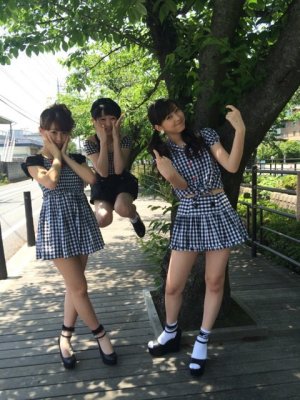 Song: Juice=Juice – Date ja nai yo, uchi no jinsei wa
Whistle
After the other members are done reeling from the shock of Uemu's Voice Blog, we find that the ending word (although there was no opening word, just the explanation of Yuka sounding pretty rough) is whistle, from Karin. According to the show's blog, when the members were doing a microphone check before the show, they were taunting each other and messing up their tests by whistling.