Kame: Gaki-san~!
Gaki-san: Yes?
Kame: It's already March!
Gaki-san: Yes it is.
Kame: So let's do our customary fashion check!
Gaki-san: … Customary? We've never done anything like that on the show.
Kame: Huh? Weren't we always the two fashion leaders?
Fashion leaders or not, Kame begins by introducing Gaki-san's fashion of the day. She says the theme of Gaki-san's outfit is "flying squirrels and the letter A." Whatever it is that she's wearing, Kame thinks it looks warm. Gaki-san thinks Kame's fashion looks quite grown-up today, with a knitted sweater and a glittery skirt. Kame reveals that she's wearing HEATTECH below — if you look closely enough, you can even see it.
Gaki–Kame: five-nk@interfm.jp
Kame: Hyyyyphen.
Gaki-san: five
Gaki–Kame: -nk@
Gaki-san: Dot… Argh, I lost track! five-nk
Kame: (Risa…! Risa…!)
Gaki-san: @interfm.jp. It's your fault for throwing in random hyphens!
Kame: Sorry. (laughs)
Song: Morning Musume – Genki Pikappika!
Fan mail #1: This listener sent a mail to the show simply to announce that they only recently became a fan of the group. Listening to this show and hearing how fun it is made them only a bigger fan, and they promise to keep cheering on the group from now on.
The hosts are happy to have received this message, appreciating its "realness." They hope this show will make the listener even a bigger fan of the two.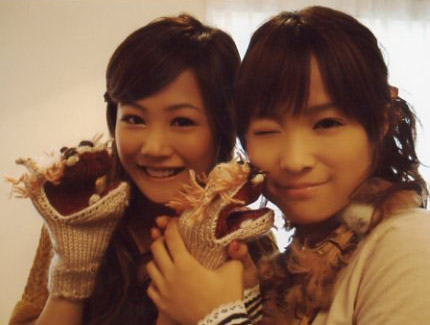 Fan mail #2: This message is a follow-up from a listener concerning a previous message of his. It's an update from the fresh professional kickboxer Cornflake, who wanted to ask the hosts to come up with a more intimidating ring name for him. He agrees that the hosts' suggestion of "Gon Breck" does seem strong — the name of someone who really knows how to throw a punch — but as the two also said that "Cornflake" is a good, unique name to begin with, he thinks he's going to keep using his original name. "If I ever become a kickboxer famous enough to appear on TV," he says, "please remember my messages to this show."
While the two did say that "Cornflake" is a unique name, they share a laugh over the fact despite them going through the trouble of coming up with a new ring name for the listener, he has no intention of actually using it. Kame suggests that it may be an issue of timing, but also questionable naming sense on their part. ("Gon Breck"?) Regardless, the hosts wish the listener the best of luck.
Fan mail #3: The listener has a sudden announcement to make. "They all passed their entrance exams!" They what? Who? Well, it turns out this message is also a follow-up to a previous mail. The listener is a cram school teacher and he's now learned that all of his 6th grade students managed to graduate safely into the junior high schools they'd applied to. He conveyed Kame's prior advice of trying to enjoy yourself and living in the moment to the students, and this message seems to have reached them.
The hosts are very happy to hear this, acknowledging the hard work of both the listener as well as his students. The two hope this sort of thing becomes a trend on the show — listeners sending them messages and then sending follow-up messages later to tell them how things worked out.
Song: Morning Musume – Onna ga Medatte Naze Ikenai
Gaki-san: five-nk@interfm.jp
Kame: …
Gaki-san: five-nk@inter
Kame: Hyphen.
Gaki-san: fm
Kame: Hyphen.
Gaki-san: .
Kame: Hyphen.
Gaki-san: jp
Kame: Hypheeen.
Gaki-san: That was "Onna ga Medatte Naze Ikenai" by Morning Musume.
Kame: (Hyphen!)
Song: Berryz Koubou – Otakebi Boy WAO!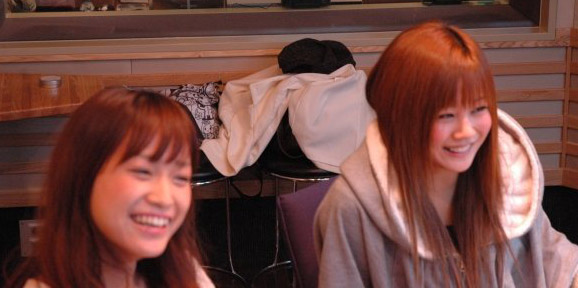 MY FIVE STARS
Gaki-Kame award five stars to whatever they're hooked on or interested in as of late
After some delays due to Kame's mind still being occupied with the coolness of "Otakebi Boy WAO!", Gaki-san starts to talk about what deserves her Five Stars this week: the 2009 Disney film Up.
Kame: Did you see the film?!
Gaki-san: I did!
Kame: Ooooohhh! As expected of you youngsters these days!
Gaki-san: Um, no, you and me are the same age. (laughs)
Gaki-san recommends that Kame go see this film as soon as possible. Whereas trailers indicated that it might be this really sad movie, Gaki-san felt that was only really the case for the first 15 minutes. She says it's only after that that the protagonist's (Carl Fredricksen) journey truly begins, which she says provides lots of laughs. She appreciates the protagonist's cuteness, and comments on how Ai-chan — upon seeing the Gaki-san's Carl Fredricksen cellphone strap — didn't get what was cute about it. She argues that one must watch the film to understand how adorable the character is.
And speaking of films, since Kame has been pestering Gaki-san about watching the Ghibli film Ponyo, Gaki-san finally went ahead and did just so. She admits: it was cute, and she watched it about three times. Kame wishes she could've gotten the honor of singing the film's theme song, but Gaki-san protests, arguing that it would've been pointless had it not been a pure, innocent girl singing it.
That said, this week's Five Stars are awarded to Up (not Ponyo).
★★★★★
Kame's music recommendation: lecca – For You
Gaki-san says this night's episode made her really happy, and Kame agrees. More importantly, though, she reminds Kame that as she has finally seen Ponyo, it's now Kame's turn to check out Up.
Gaki-san: We're waiting for all your messages! Go ahead and ask us anything, such as "how festive does Kame become at the arrival of spring?" et cetera. Anything goes!
[…]
Gaki-san: five-nk@interfm.jp
Kame: Is it okay for me to become even more festive than I am now? Is it okay?
Gaki-san: No. five-nk@interfm.jp
Kame: Is it okay for me to become even more festive than I am now? … Carl-Ojiisan.
Gaki-san: (laughs)