Kame kicks off the show by introducing a quick message from a listener, who wishes simply to inform them that Gaki-san's "here we go~" she does at the beginning of corners on the show is "really cute." Kame asks what her co-host thinks of this sudden confession of love. Gaki-san is glad to receive these words of praise, but explains that the only reason she actually says that is because otherwise Kame wouldn't understand that it's time to move the show along. It's more of a "Kame, come on, here we go! We're reading some fan mail next!" type of thing more than anything else. Kame thinks Gaki-san is pretty smart for coming up with this method all by herself.
Song: Morning Musume – Namidacchi
Gaki-san: Here we go~!
Kame: Okay!
Gaki–Kame: Let's read some messages!
Kame: To your battle stations!
Gaki-san: … You're listening to interFM Monday regulars, Morning Musume Niigaki Risa and…
Kame: Kamei Eri. (giggles)
Gaki-san: What the heck was that?! Going all "to your battle stations" or something… (laughs)
Kame: (laughs) I was just responding to your "here we go~!"
Fan mail #1: This listener's question is quick and to the point: "what is the sound G sharp like?"
Kame protests this question. Gaki-san points out that since the two are, after all, "artists," they should be able to tell this person what it sounds like. The two agree to sing a G sharp together.
Gaki-san: I hope that was helpful.
Fan mail #2: Another simple question: "which animal would you most like to have sit on your shoulder?"
Kame: Ah, yeah, there are lots of these. Like hippos and stuff.
Gaki-san: Hippos?!? Just how strong are you?! (laughs)
Kame: No, but I mean, there are quite many animals like that.
Gaki-san: Well, yeah.
Kame: Flamingos and such.
Gaki-san: (laughs)
Kame: (laughs)
Gaki-san helpfully explains that with questions like these, people usually imagine smaller animals sitting on their shoulders — such as flying squirrels. Gaki-san thinks a flying squirrel might actually be her choice as she really loves them. Kame first chooses Ponyo as her answer, but then changes her mind: "I'm going to go for Carl-jiisan!"
Fan mail #3: Yet another seemingly simple question. "This should be an easy question for Kame: what day is it on the 22nd of every month?"
Kame doesn't understand why this should be an easy question for her. "Does it have something to do with me?" The staff have no clue. The two try to go through several options together but fail in coming up with anything that could actually be the right answer.
Gaki-san: Try listing all the days that are specific to you then, Kame. Like, sleepy days?
Kame: Sleepy days, yeah. Pokepoke days…
Gaki-san: Half-assed days?
Kame: Half-assed days… Days I wanna go to the toilet…
Gaki-san: … I don't think that's specific to you.
The two give up. The right answer was "shortcake day." The reason? When you look at a calendar, every month above the 22nd you'll find ichigo (15, strawberry) — much like how you'll find strawberry on top of a shortcake. Kame feels that this was a complete trick question.
Fan mail #4: This question is from an 18-year-old girl who wishes to inquire which shoulder the two hosts hang their handbags on. The listener, by the way, prefers her right shoulder — "the left one is completely out of the question."
Gaki-san appreciates the brashness of the listener and how she completely refuses the usability of her left shoulder in this instance. The hosts, too, both prefer the right shoulder — they've both noticed that their bags tend to just instantly fall down from their left shoulders. Kame thinks that her right shoulder is physically lower than her left one because, unlike many other bad kids in school, she never left her books at school. As a consequence she was always carrying a very heavy bag on her right shoulder, and she thinks this has caused it to lower significantly — "like a playground slide."
Song: Morning Musume – Sayonara no Kawari ni
Gaki-san: five-nk@interfm.jp
Kame: Ahhh… (sexy moan)
Gaki-san: … five-nk@interfm.jp
Kame: Ahhh…
Gaki-san: Gross! Stop it! (laughs)
Kame: (laughs)
Gaki-san: That was "Sayonara no Kawari ni" by Morning Musume.
Kame: Ahhh…
Song: T-PISTONZ – Katte Nakou ze!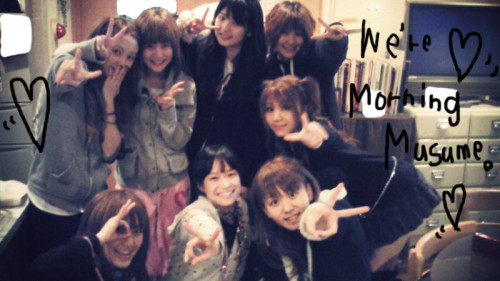 MY FIVE STARS
Gaki-Kame award five stars to whatever they're hooked on or interested in as of late
It's Kame's turn this week, and she wishes to award five stars to… Morning Musume medleys!
Kame: These girls are just really–
Gaki-san: Wait, "these girls?" Um, as in, us?
Kame: Yes. These girls are just amazing. They're so powerful!
Gaki-san: O-oh…
Kame: They made me really happy. Thank you, Gaki-san.
The other day, Kame went for some karaoke with her friends, and this Morning Musume medley of early songs they had at the karaoke place was apparently "amazing." She thinks it started with LOVE Machine → Summer Night Town → Koi no Dance Site → Daite HOLD ON ME. In any case, they had a great deal of fun singing it together. Thanks to a modest amount of alcohol that had been consumed by all, Kame says, they all captured the 16-beat perfectly — even her friends sang the songs flawlessly!
While it may now be her group, Kame is left with no choice but to give her Five Stars to Morning Musume medleys.
★★★★★
Gaki-san's music recommendation: Michael Jackson – Smooth Criminal
Gaki-san: We're waiting for all your messages! Go ahead and ask us anything, such as "when Kame starts to walk, which foot does she move first?" et cetera. Anything goes!