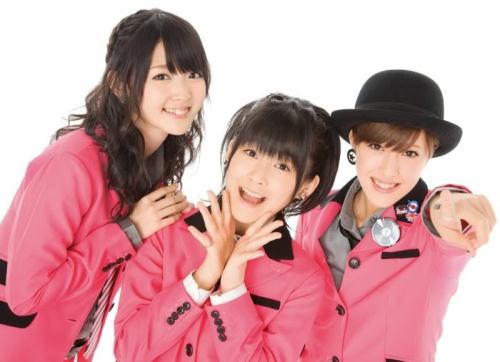 ♪ Buono! – co•no•mi•chi  ♪
Momoko announces that October 11th is Wink Day! Get a pen and paper ready. First, write the numeral '10', and then the numeral '11' below it, then turn the paper sideways. The first digits are the eyebrows, and the second digits become the eyes. Add more facial features, and you'll get a winking face!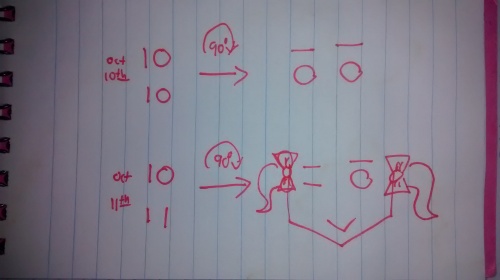 Airi points out that it was difficult to explain via radio, and praises Momoko for the good explanation. Momoko then adds that she has something interesting to share about the day, particularly for girls – 'On this day, when you wake up in the morning, if you wink a number of times equal to the number of (Japanese) letters in your crush's name, your feelings will be conveyed'.
Airi notes that the message is coming a bit too late, since the morning would be long gone by the time the show would be aired, and you'd have to wait until October the 11th next year to do it. Momoko suggests that it probably would be okay to do on the 10th of November as well, since you'd get the other eye winking (Based on the method outlined above). So, try it out on the 10th of November, and your feelings will be conveyed (Airi: 'We're just declaring that of our own accord, eh?').
Momoko: So for Na-Tsu-Ya-Ki Mi-Ya-Bi, I'd have to wink seven times, the moment I get up. So for Takenouchi Gonzaburou, how many letters would that be?
All: Ta-Ke-No-U-Chi Go-N-Za-Bu-Ro-U.
Momoko: 11 winks, isn't that a pain.
Airi: It'd build up your eye muscles.
Miyabi: Your eyes would go wonky.
Momoko insists that this is something that's she heard a lot though, to which the others respond to with an unexcited 'Is that so?'
Momoko: If you do this, and love blossoms, well, it's something I've never seen before.
(Giggles from the girls)
Airi (sarcastic): That's amazing, yeah, you'd definitely expect no less from Momochi.
Miyabi (sarcastic): Yeah, if it's Momochi saying it, there's no mistake. Let's do it.
Momoko: So please, give it a try.
Airi: On the 10th of November.
Momoko: The 10th of November. Please don't forget, the 10th of November.
After Momoko reminds people to note the date on their calendar, Airi gives a friendly reminder that the proper date would be the 11th of October. Momoko admits that the alternative date was something that they'd arbitrarily come up with, and she takes no responsibility.