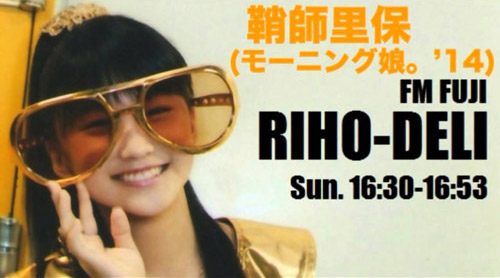 "It's the last day of August!" Sayashi thinks there are probably a lot of students out there who are rushing to get their summer homework done at the last minute. She can totally relate, and she hopes that RIHO-DELI can help them keep their energy up.
Song: Morning Musume '14 – "Password is 0"
During the summer vacation, Sayashi says she had a lot of photoshoots. One of them was with Juice=Juice's Miyamoto Karin. Up to now, they've never done anything with just the two of them. Sayashi says she was very nervous, especially because Karin is the same age as she is and is also very conscious about being an idol. Sayashi heard that Karin wakes up every morning at 6 to get ready. Then there's also the image of her being perfect: not only does she have fair skin and a cute and pretty appearance, she's also good at singing and dancing.
Sayashi: Ever since the photoshoot was decided, I'd been nervous. I thought, "I gotta get myself up to Karin-chan's specs!"
When the day of the photoshoot finally came, both of them were really awkward with each other. Sayashi says that normally, they don't really talk to each other much. Plus, they're both the kind of people who prefer to be alone even within their own groups and they don't really go out of their way to socialize with members of the other groups. As a result, the photoshoot was really awkward. The staff told them, "The atmosphere's interesting today. It's a new feeling!" and tried to make it sound like a good thing, but Sayashi thinks they were just being considerate and were actually thinking how awkward and unpleasant it was.
Deli-kun: But it's not like you were glaring at each other or something, right?
Sayashi: No, it wasn't like that.
Sayashi says they were both just being very polite with each other. Because Karin-chan was in Hello Pro Kenshuusei before she herself joined Morning Musume, even now, she's not entirely sure which one of them should be considered the senior. Sayashi recalls how they appeared together in a stage play when she had just joined Morning Musume and Karin-chan was still a Kenshuusei. At the time, Sayashi didn't know what to call her, so she ended up calling her "Karin-chan-san." After that, calling her "Chan-san" became a habit among the fans and it soon became Karin-chan's nickname. All of these things have contributed to their complicated relationship, and now when they talk to each other, they use a mix of honorific speech and casual language. Sayashi says things like this make her envy members who are more assertive. This made her realize that even though she enjoys being by herself, when she's working, she should try harder to expand her personal connections.
Song: Juice=Juice – "Romance no Tochuu"

Shuwa Shuwa Mail Corner '14
Of course, Deli-kun doesn't let Sayashi forget the challenge from the previous week. Sayashi has to hold the "One Four" part of the title call for 14 seconds. She failed last time, so she has to succeed this time. Otherwise, she won't be allowed to read the Shuwa Shuwa mail.
Here she goes:
"Shuwa Shuwa Mail Corner One Fooooouuuuuuuuuuur!"

Result: Success!!! She's exactly at 14 seconds! Sayashi is relieved.
Letter: "Konnichi-Sayashi!" After the Obon Festival, seeing the crowd get thinner and looking at the ocean are what make the listener feel that summer is ending. The listener wants to know what kind of moments make Sayashi feel the same.
Sayashi says there are a lot of moments that remind her of summer's end. One of them is when she sees others rushing to get their summer homework done. The same goes for her, since she's still a high school student, after all. She recalls how as a first grader, she completely forgot about her homework and had to stay up late on the last day to finish them. She cried the whole time she was doing them.
After joining Morning Musume, she has also been participating in the HP summer concerts, so whenever they do the last one, it hits her that summer's ending. There are a lot of things to look forward to, but just the thought that summer is ending makes her sad. But of course, she remains positive and says we must embrace the coming of the fall season.
Song: Abe Natsumi – Furusato
As the seasons change, Sayashi is reminded of Michishige-san's impending graduation. She wants to brace herself for it and cherish each day until then.
Closing:
Sayashi: Actually, I'm not done with my summer homework, either!
---
Note about "Karin-chan-san": Sayashi couldn't decide between Karin-chan (casual) and Karin-san (polite), so she combined the two.