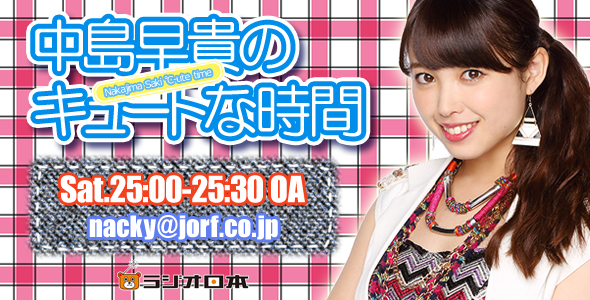 Commenting on Ikuta's question from Morning Jogakuin ("You and me don't really talk all that much, right? Or is it just me?"), Nacky says she actually felt a bit sad hearing this. She says that to Ikuta it might feel like they don't talk much, but to Nacky (what with her extreme shyness), Ikuta is definitely one of the juniors she talks with the most. Nacky asks that Ikuta recognize that she's giving it her best, and adds that she wishes for Ikuta to approach her more and more.
Looking back on the recently ended Hello!Con, Nacky's highlights of it include the performance by the H!P Dance Club during the KOREZO pattern of concerts. She appreciated how everyone was so serious about it, and it really helped her find the bad habits she had as far as her own dancing goes.
Nacky also talks about being really embarrassed over how she nearly forgot to get on stage during her song in the KOREZO medley. She was just getting her makeup done and talking with the makeup artist without a care in the world, but at the last minute she realized she was supposed to already be on standby and managed to get on stage in time.
Song: Tanpopo – BE HAPPY Koi no Yajirobee
Nacky says she has something she absolutely has to talk about this week: she announces that she finally managed to make the time to see one of aiko's recent concerts in Tokyo. Nacky's love of aiko is well-known and she has mentioned it on the show many times in the past. It was an absolutely amazing show, she says, and this is why she must talk about it.
This was the first time Nacky had attended a concert of anyone outside of H!P, and Buono! was pretty much the only experience she'd had of seeing a band in live performance.
First, she praises how great aiko's singing carried over the microphone, down to the sounds of her breathing. She also liked how aiko was moving around and dancing so much even if it was probably all freely improvised. It made Nacky smile throughout the whole concert.
Nacky also loved aiko's MC's. Even beforehand a staff member had told her to pay special attention to them as they tend to be really funny, but they still exceeded Nacky's expectations. She attended the concert with Maimi and Maimai, and the three of them were laughing all through the MC's.
While °C-ute for example will talk amongst themselves during their MC's, Nacky explains that aiko has a habit of talking with the audience members, and not only that, but she'll link the conversations together so it's not even a one-on-one discussion, but more like aiko is talking to everyone in the audience. This made Nacky really comfortable and it made her feel like she was one with everyone.
Another thing that made her happy was being able to take part in the "Men! Women! People wearing glasses! People wearing contacts!" (etc) call-and-response. At first she was kind of shy about responding, but when she saw Maimai next to her going all "yaaaaay!", that made her realize it was okay for her to do so, too.
Nacky especially appreciated a certain thing aiko said during an MC. aiko explained that during her tours she just stays home as much possible in order to avoid getting sick with anything, but that "if it's for the sake of being able to stand in front of you guys, perform live and have this much fun, it's no bother at all."
Hearing this really moved Nacky, and to her it really said a lot about just how good of a person aiko is.
But what really sealed the deal for Nacky was when she got to go greet her with Maimi and Maimai after the show. She figured that someone as famous as her would just give them a quick "thank you, come again" and send them on their way, but it was the exact opposite: aiko talked to them about all kinds of things. She asked them if they'd had fun, told them about seeing them on TV the other day, and even helped all three of them to pick just the right size T-shirt for them.
Nacky says aiko was as kind and courteous as anyone can be, that her singing and performing was amazing, and that ever since then she can't stop listening to aiko's songs on her iPod.
She thanks aiko for the wonderful concert once more.
Fan mail #1: This listener also attended the same concert as Nacky at NHK Hall on August 27. They were surprised when they happened to randomly see Nacky, Maimi and Maimai at the venue, but even more so, they were happy as they thought to themselves "ah, so Nacky finally gets to see aiko live."
Every now and then the listener would catch sneaky glimpses at Nacky watching the concert, saying she looked beautiful and almost like she was in love. Previously Nacky has played aiko's "Akai Lamp" on this show, and almost as if by magic, that's the song aiko ended the concert with — the listener jokingly suggests that it must be fate between aiko and Nacky. Finally, the listener asks Nacky to keep supporting aiko, and hopes to one day hear her sing one of her songs again.
Nacky apologizes because she has to move on as she's spoken way too much about aiko already, but thanks the listener for the wonderful letter.
Song: aiko – Ashita no Uta
Nacky says the time went by way too fast this week. She once again realized how wonderful aiko is as she talked about her, and hopes for °C-ute to become a group as wonderful as her.
Oyasumi Nacky
Nacky: As long as it's you… it's okay to have me all to yourself.