Henkka: This will be the last summary I'm going to do of °C-ute na Jikan for the time being. I'd really hope to pass it on to someone else, so if you think you might like to give a shot at translating this show (or any other show not yet covered on Hello! Pro Radio), please see this page.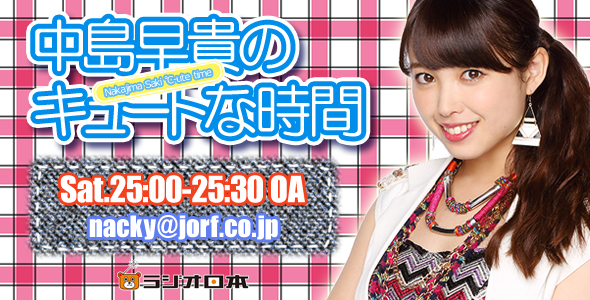 Responding to Maa-chan's question(?) from Morning Jogakuin ("Nakajima-san. I love yooou! Bye bye!"), Nacky comments that her message didn't sound very genuine. "If you really say you love me, then show it more properly," she protests, laughing. Still, her message gave Nacky the relief of knowing that Maa-chan is still the same old Maa-chan.
Commenting on the past few months, Nacky says she had a surprisingly relaxing summer despite all of °C-ute's events. Her main regret though is spending so many of her days off just sitting at home — she says it might be because she turned 20, but suddenly she dislikes being around large crowds of people. She thought about going to Disneyland, but when she looked up how crowded it was and how long the wait times were, she gave up on the idea. "There is no way I'm waiting three hours to get on a ride," she says.
Looking ahead, Nacky says she'd like to take the opportunity this autumn to do a lot of cooking with seasonal ingredients — her autumnal cooking repertoire is a bit lacking at the moment. She also wants to make lots of sweets: it's been about two years since she and Maimi promised to make mont blanc cakes together, a promise they have yet to fulfill.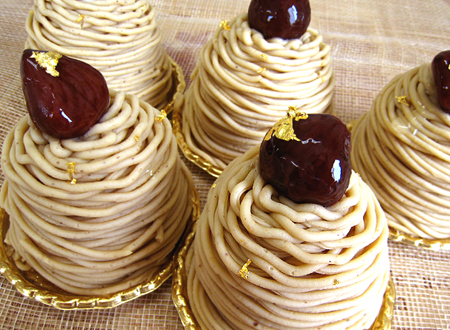 Song: °C-ute – Wasuretakunai Natsu
Mail Corner
Fan mail #1: This listener says they attended their first ever °C-ute cheki event last month. After they'd gotten their picture taken, Nacky had warned them that her nostrils might've been really flared right when they took the picture, but the listener assures her that she looks as cute as ever in the picture. They comment that Nacky and the rest of °C-ute's faces were really tiny and even cuter compared to how they look on TV and such. They thank Nacky for the great time and say they'll attend a similar event again in the near future if they get the chance to. Finally, the listener asks if Nacky has been requested to do any poses at these events that have really left an impression on her.
Nacky says she tends to feel like her nostrils are flared a lot when she's getting pictures taken, but is happy if this listener's picture turned out alright.
There's one pose that has especially left an impression on Nacky. She says she often gets told she has a fish-looking face, and as such, she was asked to do a pose where she pretends to be like a fish stuck on a hook while the fan is the fisherman. So there she was, acting like a fish while getting her picture taken. What's more is, this didn't happen just once: she's been asked to do this pose by at least five different people.
Fan mail #2: This listener sent in a mail for the "Hello! Pro Nandemo Best 3" corner where listeners can freely rank the top 3 H!P members in any category they want. The listener ranked the top three H!P members with the prettiest eyes. Their list goes as follows:
Nakajima Saki
Ishida Ayumi
Suzuki Kanon
While Nacky agrees that Ishida and Suzuki's eyes are indeed pretty, she's not sure why the listener put her as no. 1 — she says she tends to get bloodshot eyes a lot from wearing contacts. Nacky says her vote for the prettiest pair of eyes in H!P would go to Sayashi Riho. She's not sure when she realized this, she says, but Rihoriho's eyes are really sparkly, almost like a puppy's. Nacky says Rihoriho is also really good at performing and being confident for the camera when she's on stage, and her eyes play a big part in this.
Song: °C-ute – Sekaiichi Happy na Onnanoko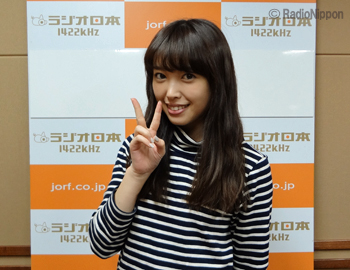 Fan mail #3: The listener is really looking forward to °C-ute's upcoming autumn tour and, as giving any spoilers about it wouldn't be good, asks Nacky to sum up the concert tour in just one phrase for the listeners.
Nacky would sum it up as a tour that's full of everything °C-ute wants to do. As Nacky has mentioned before, even the setlist was decided by °C-ute who then consulted the staff and Tsunku about it, down to even minor changes they wanted to have for the songs, song order, outfits for each song, etc. So the upcoming concert is very much a °C-ute production.
They were initially supposed to do this for last year's autumn tour already but it didn't work out, so the planning for this tour has thus been a full year in the making. While Tsunku has always written °C-ute all kinds of songs, ranging from cute to cool, Nacky says that for this tour the spectrum of songs will be even wider than any of their concerts tours thus far.
Nacky asks, or rather, begs for listeners to attend even one performance of the tour if they can: it's really going to be worth it.
Fan mail #4: The listener attended Juice=Juice's first concert tour, the same one Nacky has expressed desire of seeing herself. They report that Juice=Juice performed all of their singles in full, as well as covers of Pucchi Moni, Tanpopo, Ongaku Gatas, Taiyou to Ciscomoon and even °C-ute's "Kanashiki Heaven." They say everyone's performance abilities have improved a lot, and recommend that Nacky goes see them live if she can.
Just the other day Nacky saw the music video for Juice=Juice's "Date ja nai yo Uchi no Jinsei wa" and thought they were all too adorable in it, and that their expressions have developed so much. She says really wants to go see them, especially as she loves their songs.
Fan mail #5: This listener, too, attended a cheki event last month. They got increasingly nervous before their turn, and when they finally stepped into the booth and were greeted by Nacky, they were instantly in high spirits. They admit to not remembering much of the actual photo being taken and when they were about to leave, they were still so nervous that they were accidentally trying to exit the wrong way until Nacky said "it's this way~." Still, it's a wonderful memory for them and they now carry their two-shot picture with Nacky in their bag so they can look at it at work and such to cheer them up when they feel down.
Nacky totally understands how some people get nervous and assures the listener that it's fine: other people have tried exiting the booth the wrong way, too. Nacky says that hearing fans say how they look at pictures they've taken with her or listening to their songs to cheer them up is what makes her glad to be doing this job. It makes it all worth it for her. Nacky says she wants to be someone who can cheer up all kinds of people with her work, and she wants to continue being cheered up by the fans herself, too.
Oyasumi Nacky
Nacky: Will listen, won't listen, will listen, won't listen… will listen! Right, so you're going to listen to °C-ute na Jikan again next week. It's a promise!
Henkka: This will be the last summary I'm going to do of °C-ute na Jikan for the time being. I'd really hope to pass it on to someone else, so if you think you might like to give a shot at translating this show (or any other show not yet covered on Hello! Pro Radio), please see this page.