Continuing on from last week, Momoko will again be presenting the special programme 'Pâtisserie Momochi'. Sadly, it'll be ending with this week's episode. Time really did fly past, and she wonders if it turned out all right.
It's almost April, which marks the start of the new school year, as well as the time of the year when graduates enter employment. As such, April is usually considered a time of beginnings and a time when people start on a new life.
To those who are exhausted with work or with their private lives, as the pâtissière of Pâtisserie Momochi, Momoko would like to lift your spirits with her sweet and yummy talk.
  ♪ Buono! – Kiss! Kiss! Kiss! ♪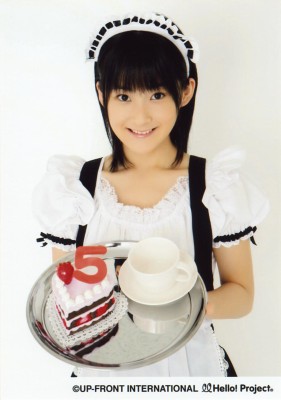 Solving your bitter worries in a refreshing way
Pâtissière Momochi's sweet recipe
This week we hear from a 31-year old office worker, who loves idols and music. He's long harboured ambitions to be a lyricist. This has led him to fill a notebook with original compositions, aiming to capture the feelings of a teenage girl through his lyrics. However, he misplaced that notebook at the office. Now, he can't help but get worried about the off-chance that his colleagues would see the contents of the notebook. 'Please soothe this unpleasant feeling somehow.'
Momoko wonders if the listener wrote his name on the cover. Well, an office worker probably wouldn't. If that's the case, he could just go around asking people at the office, 'My daughter lost her school music notes, it seems that it got mixed with my office documents, might you have seen it?', expecting his colleagues to react on the lines of 'Huh, it's your daughter's!?' Although there would still be the risk of them noticing that the contents weren't written in a girl's handwriting.
Momoko herself doesn't think that it's anything to be embarrassed about. If he's saying that fully getting into the feelings of a teenage girl is embarrassing, then that would be the same as saying that Tsunku♂-san is embarrassing.
 Momoko: That would be rude to Tsunku♂-san! Tsunku♂-san's amazing, just so you know.
Tsunku♂-san really expresses a girl's feelings through the lyrics he writes, although Momoko herself doesn't get it sometimes. Having put himself into the role of a girl, Tsunku♂-san brings his music out to the world, where they become big hits. Momoko thinks of that as something wonderful, so she hopes that the listener has confidence in himself. And if his dreams come true someday and he becomes a renowned lyricist, Momoko would love to perform one of his compositions as well.