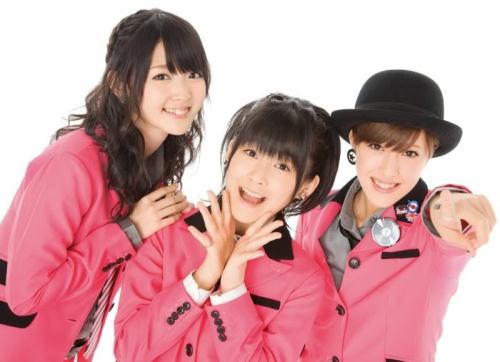 ♪ Buono! – Bravo☆Bravo ♪
Momoko's down with the flu, so we only have Airi and Miyabi in the studio today, which is a first. The girls wish her a speedy recovery and hope that the listeners take care as well.
Back to the usual, Miyabi announces that the day after the broadcast, 22nd of February, would be 'Neko no Hi' – 'Cat Day'. It's Japanese wordplay again – the twos can be read as 'nyan', which is the Japanese equivalent of 'meow'. Similarly to Inu no Hi, when you put it together, the 22nd day of February gets you 'Nyan nyan nyan'.
Airi: The Yurushite-nyan person isn't around for this broadcast though.
Miyabi loves cats, while Airi is allergic to them. Miyabi adds that while she's allergic to cats too, she still likes them (Airi: 'That's heartbreaking'). Allergies don't stop Miyabi from looking at them though, albeit against glass displays. Airi mentions that ℃-ute leader Yajima Maimi also likes cats, and has amassed a collection of cat photos. However, she's got dogs at home, which aren't getting replaced any time soon. Miyabi finds cats soothing, and would probably have cats if it wasn't for her allergies. Airi herself wouldn't, but notes that Momoko, even if she does go 'Yurushite-nyan', doesn't like cats.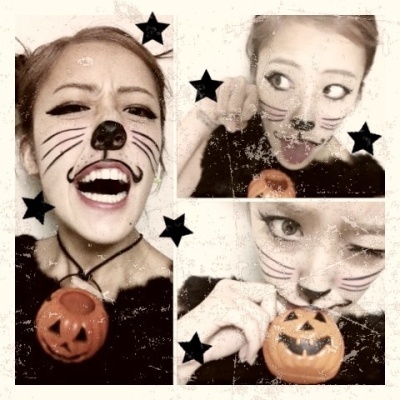 ♪ Music ♪
Today's discussion topic: Something that made me so happy I wanted to shout it out.
Miyabi: Anything like that recently?

Airi: You know, recently, it's been nothing but sad things.

Miyabi: (Laughs) In all sorts of ways, huh?

Airi: In all sorts of ways… It's because of you guys, nothing but sad things.

(Both laugh)

Miyabi: Really sounds like you're being abandoned.
Since they've always been together for about 13 years, Airi just can't begin to fathom this feeling of sadness, it's a first experience to her, like what the heck is happening? Miyabi understands, since she too has been noticing that everything's coming to an end, and they're slowly talking about their 'Last this' or 'Last that'. But due to their impending hiatus, there have also been a lot of surprises for Berryz Kobo, so she'd like to shout out a thank you.
This isn't something that she feels deserves being shouted out, but Airi brings up that with the influx of many new Hello! members, they received a lot of chocolates from virtually all their kouhai at the Valentine's Hello! Con.
Airi: Berryz Kobo and ℃-ute were sharing a dressing room, and we were having a Hello! Project concert at the time. The staggering number of people who came to our dressing room had me thinking 'Is this a chocolate factory?'
Miyabi adds that the dressing room was filled with the smell of chocolate. Perhaps this is how popular guys feel? As this was Berryz Kobo's last Hello! Con, it was good that they got to savour the amazing feeling of having lots of juniors. Airi feels that there was a huge difference in numbers compared to last year. She highlights the hard efforts of H!P Kenshuusei Hamachan in particular, who had gifts for the members and all the Kenshuusei.
Airi: I'd be looking forward to White Day, but you won't be around for White Day, will you? (accusatory tone)

Miyabi: That's all right, I might wander into the office to pick them up.

Airi: You'll come for them? I'll be waiting.

Miyabi: Airi's handmade chocolates and cookies are really delicious.

Airi: Eh… So… I'll be waiting, okay…

Miyabi: After that… maybe I'll fade into the background.
Himitsu no Dengon Note
Secret voice note
This weeks voice note comes from a 32 year old guy who's working at an IT company. He'll be transferring from Tokyo to Fukuoka. Although he's excited to get a new start, he's currently in a relationship. Both of them easily get lonely, so  they don't think that a long-distance relationship would work. So he wants to get married and bring her to Fukuoka. 'What should I do?'
The girls basically conclude that he should just tell her about it. Perhaps he should come for advice once he's done that. Airi finds the 'easily getting lonely' part adorable, though (Airi: 'It's like rabbits'). Which suggests that they should be lovey-dovey, so it's pretty likely that she'd follow. Depending on her work.
Airi suggests he try tempting her with food. Like, 'the motsunabe there's delicious'. Plus, since he'll be going to Fukuoka, Airi also brings up that Tokyo-ites are weak to the attraction of girls with dialects. She remembers seeing in the news that it's easy to fall for girls with dialects, girls from places like Osaka or Fukuoka, these girls are popular. Airi makes an attempt to speak in these dialects, and immediately apologises if she ticked off any listeners with her bad attempt.
Coming back to the topic at hand, the first thing is the girls think he should do is just tell his girlfriend that he wishes her to accompany him. Airi thinks he might as well go ahead and propose. And even if that doesn't work out, he can go to Fukuoka and get a girl with dialect over there.
Anyway, they don't think it's up to them to simply make life-changing decisions for him. In the end, they come back to the same thing – he should tell his feelings to his girlfriend.
♪ Buono! – Minna Daisuki ♪
And finally, the announcements. While Miyabi promotes Berryz Kobo's last concert in the Nippon Budokan, you can hear Airi grousing in the background.
Miyabi: ℃-ute will be coming too.

Airi: Of course we HAVE to go. I doubt out managers would assign us work on that day.
After Airi is done with the ℃-ute announcements, Miyabi announces that next week's show would be the 100th (Airi: 'Yay, 100th~!'). And… that next week would be the final broadcast of the show (Airi: 'Look at how I've gone from completely joyful to not.').
Airi: Ending at the 100th, see, it's nothing but sad things.

Miyabi: With each beginning, there is an ending. It can't be helped.
Miyabi comments that they might meet again sometime. They'll all be working hard on their respective paths. Airi feels that perhaps the person who'll be saddest would be Baron-san. The show might turn into 'Trattoria Baron'. And he'd receive letters from the 3 girls of Buono!, asking for advice.