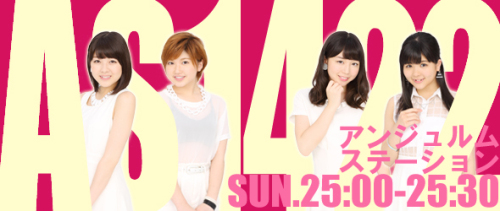 Setsubun
So, after my successful frantic attempts to translate all of Maro's blog before she graduates ( 🙁 ), I will resume my frantic attempts to catch back up on radio translations, hooray! At the point of this broadcast, Setsubun, the traditional Japanese first day of spring (which is well before the actual first day of spring and well before it actually stops being cold outside), is coming up. One tradition within Setsubun is the eating of Ehou Maki, or "lucky rolls," a rolled sushi comprised of various ingredients that are supposed to bring about good fortune. Rinapuu opens this show by asking if Kananan likes this tradition.
Kananan: Ummmmmmmmmmmmmmm
Rinapuu: Stop it.
Kananan: mmmmmmmmmmmmmmmm
Rinapuu: Hurry up and answer.
Kananan: Yeah.
Kananan says that she always ate them back home in Kansai, but since moving to Tokyo and Kanto, she's noticed that they aren't as common in this area and it's been difficult to find them. This is sad for her, because she has fond memories of eating them with her friends and family. To maximize one's luck with the Ehou Maki, it must be eaten facing the luckiest direction for that year (Rinapuu: "Which way is that?" Kananan: "I have no idea!") and in silence. The silence part is what Kananan has always had most trouble with, because being around people and not being able to talk just makes her laugh. Then, as she looks around at other people's faces, she inevitably mutters, "Somebody say something," then immediately recoils in horror because she realizes that she just broke the silence. It's a fun holiday for her.
New Single PR
Because ANGERME's first single is set to come out soon, Rinapuu encourages Kananan to talk about the songs so that everyone can learn more about them. Taiki Bansei is, of course, a Takui song that he wrote for his own album, but according to Kananan, some staff members approached him and asked if they could use the song for Ange's purposes. He complied and rearranged it for them. Kananan tells everyone to watch MUSIC+ on YouTube to see some footage of the instrumental recording as well as footage of the members recording the chorus and other background vocals. The lyrics are also important, because they push the listener, especially those among us who are late bloomers, to keep doing their best because we only have the present. This also encourages Kananan, as it is particularly relevant to her and the reborn group.