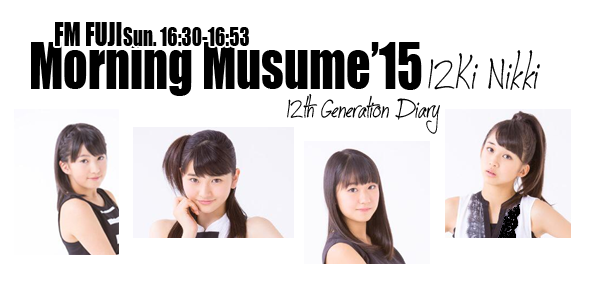 Nonaka Miki and Haga Akane are here for our enjoyment today. As they get ready to start, we get an echo from the Maria/Ogata pairing where they admit that, other than small talk, they don't really talk at all.
Song: Morning Musume – Seishun Collection
In honor of the fact that they're finally going to be talking together, Nonaka, who is in charge today, would like to examine their relationship and how they seem to each other.
Nonaka: For me…. Haga-chan is..
Akane: Eh! 'Haga'-chan?
Nonaka: (laughs)
Akane: I think this is the first time I've heard you call me that.
Nonaka: Ah.. yeah… usually it's Akane-chan.. but anyway..
What Nonaka wants to highlight, is that she loves the way Akane reacts to things. She always reacts loud and dramatically. For example, when she'll accidently hurt herself, she won't just say 'ouch' normally, she has to call out loudly "OUUUUUCH!!!" So at first, when they had all just met, whenever that had happened the rest of 12th Generation got really worried, asking if she was all right. But now… they don't react at all to it.
Akane: It's like I'm talking to myself…
Akane: Well… actually, I do talk to myself a lot, so sometimes when I'm really trying to talk to people, they won't answer me.