Juice=Juice's Miyazaki Yuka is this episode's navigator. Juice=Juice recently wrapped up their tour at Kanazawa, in Yuka's hometown of Ishikawa prefecture. As Juice=Juice's first hall concert in Kanazawa, Yuka was nervous at first. But as it also was their final concert for that tour, it was a really wonderful show, everyone was enthusiastic, and even the fans had wonderful smiles on their face.
All the members also got to eat at Hachi-ban ramen, a major ramen chain in Ishikawa. The noodles are thick, so it might not seem like ramen at first glance to outsiders. However, it received the approval of ramen-loving Kanazawa Tomoko-chan. Yuka hopes that they'll all be able to go to Hachi-ban ramen again.
Whenever Juice=Juice hold performances in Kanazawa, Yuka's family will never fail to buy them gifts. At first Yuka told her family that it wasn't necessary, but she then realised that her family enjoyed giving gifts – and Ishikawa has plenty of things that make good gifts.
♫ Juice=Juice – Umaretate no Baby Love ♫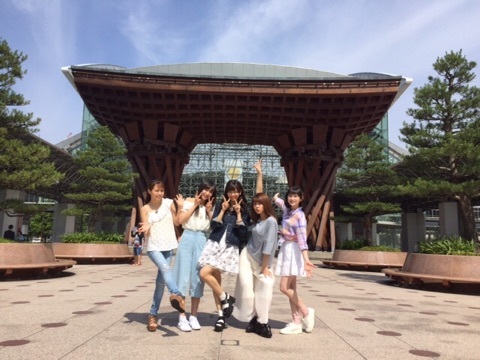 June marks the beginning of the rainy season in Kanto. Yuka elaborates on types of rainfall – 'Otokozuyu', where it rains heavy but ends quickly, and 'Onnazuyu', where the rain is light but prolonged. When Yuka thinks about the rainy season, she's normally got onnazuyu in mind, rain that goes on the whole day. Heavy but short bursts of rain bring to mind the squalls that happen in Okinawa.
The rainy season also means that it'll often be cloudy, which may lead to a heavy mood. But listening to the sound of the rainfall relaxes Yuka. In fact, when you look up 'relaxing sounds', a bevy of rainfall recordings turn up. She recommends looking them up if you're interested.
And speaking of the rain, the person who pops to mind is none other than Yajima-san. Yajima-san had recently talked about no longer being an ame-onna – a woman whose presence brings along the rain – but Yuka doesn't feel that's the case. There's such a strong association between Yajima-san and the rain that the official Hello! Shop even released a Yajima umbrella. Yuka finds it very much like Yajima-san to be willing to take the Mickey out of herself, humbling herself to illustrate and promote the umbrella.