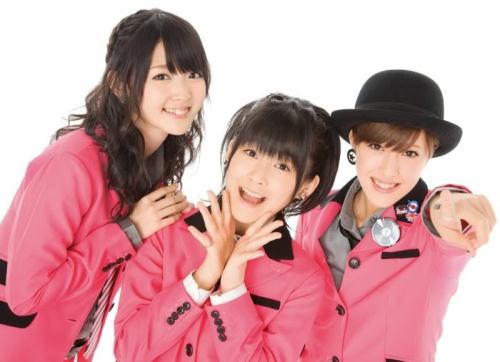 ♪ Buono! – We Are Buono! ~Buono! no Theme ♪
Momoko announces that today's broadcast is the 100th! Amazing, isn't it? Although it's something to be happy about… today is the show's last broadcast as well. It may be sad to part, but they'd like to make this broadcast an entertaining one for the listeners.
As per usual, Momoko continues by announcing that today that is 'Bakayarou no Hi' – 'Bakayarou' meaning something like '(You) Dumb Fool'. It commemorates the day in 1953 when Prime Minister Yoshida Shigeru replied to another legislator with a 'bakayarou', which eventually led to dissolution of the Diet in mid-March. For a commemoration, the girls find it a sad one in all sorts of ways.
Momoko asks if there's anything that made them so mad that they'd utter 'bakayarou', even if it doesn't feel like an appropriate discussion for the final broadcast. She starts bringing up her absence from last week, which immediately has the others calling her a bakayarou. This means that the only member with perfect attendance for the show is Airi, since there was a point when Miyabi was absent.
Momoko: Airi-chan, give a comment as the winner of the perfect attendance prize.

Airi: Bakayarou!

Momoko & Miyabi: Eh?
Momoko and Miyabi again apologise for their absences, but thankfully they're all together for the final broadcast.
Given that today is Bakayarou no Hi, as well as the final episode of this programme, they're going back to their starting point with Buono!'s debut single, Honto no Jibun.
♪ Buono! – Honto no Jibun ♪
Momoko: And so, for this show's final talk menu, Baron-san, go ahead.

Baron: Right, this is Baron. Thank you for 100 episodes of hard work.
The store's final discussion topic: Buono! memories that I won't forget the rest of my life
The girls immediately complain about how dark today's discussion topic is, wishing that Baron would be more cheerful.
Buono! did go through a lot of things though – the first thing they mention is going overseas to France. Particularly the Pons des Arts, where the Buono! girls added to the 'love locks'. The news that part of the bridge parapet collapsed (due to the weight of the locks) surprised them. They enjoyed their concert there too. Momoko remembers reading out a letter in French, though the message didn't get across at all.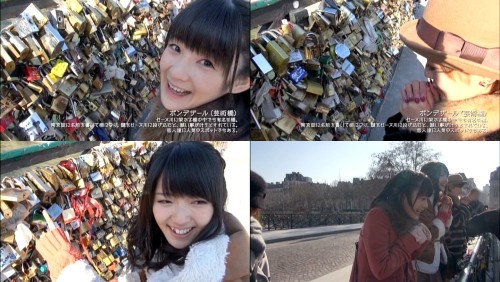 They then move on to discuss Buono!'s formation. The official announcement was in August at Odaiba. Miyabi remembers it due to the proximity to her birthday, which she remembers being celebrated.
Buono!'s pre-concert cheer was suggested then by a member of staff: 'Wouldn't "Kyou mo Oishiiku" (Delicious again today) be all right?'. Thinking back on it, Momoko jokingly says that it's light, and not a particularly great phrase for the purposes of firing them up.
They then start talking about concerts, particular their 'Rock'n Buono!' series of fan club concerts, which went over well. Airi brings up the time that they played instruments for Nakimushi Shounen. Airi took a good look at the video and… well, to sum up, they admit that it was pretty horrible.
Another memorable live performance was 'Winter Story', where they had faux snow falling during the concert. Momoko adds that the 'snow' itself tasted like soap. Sadly, the scene of the falling snow didn't appear on the concert DVD.
See, they did a lot of things besides this radio programme. Baron might be in a dark mood, but it's not like those memories would disappear. Generally, it's on DVD, so he could look back. If anything, the girls feel more nostalgic than sad. They thank everyone for all their support.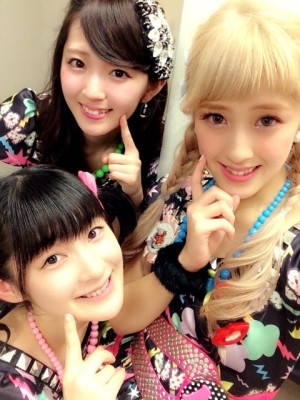 Himitsu no Dengon note
Secret voice note
This final voice note comes from the owner-chef of Trattoria Buono!, Baron Yamazaki. Every week without fail, regular customers Tsugunaga-sama, Natsuyaki-sama, and Suzuki-sama have been having wonderful discussions to lift the spirits of the listeners, and he's truly grateful for that. However, thinking that today's the final time it'll happen, it fills him with sadness. He expects that all the listeners feel the same way. 'Please teach us methods to bury this sadness.'
Momoko: Baron-san got in at the very very end.

Airi: It's heavy!

Momoko: It is heavy. And dark, dark. Let's head along cheerfully.

Airi: Let's call him Baron Heavy-zaki-san, honestly. (laughs) He's the saddest.

Momoko: Tsugunaga-sama, Natsuyaki-sama, Suzuki-sama… Even though he's normally all 'Airi-chan~'
His feelings make them happy, and that isn't just limited to Baron-san, it goes for the listeners as well. But, on the topic of 'methods for burying this sadness', the girls admit that it's difficult.
After some time thinking, Airi reasons that just because you can't listen to their discussions, it doesn't mean that everything's finished. In this world, there are wonderful things like concert DVDs and CDs. And there are recordings of the radio programme as well. They can look back at that.
Miyabi recommends giving it time (Momoko:'Oh, how grown up'). When it comes to sadness, give it time. It's the same with romantic relationships, isn't it? Give it time, and they settle themselves. Momoko agrees, remembering her primary school graduation as being a really sad event, but when she takes a look back, it was a sad event, but a lovely memory, filled with good things.
Airi suggests that perhaps someone should open a store 'Trattoria Buono!' in the real world (Momoko:'That'd be great. Wouldn't it be okay for Baron-san to work there?'). The girls have a good laugh, and agree that it sounds like a place they'd like to frequent. And Buono! would be played as background music.
To sum up, the girls do feel sad as well, but it would make them happy if you'd think cheerfully and look forward. As the time to part for this programme is gradually drawing closer (Miyabi & Airi: 'That's quick.'), they'll be starting on a trip, which leads to 'Tabidachi no Uta', a song about departing and setting off on a journey.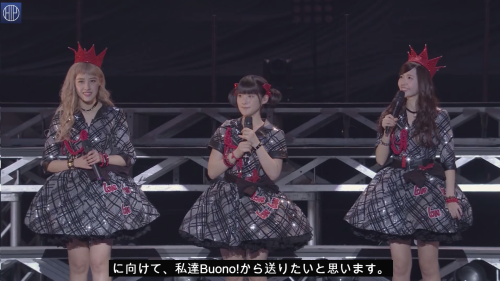 Time for announcements. The Berryz Kobo representatives promote their 1st March performance at Ariake Coliseum, where Buono! would also be performing (Momoko: 'Whatever it is, we'll be singing a lot.'). As a side note, the broadcast of this episode of Trattoria Buono! coincided with Buono!'s performance at the first day of the Ariake Coliseum performances. And of course, Berryz Kobo's last concert at the Nippon Budokan is mentioned, as well as their photo book and concert DVD. Airi then continues on with announcements concerning ℃-ute.
Momoko: Well, with that said, as we've been mentioning from the opening, sadly, today is the final episode of Trattoria Buono! For the listeners who have been listening to us until now, thank you very much.

Miyabi & Airi: Thank you very much.

Momoko: In March, there will be special broadcasts. The contents are still a secret, but I think that they'll be enjoyable programmes, so everyone, please wait and look forward to those.

Buono!: That's all, this was Buono!