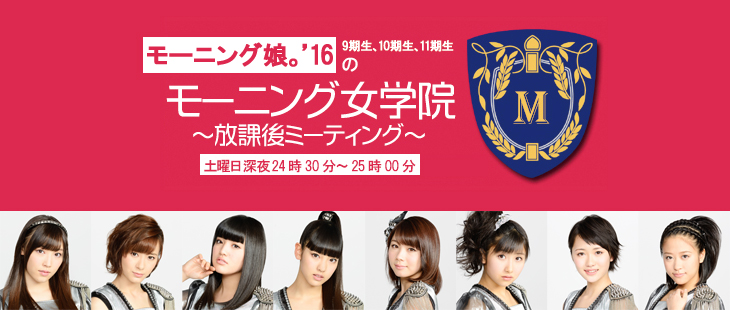 This episode of Morning Jogakuin is chaired by Sato Masaki (seat number 7). Fukumura Mizuki (seat number 1) and Suzuki Kanon (seat number 4) are also in attendance, and the girls talk about H!P members they'd like to talk with, songs they'd like to sing, handshakes, and rooming with others at Hello! Cons.
Maachan: Yahhoooooooo~

Fuku-chan & Zukki: Yahhoooo~

Maachan: The next… broadcast… Will the be the 200th?

Fuku-chan: (laughs)

Zukki: The next one, right?

Maachan: Yup, the next one.

Zukki: And so this is the 199th.

Maachan: (in background) Wooooooooo~

Fuku-chan: One more left!
After some promotion for the Osaka Hello! Cons, Maachan asks the others if they noticed something missing. Zukki thinks it's about seat numbers but 'STOP KICKING MY FEET!' Maachan simply laughs as Zukki explains that Maachan's been kicking her under the table. And with that, they leap into the programme's title call.