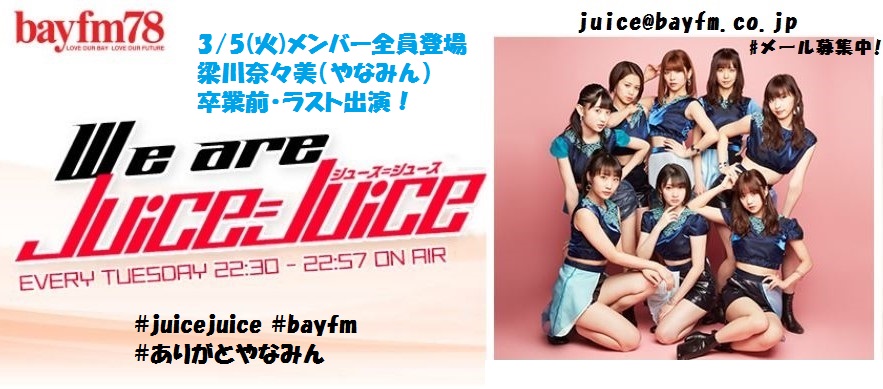 We've got a full house for Yanamin's last appearance on this radio show! For the record, this is the first and last time that this 8 member line-up are all together on this radio show.
Miyazaki Yuka's number one memory of Yanagawa Nanami: Taking lots of photos
Over these two years, Yukanya has been continuously taking photos of Yanamin. There are times when Yukanya asks for permission and there are times when she tries to take some sneak shots, but her attempts to do the latter are often noticed by Yanamin. When Yukanya looked back at her many pictures of Yanamin, Yanamin would be looking towards the camera, even in the ones that Yukanya had tried to take stealthily.
Miyazaki: Maybe she's always on alert?

Yanagawa: I have a sensor that's sensitive to Miyazaki-san. (laughs)
Regardless, Yukanya is happy that Yanamin always gives her a cute look. Eventually, things have gotten to the point where Yanamin instead asks Yukanya to take photos of her.
Takagi Sayuki's number one memory of Yanagawa Nanami: Three hours on our way home
There was a point in time where Juice=Juice was really into the werewolf game. During a three-and-a-half hour trip back from Hokkaido, Yanamin pleaded for 'Just one more game! One more game!' Back when they had just five members, they'd just do two or three rounds.  But the relentless assault of Yanamin's cuteness led to them playing on and on the whole trip long. Yanamin's really grateful that they put up with her selfish requests when they were likely exhausted after their live performances.