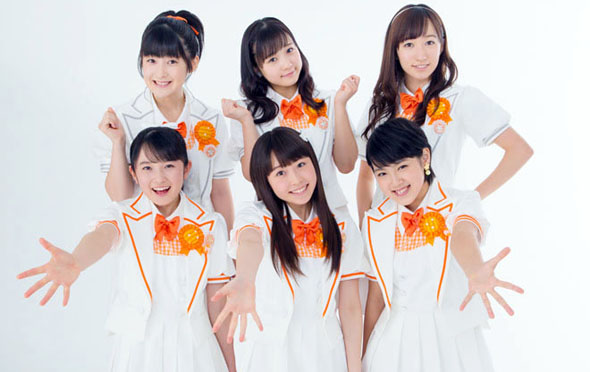 Replacing BZS1422 this week — as well as for the rest of March — will be Country Girls no Tadaima Radio Kenshuuchuu!! Yamaki explains that whether or not the show continues beyond these initial three episodes will be up to the listeners' feedback. The members all agree that this is a scary thought.
So what sort of a group is Country Girls?
Yamaki explains that the unit has its roots in Country Musume, a group originally formed in 1999 with the concept of "part-time farmers, part-time entertainers" — its members would work in the entertainment industry while simultaneously working at a farm. Last year the group was renamed as Country Girls in order to make it more accessible worldwide; Country Musume member Satoda Mai remains as the "Supervisor" for this reborn version of the group, while ex-Berryz Koubou member Tsugunaga Momoko has been appointed as their "Playing Manager."
Present in the studio today, however, are the other five members who take turns in introducing themselves.
Ozeki Mai names the violin as her special skill, but how well can she actually play it? Well, she says she's been playing it for nine years so far (since the age of four) so she does have some confidence in it. When asked if there are any songs she can play especially well, she answers "Twinkle, Twinkle, Little Star." Still, if she's allowed to consult some musical notes, she can play more difficult pieces as well.
Shimamura Uta's strong suits are drawing illustrations and "being well-loved by animals." She explains that with the latter she simply means how dogs and cats she's owned in the past have all seemed to like her. The other members express doubt as to whether or not this is something that could actually be listed as one's "special skill."