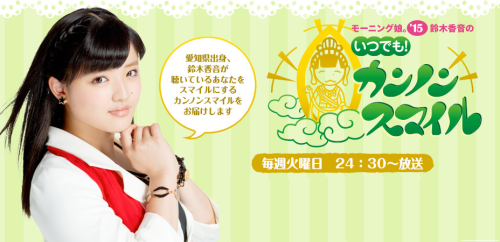 Kanon has a special, super cute guest with her today: Makino Maria! Maria is very happy to be on the show today. To start, Kanon thinks they'll be able to talk easily since they're both from Aichi, so she asks Maria what her favorite area of Aichi is. Since she went to there a lot as a child and used to be a fan of the Chunichi Dragons , she picks the Nagoya Dome . Although, now she is a fan of the Nippon Ham Fighters (located in Sapporo). Seeing Maria talk about baseball, Kanon can tell she's really into it. Changing the topic slightly, Kanon wonders how Maria's first summer break while being a part of Morning Musume has been. Overall, she's been busy so Maria hasn't done any of her homework yet, despite telling herself to do it. Instead, in her free time she'll play games or goof off. Kanon scolds her for not doing her homework then tells her to do her best to make time for it despite being busy in Morning Musume.
Song: Morning Musume '15 – Seishun Kozo ga Naiteiru
Birthday Surprise!
Suddenly, happy birthday starts playing, much to Kanon's confusion. Maria manages a "congratulations" while Kanon continues exclaiming in surprise as the staff bring presents into the room. She thanks the staff, then Maria announces that she also brought something for Kanon. She is thanked profusely while Maria expands that her sister's birthday was recently as well, so she purchased the presents at the same time. Finally, Kanon calms down, thanking everyone again, then starts to open the presents. From Maria, she receives a tissue pouch, handkerchief, and soap. Also, a pretty long letter, but she says she'll read it carefully later.
Moving on to the present from the staff, Kanon received a shaved ice machine and a fruit tart. She is pretty excited about it to the extent that Maria ends up starting the letter segment like they were orginally supposed to.
Message: "Congratulations on turning 17! Please have a great year. Please say something towards becoming 17!"
After a moment, Kanon starts her statement with the thought that year 16th year was full of changes, and hopes for her 17th to be more stable, and hopes her fans will enjoy watching her growing into a more stable person.

Immediately after she continues to thank Maria, saying she was really surprised. They then move into the real letters corner.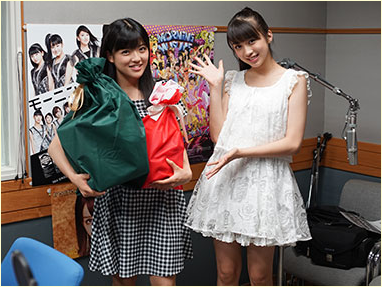 Happy Birthday, Kanon!
I, Suzuki Kanon Will Open Up To My True Feelings Message Corner!
Message 1: "Good evening, Kanon-chan and Maria-chan! Morning Musume's new single "Oh My Wish!" features a singing and dance team. So, I would like it if you could tell us what you thought when you found out that there would be split teams for this song."
Maria begins, saying she thought the dance was really cool when she saw it for the first time. Adding to that, it was the first time Morning Musume put on that type of a song, and Kanon was surprised by it when they went into their recording sessions. What was especially surprising was the dance team weren't even going to hold mics. At first, Kanon felt really uneasy about the song because Sayashi Riho wasn't going to be singing, despite her being a member who normally receives many lines. Because of that she thought she had to convey every line precisely. Maria adds that Kanon has a cool singing voice so she feels comforted every time she hears it, since the two share a line in the song.
Mesage 2: "Kanon-chan and Maria-chan are both from Aichi, so it would be nice to hear them have a talk about things they like about Aichi. Also, a best of three of the things they think are the most delicious things in their hometown,"
This is a difficult question for Maria, since she likes too many things. She likes kishimen (flat noodles) and hitsumabushi (charcoal grilled eel on rice) in particular. Kanon agrees that hitsumabushi is delicious, although she hasn't had any recently. Initially, she didn't think there was anything particularly unique about this Aichi specialty, but after moving to Tokyo, she would get more and more excited by how delicious the food in Nagoya is over time. Maria also hasn't had any recently. The two lament over always wanting to eat it every time they travel to Aichi, but it's a bit expensive, so it's not something they will typically have access to. So, instead of doing a best of three, the two just agree that hitsumabushi is simply the best.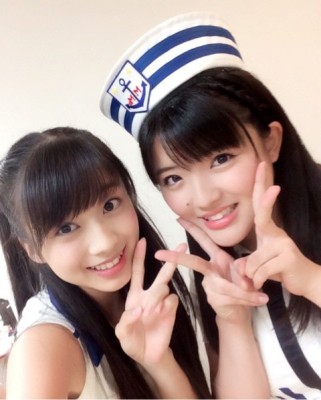 Naturally, the topic shifted to be entirely about food
Ambitions to Become The Mayor of All Cities!
The corner where it is Kanon's goal to receive letters and postcards from all around Japan. With each different city she receives a letter from she colors it in green. This time, Maria will be joining her on her quest.
Postcard 1: From Asahi, Mie. They write that they are in Asahi visiting their mother so they thought they would send in a postcard. The writer explains its a place where Jippensha Ikku resided and that there is a temple and festival in his name in Asahi. go into a temple that supports Jippensha Ikku and has a festival surrounding it.
Man, some of those kanji were rough for Kanon. She explains to Maria that this particular radio fan seems determined to help Kanon out and has sent her many postcards from all over the three prefectures. Impressed, Maria thanks the sender for their support. Although, it's revealed that neither of them really know what the sender was talking about in the postcard, as when Maria asks for the meaning of one of the words, Kanon admits she doesn't really know. And so, they move on.
Postcard 2: From Toyota, Aichi.  A long time ago, Morning Musume and Hello! Project held a sports festival at Toyota Stadium. Since it has been a while, the sender thinks it would be a good idea to hold another one with the current members. They think Kanon would do well once she finishes her diet as she could increase her speed. The sender wonders who the two would pick to be on their team for the festival and what kind of events they'd want to do.
Since the stadium would be big, Maria thinks she'd like to run, doing one of those running and jumping events. At first, Maria thinks she would at these be good because she's fast, then immediately denies this fact, since her average time in these events are pretty normal. She thinks she used to be pretty fast, but that stopped as she began focusing on being an idol. Kanon too, thinks running events would be fun. Every time she has done a marathon event she was the 5th person in, so she thinks that may be her specialty.
They also read postcards from Touin, Mie, which is a very small and narrow town. Owase, Mie, which is known for being a which the sender describes as being a place where it always rains, but is a pretty place. It is also home to the famous Kumano Kodo pilgrimage trails and they specialize in saury and tangerines. And finally a postcard which said nearly nothing from Chiryuu, Aichi.
And so, this time Kanon has collected postcards from 6 different places.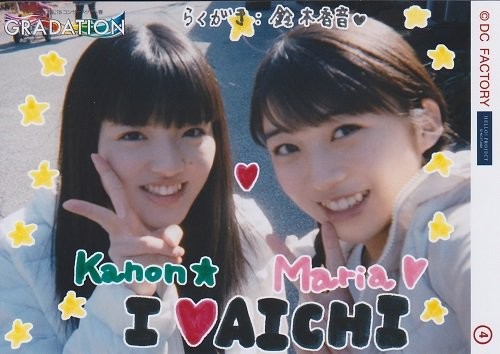 The twos love for their hometown shines
Song: Morning Musume '15 – Oh my wish!
Maria will return in the next show!
Otsukanon~!