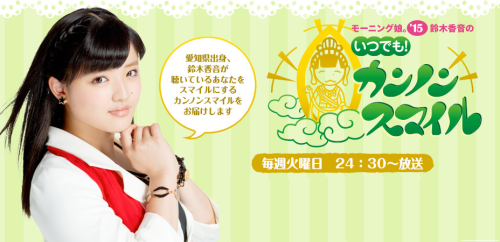 At the time of this recording, White's Day is just around the corner! Although usually Kanon doesn't receive that much for this holiday. Even though it would be nice, Kanon assures her fans not to worry about it. Besides, Valentine's Day is "Sweets Paradise" for her and if she ate everything she received quickly Kanon would wake up in the morning, look in her mirror and think "Who is this?!". "Does anyone else understand this?" Kanon laughs. She explains that she receives so many sweets on Valentines Day that she has enough to cover her until April. The same thing happened last year, Kanon remembers, where she had so many sweets it is easy to stretch out savoring each one well past February. Even if she does want to eat everything quickly. She will do her best not to pig out on sweets!
Song: Morning Musume – Funwari Koibito Ichinensei
I, Suzuki Kanon Will Open Up To My True Feelings Message Corner!
Watashi, Suzuki Kanon no Honto no Kimochi ga OPEN ni Nacchau Meseeji Corner!
Message 1: Kanon talks about eating curry often, so the listener writes that they wonder what kind of curry Kanon would make if she were to make it herself and with who.
Making curry isn't really her specialty, she is better at making sweets. Thinking about it, Kanon has tried making gratin with chicken and cream cheese and she also recalls making consomme successfully, but overall cooking isn't really her thing. Curry is something Kanon thinks she would like to become good at making, however. Most likely, she would try to make it with Ayumi as she has seen that Ayumi has made it before on her blog. Kanon has tried Ayumi's tamagoyaki before and thought it was amazingly delicious; it had a nice mother-made taste. So she would entrust Ayumi to help her make curry. Aside from Ayumi, maybe Sakura, as they go on Curry Dates often. Sakura seems to like Indian Curry often, however and isn't a recipe she has ever thought of making. The recipe seems kind of complicated, but Sakura is good at cutting vegetables nicely…so….Kanon decides to leave it to Sakura to make the Indian Curry. In the end, Kanon ultimately decides that the delicious curry making should be left to Ayumi and Sakura, since they'll do a better job anyhow.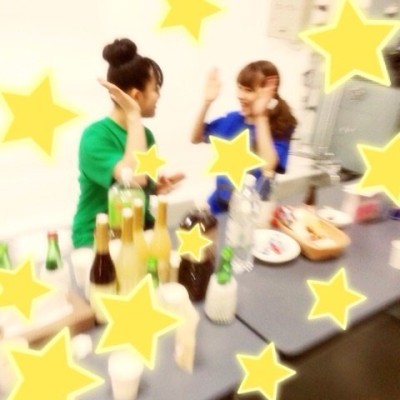 I mean, Kanon and Ayumi could make a good pair in the kitchen…