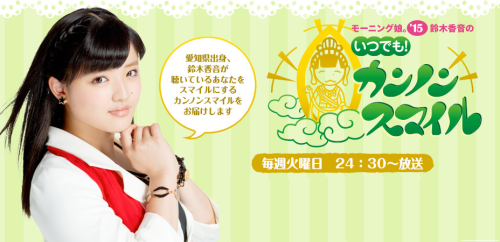 Its about time for Girl's Day Festivals! As it is with most holidays, there are rehearsals going on, so there is little Kanon can do for them. If she could, Kanon would go to a party back home in Aichi, even though it takes about two hours via bullet train. The party is a meat party at her favorite Brazilian restaurant where she can eat delicious meat, bread and cheeses and enjoy herself. She may not have time to go this year, but going to this restaurant is her fondest memory of Girls Day.
Song: Morning Musume – Itsumo to Onnaji Seifuku de
I, Suzuki Kanon Will Open Up To My True Feelings Message Corner!
Watashi, Suzuki Kanon no Honto no Kimochi ga OPEN ni Nacchau Meseeji Corner!
Message 1: This listener notes that Kanon has mentioned that she likes The Drifters before and asks Kanon what she likes most about them, particularly Takagi Boo.
She got into them originally because her Dad was really into them and owns many of their DVD's. Her mother is really into Takagi Boo, so Kanon explains that her mother would greet her when she came home similarly to Takagi Boo, so she feels like she just grew up around them. She then rambles on about the way each character acts. (The most notable thing about these as far as most readers are concerned is probably that The Drifter's member Shimura Ken was that guy in the Mini Moni Ai~n music video)
Message 2: The listener ask Kanon for pointers on how to pass their entrance exam to enter high school, since Kanon has clearly passed one of these.
Kanon herself is the type that doesn't study. But surprisingly, her sister is the type to do drills while studying all the time. So really, Kanon doesn't have much to provide for advice. When she was entering middle school she had just auditioned and joined Morning Musume, so all of her studying and preparation memories are centered more on Morning Musume. As far as to help "study' for the audition, she tried to prepare herself by telling herself she had to do her best in order to stand out.
Message 3: The listener asks if Kanon received anything that really left an impression for Valentines day.
First off, Kanon notes, she was with all of Hello! Project that day, so she had to make chocolates for about 60 people, not including the managers and staff, so it was more like 100 people. So, as far as someone in particular, she was touched that Kenshuusei's Ichioka Reina came up to her and told her she looked up to Kanon and gave her chocolates. She thought the specially wrapped chocolates she received from Reina was really something special. Kanon mentions usually kouhai seem to look up to Haruka, so the fact that Reina went out of her way to specially make chocolate for her made Kanon super appreciative. She praises Reina's work, saying the chocolates were delicious and tasted as if they were full of kindness.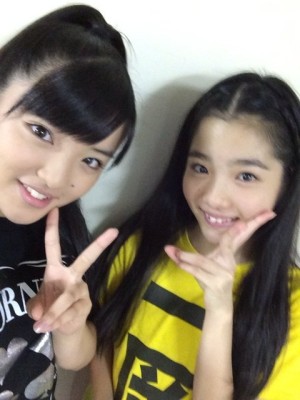 Ichioka Reina: possibly Kanon's biggest fan?
Song: Morning Musume  – Makeru Ki Shinai Konya no Shoubu
Kanon no Nandemo Best of 3!
Kanon's Anything Best of 3!
The corner where Kanon gives her best of 3 on topics the listeners suggest.
Ranking 1: Top 3 times your Senpai have told you something that made you happy.
3. Yajima Maimi's Hair Commentary. Kanon explains thats she will often wear her hair in a ponytail and spends a lot of time to make it look just right. Maimi also puts her hair in a ponytail often as well (or at least she used to) and at some point commented on Kanon's ponytail, saying "Ah, your ponytail looks really happy, I'm jealous!". Hearing Maimi say positive comments towards Kanon's hair made her elated, particularly because she likes and respects Maimi a lot.
2. Takahashi Ai saying "You're like Aika". Back when Mitsui Aika was in the group she acted as the 9th generation's mentor. So, to Kanon, to be told she is like Aika with her kouhai made her feel happy. Ai stating that that Kanon is becoming to be like Aika to Kanon means that she is getting better at performing (as Aika was kind of a perfectionist) as well as doing a good job at helping her kouhai.
1 Niigaki Risa saying to Kanon "You do your best, huh? But, you work too hard!". To her, it was a really cool thing for Risa to say. Apparently Risa wrote in a Birthday card to Kanon. It left a strong impression on her and made her glad that someone she respects would write such a cool comment to Kanon for her birthday.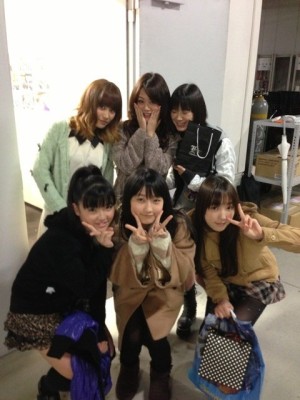 Kind words from her cool Senpai
Ranking 2: Top 3 Cherry Blossom Festival Foods!
3. Berry Sponge Cake. Just smelling it is good enough, gushes Kanon. In elementary school she would always want to get it. Its sort of pricey for a child though, at 800 yen.  Regardless, she would get it anyway, splitting the cost between her friends. Kanon also notes that if there was a situation where her friends would get sponge cake and Kanon couldn't she would be incredibly sad about it, so it must be pretty awesome sponge cake.
2. Tornado Potatoes. They're not quite fried potatoes, more like a potato cut so its thinly coiled around a skewer and then lightly fried. They're a lot of fun to eat, although Kanon hasn't been able to find them at festivals in recent years. Either way, she remembers them being delicious and has good memories attached to them.
1. Whole Fried Squid (Ika no Sugata Yaki). Kanon excitedly describes how just thinking about the squid makes her want to eat it as it has an image of being a delicious almost foot-long treat. She has memories of eating it at one of her first Cherry Blossom Fesitvals and being extremely impressed with it. She recommends that everyone give it a try if they are going to a festival soon. She ends the corner complaining that just thinking about the fried squid makes her hungry!
Song: Morning Musume – My Way ~Joshikou Hanamichi~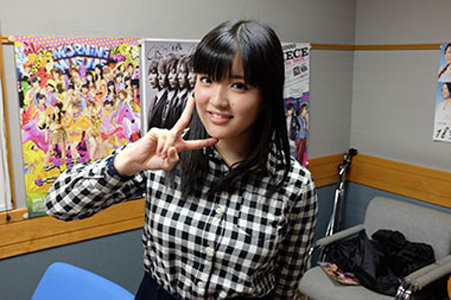 Otsukanon~!