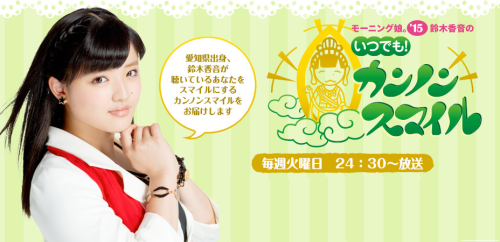 At the time of this recording, White's Day is just around the corner! Although usually Kanon doesn't receive that much for this holiday. Even though it would be nice, Kanon assures her fans not to worry about it. Besides, Valentine's Day is "Sweets Paradise" for her and if she ate everything she received quickly Kanon would wake up in the morning, look in her mirror and think "Who is this?!". "Does anyone else understand this?" Kanon laughs. She explains that she receives so many sweets on Valentines Day that she has enough to cover her until April. The same thing happened last year, Kanon remembers, where she had so many sweets it is easy to stretch out savoring each one well past February. Even if she does want to eat everything quickly. She will do her best not to pig out on sweets!
Song: Morning Musume – Funwari Koibito Ichinensei
I, Suzuki Kanon Will Open Up To My True Feelings Message Corner!
Watashi, Suzuki Kanon no Honto no Kimochi ga OPEN ni Nacchau Meseeji Corner!
Message 1: Kanon talks about eating curry often, so the listener writes that they wonder what kind of curry Kanon would make if she were to make it herself and with who.
Making curry isn't really her specialty, she is better at making sweets. Thinking about it, Kanon has tried making gratin with chicken and cream cheese and she also recalls making consomme successfully, but overall cooking isn't really her thing. Curry is something Kanon thinks she would like to become good at making, however. Most likely, she would try to make it with Ayumi as she has seen that Ayumi has made it before on her blog. Kanon has tried Ayumi's tamagoyaki before and thought it was amazingly delicious; it had a nice mother-made taste. So she would entrust Ayumi to help her make curry. Aside from Ayumi, maybe Sakura, as they go on Curry Dates often. Sakura seems to like Indian Curry often, however and isn't a recipe she has ever thought of making. The recipe seems kind of complicated, but Sakura is good at cutting vegetables nicely…so….Kanon decides to leave it to Sakura to make the Indian Curry. In the end, Kanon ultimately decides that the delicious curry making should be left to Ayumi and Sakura, since they'll do a better job anyhow.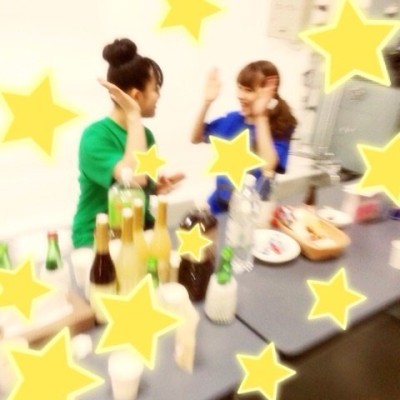 I mean, Kanon and Ayumi could make a good pair in the kitchen…
Message 2: This writer is from Korea but works in Vietnam. She notes that she was relieved when she found out she could listen to her radio show even in Vietnam via the internet. Her question revolves around the old radio show GakiKame, and wonders if Kanon would ever do a coupling radio show with another member, particularly from the 12th generation.
Kanon first states that the fans probably have many preferred couplings already. As for her, a Sayashi Riho combo called "SayaSuzu" or "RihoKano" is an idea Kanon likes. Or at least, she knows its one a lot of fans seem to like. However, a Senpai/Kouhai combo might be good. When thinking of which 12th Generation member she would prefer, she notes that all four of them are good options. Kanon first mentions Ogata Haruna, saying how she has a cute, refreshing character…but then goes back to saying how being in a combo with any of them could be troublesome as they are all so pure and she doesn't want to ruin their characters with herself getting in the way.
Message 3: Back to Sayumi's graduation, this listener mentions that they noticed Kanon was wearing a pink wristband during the concert and wanted to know what it was for. The listener also mentions that Kanon seemed to be tearing up a bit during the Be Alive performance even though Kanon seems like the type to not cry during a performance.
For Sayumi's last concert everyone wore special graduation bracelets they had made for Sayumi, as a sort of a nice sentiment. During Be Alive at one point Kanon makes eye contact with Sayumi, and the overwhelming emotions were just too much as Kanon thought to herself "This is one of the last times I'll be able to make eye contact with Michishige-san," and started tearing up. She hasn't seen the graduation DVD herself, yet, mostly because she knows when she watches it she will cry.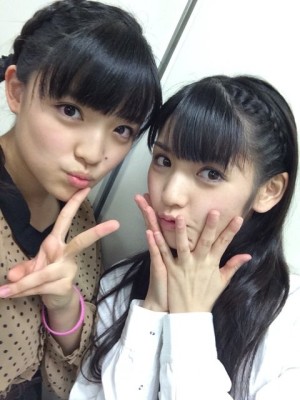 If you want to cry now, instead of waiting like Kanon, click here!
Kanon ga Canon!
Kanon is Canon!
As per request, Kanon will be singing songs acapella based on listeners suggestions! Since Kanon often goes to Karaoke, singing recommended songs acapella will be fun for her.
Request 1: In a recent interview, Kanon said that one of her favorite karaoke songs is Shimatani Hitomi's "Genki wo Dashite", so the suggestion is to sing her favorite karaoke song. Kanon gets really nervous about singing acapella, but starts shortly after reading the request:
Request 2: Their request is for Kanon to sing Mikaeri Bijin alone. Even though its sang as a chorus, they think just as Kanon will be fine. Kanon isn't so sure, but gives it a try:
"I did it!" Kanon exclaims. It isn't typically supposed to be sung just by one person, but it was alright, Kanon thinks.
Request 3: The request comes from someone who loves Kanon's voice and requests Kanon to sing the "A~i~sa~re~tai~" part in Wagamama Ki no Mama Ai no Jooku. Of course she will try, but before starting, Kanon wonders if it would be better to sing this in a Karaoke style…but, nevermind that, lets start:
"Phew!" Kanon breathes, saying that it takes a lot of power to sing that part. Its kind of difficult, because the highest note is at the end. If it was at Karaoke she would have a mic and wouldn't have to push as far, but with this situation she had to push more to make it heard well.
Song: Morning Musume '15 – Ima Koko Kara
To start the end of the show, Kanon says the submitted sexy food of the week:
Corn Beef~

There is some time left after the announcements, so she reads a best of 3 letter, which asks her to rank her top three songs she liked the outfit for:
3.Kare to Issho ni Omise ga Shitai. Because it was fun to shoot!
2. One.Two.Three. Because the outfits were cool!
1. Pyocopyoco Ultra. Because she loves wearing costumes!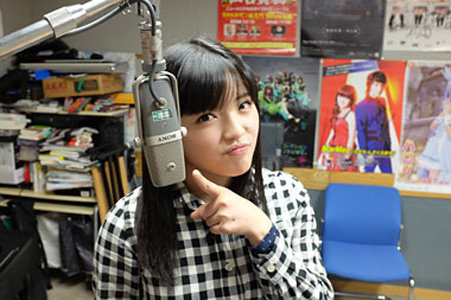 What'd you think of Kanon's Aisaretai?
Otsukanon~!