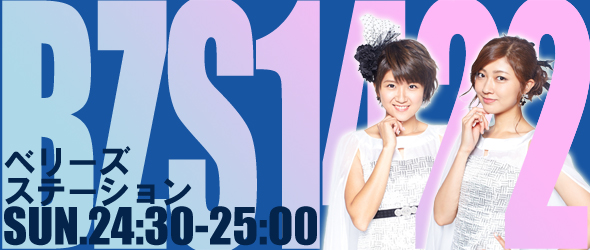 There's only a month to go until Christmas, and Chii says she wants Santa to bring her more toys this year. Kumai-san can't decide what she'd like, but she nevertheless wants to spend this Christmas like she used to enjoy them as a child, meaning eating cake at home, going to sleep while eagerly anticipating Santa, that kind of thing. Chii points out, though, that it's a bit of a challenge now at their age to get as anxious about Santa Claus.
Kumai-san asks any children listening to the show to cover their ears for a moment. Kumai-san did believe in Santa Claus until well into elementary school, and even though she knew who it was acting as Santa each year, she just didn't want to crush that dream of hers so she kept believing that the real Santa Claus lives somewhere out there in Finland or so.
But the cold truth of the matter is that Chii and Kumai-san will undoubtedly be spending this Christmas being busy with the Hello!Con rehearsals, so they only hope that the staff will have Christmas cake prepared for them.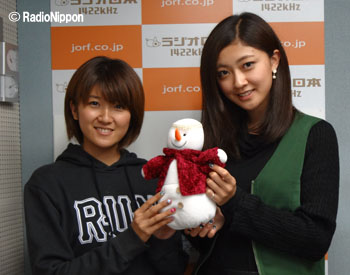 Recently Berryz Koubou have been busy promoting their final single, and Kumai-san has been surprised to meet so many fans who reported coming to their first handshake event with them on this promotion tour. She's happy as it seems lots of people have heard their new single.
There was also an announcement made recently: Berryz will be releasing a best-of album on January 21! The members got to participate in the planning of this album which includes not only their singles but also things like B-sides and unreleased alternative versions & songs from musicals.
In addition to their final concert at Budokan on March 3, they also announced further concerts at the Ariake Colosseum on February 28 and March 1. The two suggest that listeners need to start opening up their schedules well in advance: students should request a leave from school if they're not on spring break on those days, whereas salarymen should work hard and put in requests for vacation days, or alternatively practice their acting so they'll be able to complain of a sudden cold and skip work.
Song: Berryz Koubou – Romance wo Katatte
Mail Corner
Fan mail #1: The listener recently met with a friend from her junior high school days, and she was told by said friend that she'd gained weight. The listener will have her coming-of-age ceremony in January so she asks the hosts for tips as to how she can successfully lose weight in time for it.
The thing with long-sleeved kimono dresses worn at coming-of-age ceremonies in Japan is that they don't really fit you if you're too skinny; Kumai-san, for example, had to wrap lots of towels around her body to make hers fit properly. Thus, she thinks the listener doesn't really have a need to lose weight. Chii agrees, but adds that if the listener really wants to appear slimmer at her ceremony, there's a quicker way than dieting: just tighten the obi belt of your kimono really, really hard and withstand the pain.
And if the listener is worried about her face looking round, Kumai-san recommends using shading makeup to make it look slimmer. Chii highly recommends this method, too, having just recently employed this technique at a photo shoot herself.
Fan mail #2: The listener heard Chii talking about how Nonaka Miki is her rival when it comes to English language ability, but recently they've also heard Sudo Maasa talking several times about how she wants to learn English as well. The listener warns Chii that if she gets careless, Maasa might just take over as the person in charge of English in Berryz Koubou.
Chii says this is the first time she's hearing about this. Still, she quickly adds that she's not at all worried about Maasa. Some time ago when Captain spoke about wanting to learn English, that had Chii worried. Maasa, however, is not a threat — on the contrary, Chii says Maasa is welcome to try.
Chii: I mean, she's the one who once read the word "there" as "three."
Kumai-san: Yeah, that was legendary.
Kumai-san, too, can with some confidence say that Maasa won't take over as the English representative of the group: some time ago she approached Kumai-san and double-checked with her the meaning of the word "girl."
Song: Berryz Koubou – Towa no Uta
Fan mail #3: This listener was born in Seoul, Korea, but now lives in Tokyo. The other day he attended his first handshake event with Berryz, and he thought everyone was so out-of-this-world cute that he's still not sure if it was actually all just a dream. He assumes that the members remember the fans who attend their handshake events often, but asks if the two also recognize the fans who are attending their first such events with the group. He lists various things he was wearing that day and asks the two if they remember him, adding that it's okay to lie.
The two jokingly say that they absolutely remember this person, listing the same things about his looks that he'd sent in. Still, while they of course recognize the old fans and the ones that come to their events often, they do realize it when they're seeing new faces for the first time. The two ask that the listener attends another one of their events wearing the same clothes he just listed; next time they'll definitely recognize him, and now they even know his name.
Fan mail #4: This listener, too, attended a recent Berryz event, and having seen a message on BZS1422's Twitter asking attendees for their opinions on it, the listener felt like doing just that. They saw a lot more female fans and old acquaintances in attendance compared to before, and not only just the omaitsu (short for "omae itsumo iru na," meaning the individuals you seem to constantly run into at what feels like each and every event and concert of a group). Overall, it feels to them like Berryz is very loved as of late.
This is the first time for the two to hear the word "omaitsu" and they think it's quite funny. Kumai-san thinks she'll try using it in a future concert MC.
The two have both noticed the increase in female fans as of late. In a recent event they estimated that pretty much half of the entire audience was female, and like the listener said, lots of children can now be seen in attendance as well. Chii thinks this is a recent development that first started occurring only around two years ago, and especially at a recent Niigata Naruchika performance, the female fans' screams were so loud Kumai-san felt like a male performer. As women themselves, the two say they're happy to have the support of other women, too.