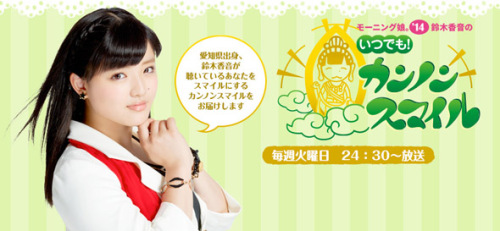 Kanon starts the show off by complaining about how cold it is. She was surprised when she saw how cold it was on the news, especially that it was very cold in Aichi as well. Kanon explains that it never gets cold enough to snow in Aichi. However, she heard that it had even snowed in her hometown, which she is sure was just as surprising to the people in Aichi as it was to her. Everyone wants to eat the snow if it does fall, she laughs, as its just custom to do so. Overall, Kanon can't stand the cold and can't wait for spring to come around.
Recently, Kanon talked to the members about coming on the show. Sakura said she was alright with being on the show, so she will absolutely definitely be the first guest on her show, Kanon confirms. Haruka also told Kanon "Zukki, I totally wanna be on the show too!" and Mizuki also expressed interest. Kanon is happy that they want to be on the show and hopes they will have their first guest soon. Which, she reminds everyone has been decided that it will be Sakura. However, she doesn't think she will have a guest on the show until she gets a better sense of doing the show by herself.
Song: Morning Musume – Pepper Keibu
Listener's Messages
Message #1: Konbankanon! Last year for Mizuki's birthday, she posted on her blog about "AyuMiZukki" all hanging out and I wondered if there was a particular reason that when they hung out they went to Kamakura and Kyoto.
The first thing Kanon says is there isn't a reason. Just that Ayumi, Mizuki and Kanon's  names go well together, so it just made sense to say it like that. She doesn't really know why, but they got a message requesting for them to go to Kamakura and so they went. And then, for Mizuki's birthday, they went to Kyoto; she doesn't know why they went there either. Other than those two places have a very "Japan" Feel to them, she doesn't know why it was Kamakura and Kyoto. To be honest, Kanon says, whenever the three of them hang out it's always very sudden. This doesn't happen very often, so Kanon thinks of it like "I wish I knew when the next time would be". The next time they have a break it would be nice to go to Kamakura or Kyoto, Kanon thinks.

With a Maa-chan Interruption…
Message #2: Konbanwa! It very cold out, isn't it? When its cold, normally I drink warm things, so I wonder what type of things do you eat and drink when its cold? By the way, recently, now that its winter, I have been getting corn soup out of the train station's vending machines.
Kanon responds that she also likes purchasing things from train station vending machines when its cold. Initially, she mentions buying corn soup as well, but changes her mind and claims that normally she will normally purchase hot green tea. Recently, she noticed that the vending machines have been carrying miso soup which came as a shock to her that a normal vending machine would carry it. Moving on, Kanon's recommended hot drink to try is honey ginger milk. She explains you can make it yourself on the stovetop by heating milk and adding in the ginger and at the end you add in the honey. Because its easy, she recommends making it yourself.
Message #3: Kanon-chan, Konbanwa! Usually when Kanon refers to Erina she will use "Eri-chan" but sometimes will just say "Ikuta". So, the question is: what does it mean when you just use "Ikuta", if you can, please give an example.
To start off, it depends on Kanon's mood. When they're playing around, then its "Ikuta". To further explain, Kanon goes on to say that to people who don't know much about Morning Musume, using Ikuta seems easier to understand. It will be that way with the other members where they will use "Sayashi" or "Fukumura". But normally Kanon will just call Erina "Eri-chan". Kanon wonders if everyone thought that something was wrong between them because Kanon was calling Erina just "Ikuta". She assures everyone that there is nothing to worry about.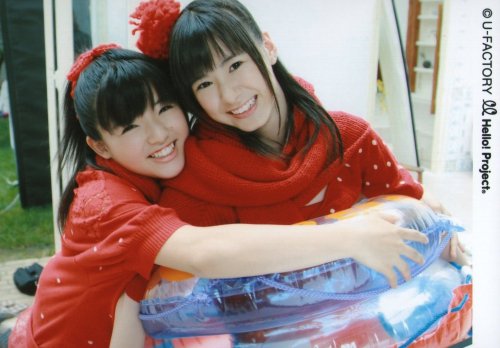 Nothing to worry about!
Kanon no Nandemo Best of 3!
Kanon's Anything Best of 3!
The corner where Kanon lists her best of three of anything! The BGM playing to announce the segment is Wakuteka Chance, which is Kanon's favorite song to sing at karaoke. This best of three comes from a listener who would like to hear Kanon's top three favorite Hello! Project song's acapella-style. Another listener would like her to share her top three favorite songs to sing at Karaoke. Kanon compromises the two and decides to sing her top three Hello! Project songs. Kanon confesses is a little nervous about this. She explains that its normal if its a Morning Musume event or concert, but she's never done it just by herself. But, she will do her best! She's really nervous and embarrassed to start out, so she takes a drink of water and chokes on it a little before singing.  In between songs, she continually gets more and more nervous and commands the radio staff to not laugh at her.
3.Matsuura Aya's "Zutto Suki de Ii desu ka"
2. Goto Maki's "Sayonara "Tomodachi ni wa Naritakunai no""
1. Tanaka Reina's "Ai no Honou"
To get over her nerves from singing, she moves on to the next request. Kanon reads three requests that are all along the lines of "Best of Three Things That Happened in 2014".
3. Hello! Concerts Shuffle Songs.
During the winter concert, Kanon got to sing "THE Bigaku" with Fukuda Kanon. It was the first time she had gotten to sing as a "shuffle group" and thinks that Fukuda Kanon is a really talented senpai for her to be paired with. She thought it was a good sign that Tsunku thought she should sing with Fukuda Kanon. Moving on, she comments on the Summer Hello! Concert where Morning Musume performed "1-oku  3-senman Sou Diet Oukouku". This was a great feat for her as she got to be the main for the song. She says that it was kind of like it was a "Suzuki Version" and it made her extremely happy that she was given the opportunity.
2. The Fanclub Hawaii Tour.
Kanon expresses that the whole trip was really fun. It was also Sayumi's last Hawaii tour and that everyone wanted to make the most of it. She thought there was a lot of fun nonsense with the ten of them together and thinks that they really got to bond.
1. She found her new self.
As frequently happens on this show, impressive fanfare BGM plays as she announces her number one. In June, the musical Lilium was in rehearsal; during that time Kanon remembers that everyone seemed to a have a serious mood and no one was laughing very often. During times where they could play, she would do things with the S/mileage members that would make their laughter return. She notes they were able to have fun together because they all have a great friendship.  And so, when the next Morning Musume tour rehearsals started she would do the same sort of thing with Morning Musume. Kanon feels that before she didn't really have this ability but now, because she was sort of "taught" by S/mileage she has realized she can be responsible for breaking the mood during rehearsals.
Song: Berryz Koubou – 1-oku 3-senman Sou Diet Oukouku
Otsukanon!