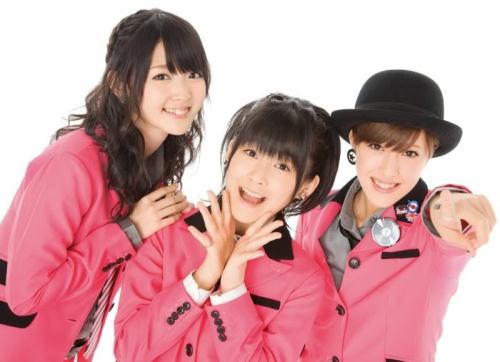 ♪ Buono! – Rock no Kamisama ♪
Momoko announces that November 29th is 'Ii Fuku no Hi' – 'Good Clothes Day'. A day for highly recommended winter fashion items and popular techniques for making use of clothes (Airi: 'That's a clearly defined day!'). Fashion leader Miyabi is asked for her recommendation – she doesn't know much about popular techniques, but at any rate, she recommends knitwear, for girls wanting to look cute in winter. Something white with large stitched knits.
Airi, however, finds it cold if she goes out with large stitches. The wind blows through the gaps. Miyabi thinks that it'd be fine, but the other two disagree. They'd have to wear Heattech clothes on the inside, which would clash with the white knit. Then there's some confusion about whether Miyabi's talking about 'knit' or 'net'.
At photo shoots, Momoko's often told that longish sleeves are the way to go – long enough to cover the palms, the so-called 'moe-sode'. Airi also brings up mufflers, which the girls agree are both cute and warm.