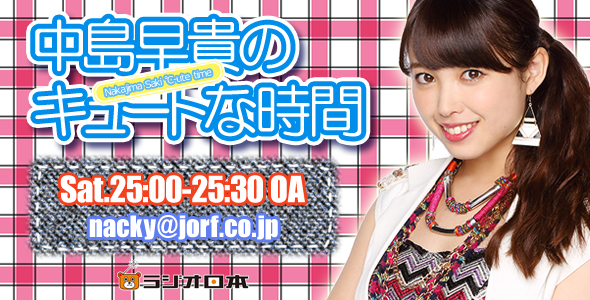 Nacky begins by saying she's going to let Maimi herself answer the question posed by Sayashi Riho about Maimi's abs at the end of Morning Jogakuin. Speaking about Sayashi, though, Nacky says she's once again noticed Sayashi's dancing skill going up a notch lately and she wonders just how much better it's possible for her to get. She's also noticed how well she works with the cameras at concerts — Nacky says she herself still feels quite nervous about them, but Sayashi can look right at them while singing her lines. Nacky says she needs to do her best to catch up to her kouhai.
Maimi, introducing herself as she joins Nacky, says she had a really fun summer and Nacky asks her for details. Aside from getting to hang out with °C-ute at the beach, Maimi says she used her summer vacation to go see the fireworks and visit an amusement park, among other things. Nacky is jealous: while she did have something of a summer vacation herself, she has such few friends that she had no one to hang out with. Thus, she spent the entire vacation in the house. Alone. "That's sad…", Maimi quietly says. Nacky says she didn't even feel like going out and buying any clothes from all the summer sales, so she was just reading Maimi's blog entries, thinking to herself how much fun it looked like Maimi was having eating watermelons and all that summery stuff.
On the subject of the fast approaching °C-ute no Hi, Nacky asks Maimi what kind of a performance she'd like to make it at Budokan. Maimi says she's looking forward to seeing how it'll be performing there with Berryz Koubou, and they both agree they'll have to do their best not to cry on stage now that they're aware of Berryz' upcoming indefinite hiatus.
While Nacky was happy the last time °C-ute got to appear at Budokan, she was even more so nervous and worried she was going to mess up, to the point where she now only remembers sporadic images from the concert. Thus, she hopes that this time around she'll be able to save some "video" of the concert in her mind, too.
Song: °C-ute – The Power
Maimi's Abs
Nacky finally remembers to ask Maimi Sayashi's question mentioned at the start of the show. (In case you forget, it was concerning Maimi's muscle training habits.) Maimi says she actually doesn't do any abdominal exercises, and to be accurate, she doesn't even want to: she says she doesn't wish for her abs to look any more defined than they do right now. Nacky says she's so jealous of Maimi's abs, but Maimi says she hates them and that they're a little too ripped and "macho."
Nacky says she's especially jealous of Maimi's stomach that just looks like it can't put on any weight. Maimi says she does have a slim stomach, but on the downside, she doesn't have a proper waist. Maimi says that developing abs might come more naturally to her than most: even when they have to take long flights of ~13 hours from Japan to France for example, her body doesn't feel tired at all.
Thus, no muscle training advice for Sayashi.
On Performing Live & Observing Fans

The two talk about their upcoming Fall concert tour. As Nacky previously talked about, °C-ute had more freedom and responsibility in the planning of this tour than before: they got to have a say in things like the setlist and such, and they've now received an "OK" from Tsunku. They talk about how when they were little it was usually Tsunku who decided on all of this for them, and although they were happy they got to do it this time, Nacky also felt really nervous about it, but offers that this level of nervousness might be just what °C-ute needed to be able to do the job well.
Nacky asks Maimi how she prepares herself mentally to be able to enjoy their live concerts to the fullest. Maimi says that while the concerts themselves are of course fun, she also keeps in mind the fact that they're going to get to eat all kinds of delicious meals at each city they tour in. Also, she takes special care in looking properly at all their audience members: she enjoys making even the attendees furthest from the stage aware that she sees them.
The other day at a Hello!Con concert when Nacky was sitting on the stairs on stage just watching the performance (she was waiting for the next song she sings on), her eyes met with someone in the audience who was watching her and not the performance. When she did a "yaaay!" pose for that person, they responded in kind. Maimi says that it might be a bit awkward for the people in the audience, too: "if there is, for example, someone in the front row wearing my T-shirt, they'll sometimes sort of look like they're thinking if they should be focusing the performance or on me, even though I'm just sitting there," Maimi explains. There are times when her eyes will meet with people like that, and they'll just sort of quickly avert their eyes, so it must be quite awkward what with the short distance between them and all.
Nacky and Maimi both say they enjoy observing their fans like this.
Song: °C-ute – Love take it all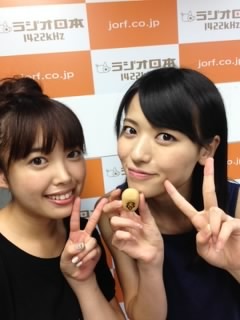 Mail Corner
Fan mail #1: The listener says that he recently met someone who's hobbies include bicycling, so he got them to watch Maimi's bicycle trip to Shizuoka's Kunouzan two years ago. After seeing it, the listener's new friend commented on how pleasant of a girl Maimi is and started to gradually get more and more interested in °C-ute, leading to the listener inviting them along with them to °C-ute's next tour.
Even the listener is surprised how quick the journey from their friend watching a bicycle video to wanting to attend a concert was — he says he got to witness with his own eyes Maimi's personality bringing more fans into Team °C-ute. The listener agrees with his friend: reading Maimi's blog, hearing her MC's in concerts and reading her interviews always makes him think of how great of a girl she is, and every time he becomes that much bigger of a fan.
Although Maimi is always saying she's just constantly relying on the other members, the listener asks if there's something that Maimi herself tries to be mindful of as °C-ute's leader.
Maimi is embarrassed but happy to hear this story and — referring to the "bicycle video to concert attendance" example — says you can never know how one thing may lead to another in life. The first thing Maimi mentions she makes sure she does is to not believe any rumors. Nacky asks if she means this as in rumors about the other members, but Maimi clarifies she means it about everything: she will only believe in what she's witnessed with her own eyes.
Maimi asks in turn if Nacky has anything she's especially mindful of, either as a member of °C-ute or just generally in life. Nacky says she tries to have fun doing anything and everything, and Maimi says you can really see that about her: that's why Nacky must have so many hobbies.
Nacky says that when she feels happy, she feels really happy, and when she feels down, she feels really down. But even when she does feel down, she tries to sink so low that she can just start laughing about it instead. Maimi, too, says that when she feels down, she feels thoroughly down, but if she's reminded about what made her feel that way, it'll start the cycle all over again. So in a sense she just keeps reminding herself of the negative happenings in her life and can't turn them into a laughing matter like Nacky.
Maimi says she's going to try and think more like Nacky, and Nacky asks her to continue being a wonderful leader for °C-ute.
Oyasumi Nacky
Nacky: Ugh, it's just pouring down with rain! I don't even have an umbrella with me. I don't think this rain's going to stop anytime soon… Hey, do you wanna just make a run for it together?!