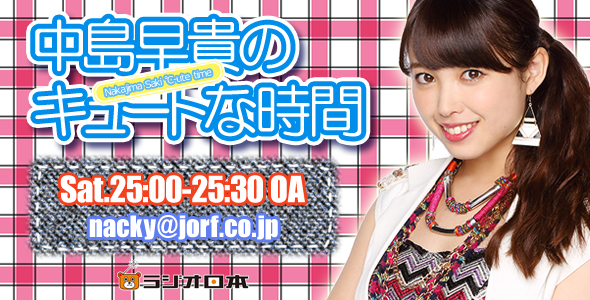 Answering Oda Sakura's question from Morning Jogakuin #124 as to whether she'd ever like to sing Tanpopo's "I & YOU & I & YOU & I," Nacky says she thinks it's a really cute song and remembers someone once singing it at a Hello!Con and thinking she wanted to sing it, too. She thanks Oda for wanting her to sing such a cute song, and recommends that anyone who doesn't know it checks it out.
Nacky notes that there is now less than a month to go until the upcoming °C-ute & Berryz Koubou Budokan concerts. Nacky says she's happy just to be able to stand on the stage of Budokan again, but the fact that Berryz is going up there with them makes it even better. Thinking back to last year when °C-ute was a guest at Berryz' Budokan concert, she really had a feeling of close friendship between the two groups when they sang "Ganbacchae!" together. Even now, well over ten years since they joined Hello! Project, she says that she still doesn't talk to the members of Berryz much because of her timid nature. But even so, they all feel like big sisters to her — even if Sugaya Risako is younger than her. She says she really felt the importance of friends at Budokan last year.
As for this year's Budokan, Nacky thinks she might become even more emotional, especially with Berryz' upcoming hiatus. That's her only concern about the upcoming performances: she might end up crying her eyes off on stage. She says she's going to do her best to make it a truly memorable concert.
Speaking about °C-ute's upcoming concert tour, "MONSTER," Nacky says that unlike how up until now they've always just received the setlist and details about the production of their tours, this time the staff actually consulted the members as to the kind of things they'd like to do. °C-ute gave them a long list of what their dream concert production would include, from beginning to end, and the staff implemented several of their ideas. While Nacky can't promise that what °C-ute wants is the same as what the fans want, she still thinks it's going to become quite the fun concert and one that is, indeed, based partly on °C-ute's own ideas.
Song: °C-ute – Kanashiki Heaven (single version)
Mail Corner
Fan letter #1: The listener asks what sort of things give Nacky the greatest sense of "ah, this girl sure has come a long way" when she's watching over her kouhai.
Nacky says there are lots of things like that. Naming some examples, she says she's lately really been taken with Ishida Ayumi-chan when she's performing on stage. She finds herself always staring at her and figures it must be because she likes Ishida-chan's dancing as well as her facial expressions so much. "Even though Ishida-chan is so slender, all her movements are very gracious," she explains. To her it feels like Ishida-chan perhaps purposefully dances in such a defined way to compensate for her tininess. She adds that it's not only that Ishida-chan's dancing is intense, but it's like she actually expresses the message of the song through her dancing. Overall, she thinks Ishida-chan is just a wonderful dancer.
But perhaps more than anyone else, Nacky thinks it's the girls of Juice=Juice who have really grown. She says they're looking increasingly more adult-like and she has a lot of fun watching them. She thinks that must be a part of the appeal for their fans, too: seeing them constantly improving more and more must be a motivation for the fans to keep cheering them on, too. Nacky says that all of Juice=Juice's members have a lot of color and personality in their voices, and that they often talk amongst °C-ute about how even when they're just humming their songs, they're subconsciously mimicking the tones of their voices, their senses of rhythm, etc, because they're just that prominent. Nacky thinks that's a huge plus for the whole group.
Song: °C-ute – Seishun Song (2012 Shin Seinaru version)
Fan letter #2: The listener reports seeing members of the Kenshuusei appearing on Hagiwara Mai's blog lately thanks to the summer Hello!Con. He asks to know who the most regular visitors to °C-ute's dressing room are on this tour — "aside from Maa-chan."
Nacky starts by saying that Maa-chan practically lives in °C-ute's dressing room and can be heard constantly going "Hagi-saaan! Oka-saaan!" Aside from Maa-chan, Shimizu Saki-chan often comes by as well. She says not many of their juniors actually come over to hang out, and this makes her consider Maa-chan all the more amazing for being able to come by so freely. Back in the days, Nacky says she could've never even imagined going into their seniors' dressing rooms and talking to them like it's nothing. Yet, Maa-chan will just enter as she pleases and basically almost start clinging on to them.
As for the Kenshuusei seen on Maimai's blog, Nacky explains that Maimai will often run into them in the hallways and just drag them into their dressing room, going "this girl is so cute, I couldn't help but bring her over!" She did this to Sasaki Rikako to name one, who Nacky says is just so beautiful, she's certain she's going to have a bright future ahead of her.
Fan letter #3: The listener asks, quite simply, if Nacky likes coffee, and if so, what type of coffee. He also asks whether the other members of °C-ute like coffee, and reports that he himself is lately drinking a large ice coffee from a nearby convenience store almost every day.
Nacky says she can't drink coffee straight, not even with added gum syrup, but says that she does love things like ice lattes and caramel macchiatos. She says she would like to become able to drink her coffee black, but hasn't been able to so far. The other members of °C-ute are mostly like her when it comes to coffee — the only exception being Suzuki Airi who can even drink hers black.
Nacky tells a recent episode of Okai-chan who used to hate any coffee that tasted even a tiny bit bitter, but suddenly one day she told Nacky she'd become able to drink it. Nacky was really surprised to hear this so she asked Okai-chan if she really meant actual coffee-coffee, and it turned out what Okai-chan had really meant was coffee milk. Nacky was not impressed.
Oyasumi Nacky
Situation: "Nacky as my cheerful girlfriend at a summer festival."
Nacky: Ooh, the fireworks! I'm glad we got to see them together. Let's come here again next year, okay?