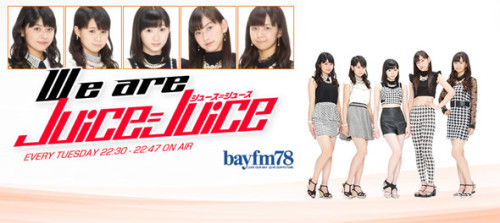 "I want to be able to cook!"
Uemu opens the show with this line because she thinks it would feel nice to make things for other people and have them think it's delicious. Karin asks her if there are any recipes she'd like to try making, and Uemu says that she would like to try making chocolate cake.
Karin changes the subject to the advent of fall and asks if Uemu has any clothing item that she pays particular attention to around this time of year when it starts getting colder. Uemu focuses on shoes because any outfit can become more fashionable with the right shoes. Karin says she has recently bought some fall clothing, but she thinks it's really difficult to find things that match with red checked shirts or stripes these days but she's going to try wearing them this fall for everyone. Uemu thinks that the clothes sound cute and really wants to see Karin in them.
Fan Letters
The first letter is from Meichan. She writes to say that she loves Date ja nai yo, uchi no jinsei wa, because there are some lyrics that say, "Don't look so sad," and when she had to go to the hospital recently, she heard the song and it put her in a better mood. She thinks that Juice=Juice have power in their music and thanks them for making it. She hopes to go to an event soon in the future when she's feeling better. Uemu and Karin hope that she gets better soon so that they can see her in person and sing the song for her, but for now they'll play the song on the radio.
Song: Juice=Juice – Date ja nai yo, uchi no jinsei wa