Fan mail #1: The listener is having trouble with dry skin due to it being the winter. They thus ask Gaki-Kame for their skincare advice.
"Cream and more cream," Gaki-san says. "And a humidifier," Kame adds.
Song: Morning Musume – Onna ga Medatte Naze Ikenai
Fan mail #2: "Eririn! Let us hear your tiger impersonation!"
Gaki-san rightfully calls what she just heard a very weak-sounding tiger. Kame tries to explain that it's an impersonation of a tiger yawning. She has another impersonation of "a tiger that is told to move out of the way," but Gaki-san says Kame's now just beginning to sound like Stitch: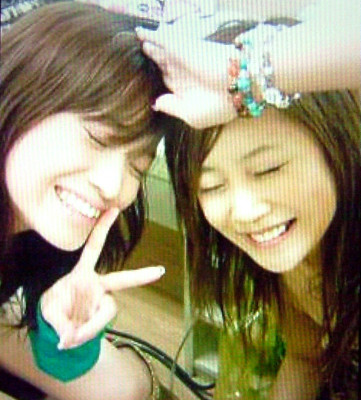 Fan mail #3: The listener confesses to being a male and, thus, being completely clueless as far as nail art goes, so she wishes to ask if nail art is something that you can use over and over again once they're made for you, or if you can only get one use out of them.
Gaki-san helpfully explains that no, you can't use the same nails a second time: nail art is like a "sculpture" created over your real nails and it's not something you can easily just remove and stick back on again. When it's time to get new nails, you remove it all and begin from scratch. That said, Gaki-san mentions there also being certain kinds of nail "chips" you can use over and over again.
Fan mail #4: This listener is a big fan of Gaki-san, and recently they saw a TV performance of "Onna ga Medatte Naze Ikenai" in which Gaki-san could be seen blowing a kiss to the camera which left the listener speechless. Regarding the choreography of this song, he wishes to know if there are any specific parts in it that the hosts wish the fans would pay special attention to.
Kame is very curious to know when exactly this kiss took place, but Gaki-san says she's pretty sure the listener means the PV in which she and Junjun could indeed be seen blowing a kiss. Gaki-san says she doesn't actually blow kisses very often, but she figured she's obligated to do so every once in a while.
The two talk about how much they practiced their model walking in preparation for the music video shoot. While also not a part of the dance choreography, the two point out that the hands visible in the make-up scenes belonged to their actual make-up artists on the day of the shoot.
Fan mail #5: The listener's big sister's boyfriend is reportedly making curry rice every single day. They wish to inform the hosts that they're constantly thinking about whether he never gets sick of eating the same food day in and day out.
Gaki-san and Kame both agree: eating the same food every day does get old. That aside, they say they both like these sorts of unique messages they get on the show every once in a while.
And speaking of unique messages…
Fan mail #6: "Kame-chan, Gaki-san, it's bad!!! All four of my wisdom teeth have come out!"
"CONRATULATIOOOOOONSSSS," Kame yells out, before following it up with "alright, time for you to get to the dentist then."
Song: Morning Musume – Nanchatte Renai
Song: KAN – Yokereba Issho ni
MY FIVE STARS
Gaki-Kame award five stars to whatever they're hooked on or interested in as of late
This week, Kame wishes to recommend a certain film that she's recently been addicted to: 2008's Ponyo. Gaki-san wonders why it's only now that Kame has gotten into the movie, but Kame doesn't get why she has to be blamed for this by Gaki-san who has never even seen the movie herself. "Your whole, "why are you only getting into it now?" complaint makes no sense!", she protests.
Gaki-san: Yes, it's true that I haven't seen Ponyo. But it's even weirder to only get into it now!
Kame: … (laughs)
Gaki-san: (laughs)
In any case, Kame explains her infatuation with the movie. Mainly, she's hooked because of how adorable Ponyo the character is.
Kame: She's so cute, and so considerate, and it's just, aaahh! Watching Ponyo it feels like you just return to being a child.
Gaki-san: Ah, I see. I don't want you becoming any more of a child than you already are though.
★★★★★
Gaki-san's recommendation: Michael Jackson – Wanna Be Startin' Somethin'
Gaki-san: That was "Start Something'" by Michael Jackson.
Kame: OW!