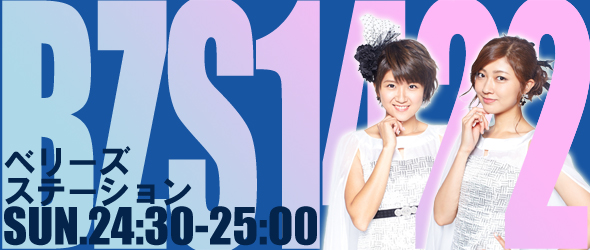 Berryz Koubou's final Hello!Con tour ended on the 15th. Chii and Kumai-san reminisce about their first Hello!Con tours back when they'd just joined 12 years ago, and how the Kids have since become the oldest active members of Hello! Project. So much has changed and evolved within H!P over these years, and Kumai-san thinks that evolution was especially evident with the "DANCE MODE" pattern of the latest tour what with the high-level acrobatics and all. The two share a strained laugh, however, when they come to the realization that despite this having been their last tour with H!P, not even one member of Berryz was included in said acrobatics performance.
Chii asks what kind of music Kumai-san has been listening to lately. Of the 136 or so songs released by Berryz Koubou to date, Kumai-san says especially feels like listening to their album and coupling tracks every once in a while, naming "Kimi no Tomodachi" and "Gaki Daishou." In other words, she mostly enjoys the lesser-known material, but as Chii points out, Berryz has lots of lesser-known songs that are also really great.
As for non-H!P music, Kumai-san has previously mentioned on the show that she likes NAOTO INTI RAYMI, an artist she still listens to. But lately it's mostly the Western artists that have been getting her attention, including Ariana Grande, Katy Perry and Taylor Swift. When she hears Western songs she likes at shops and such, she uses an app on her phone to find out the artist so she can listen to it again later at home.
Meanwhile, Chii is completely hooked on Disney music at the moment. She enjoys the variety: they have the ballads but also the really energetic songs as well. Some of her recent favorites include "Umarete Hajimete" ("For the First Time in Forever") from Frozen, "Part of Your World" from The Little Mermaid, and a song from Tangled whose title she doesn't remember.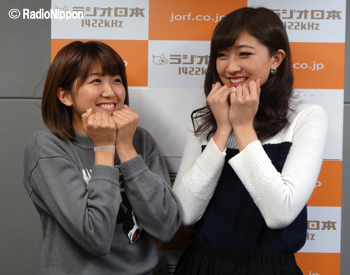 Song: Berryz Koubou – 21ji Made no Cinderella
Bankisha! Chinami no Otoku da ne
Tokunaga Chinami reports on the private lives of Berryz Koubou
Chii announces that this is the finale of this corner of BZS1422, and then wants to get right to it.
Topic #1: Ozeki Mai! Chii says she wanted to talk about her on this corner no matter what: it's apparently a topic that has to be discussed before the end of BZS1422.
Chii spoke on a previous episode about a funny incident with Ozeki-chan. On the recently-ended Hello!Con tour, there was a certain song where Chii always walked on stage just before Ozeki-chan. At one concert just before the song, Chii was getting mentally prepared to walk up on the stage shortly when suddenly Ozeki-chan — who must've figured Chii had missed the right timing — patted her on the shoulder and instructed her to hurry up and get going. Getting patted on the shoulder out of the blue caught Chii off-guard: needless to say, she wasn't expecting a newbie to say that kind of thing to her after spending 12 years in this line of work. Chii thought it was hilarious.
Some time after Chii told this story on BZS1422, Ozeki-chan suddenly walked up to her at another Hello!Con and apologized profusely. Chii had no clue what her junior was apologizing to her for, and Ozeki-chan explained it was because someone had told her about Chii recounting this "shoulder pat story" on the radio. She wanted to apologize for being so cheeky — she'd done it completely unconsciously. Chii told her it was fine and that she didn't mind at all — on the contrary, it made for a good story — but Ozeki-chan refused to accept this, saying she had done something inexcusably disrespectful. Chii just thought this was adorable.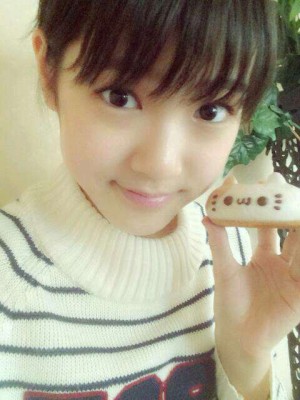 Chii was curious though: if Ozeki-chan hadn't actually heard the broadcast in question herself, then just how did she learn of it? Quite unexpectedly, it'd actually been Ozeki-chan's father who'd told her about it. The two wonder if this means that Ozeki-chan's father actively listens to BZS1422, and this reminds Kumai-san that Iikubo-san's father, too, has told her daughter that he listens to BZS1422, and he apparently thinks the show is really funny. "The dads really like this show," Kumai-san sums up.
In any case, Ozeki-chan actually consulted Momochi as to whether or not she should apologize about all this to Chii. Momochi assured her that she was sure Chii wasn't angry at her, but advised her to go ahead and apologize if it was something that was worrying her, and that's what she did. Ozeki-chan did, however, also thank Chii at the end for even mentioning her name on the radio.
Kumai-san points out that they're talking about Ozeki-chan on the show a lot lately. Chii has noticed this, and the two talk about how recently it feels like there are two main cliques within the followers of Country Girls: the Shimamura Uta fans, and the Ozeki Mai fans — Uta-chan is obviously the cute one, and Ozeki-chan is really, really funny. Chii tries to explain the difference between the two: whereas the former makes her go "Uta-chan, Uta-chan ♥", the latter makes her go "OZEKI!!!" Kumai-san understands perfectly what Chii means by this.
Topic #2: As it is the finale of this corner, Chii would like to take this opportunity to showcase her rapping skills just one more time. After a couple of failed attempts, she finally gets it right:
Chii: I want to live up to everyone's expectations / That's why I want to power up / Yeah!
Once Kumai-san is able to speak again, she praises her co-host for her amazing rapping. Chii thinks her coming up with this rhyme was nothing short of a divine miracle.
Song: Berryz Koubou – Jiriri Kiteru
Mail Corner
Fan mail: The listener attended a two-shot cheki event with Berryz and had a picture taken together with Chii. This was their first time meeting the members and they'd never even attended a concert before, so they were so nervous they didn't speak a word or even look Chii in the eye. This shyness makes the listener very worried about their upcoming job interviews. He thus asks the hosts how they are able to ease their nervousness at crucial times such as this.
Chii felt extremely nervous at Berryz' second Budokan concert. Kumai-san remembers this as well. Still, Chii found that the key is simply in letting time pass: you have to remind yourself and be confident that no matter how nervous you feel, it's eventually going to get better with the passing of time. Kumai-san suggests that instead of feeling restless and making yourself even more worried, you just have to psych yourself up by telling yourself that it's going to be alright. Image training, too, might be useful: Chii suggests picturing yourself succeeding before going to sleep the night before.
With that said, the two don't even want to think about how nervous they're going to be on March 3rd — they expect lots of shaking, stomach aches and pain in their chests.