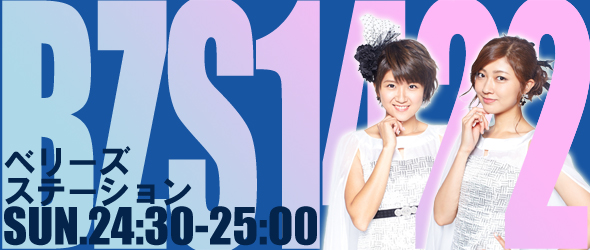 "Talk about the non-H!P related goings-on in your private life as of late." That's what the script instructs the hosts to do, and Kumai-san begins by sharing that she did something very girly the other day: cooking! Chii has trouble believing this but Kumai-san insists it's true: she baked a chocolate banana pound cake. "Why?" Chii asks, and Kumai-san explains that it was simply because she had some bananas laying around that had gotten a bit past their prime and she figured they'd taste better in a cake.
As for Chii, her big sister recently attended something called the Furusato Matsuri at Tokyo Dome. It's an annual event with lots of stalls selling all kinds of prefectural cuisine for the people of Tokyo. Seeing her sister's pictures from the event, everything there looked very delicious. And what does all this have to do with Chii specifically? Well, she recently thinks she'd like to attend this event. Next year.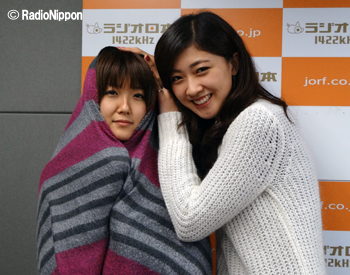 Song: Berryz Koubou – Heroine ni Narou ka!
Random-Draw Discussion
The hosts talk about random members of Hello! Project
This time the hosts will be randomly drawing from posters sold at the winter Hello!Con.
H!P member #1: Kumai-san begins by drawing a poster of none other than possibly the biggest Kumai-san fan in the world, Fukuda Kanon! As many might already be aware, Kumai-san is Kanon's no. 1 oshi and as such, she can regularly be spotted wearing her Kumai-san "ENJOY" sweatshirt at rehearsals. Kanon liked Berryz even before her own audition, and even after joining the Eggs she'd regularly use her own money to buy tickets to Berryz' concerts. In fact, she even took part in the Kids Audition way back in 2002 when she was just seven years old.
Chii thinks Kanon is very womanly: she loves doing her makeup and even the walls of her room are purple — very convincing arguments the both of them. Also, according to Kumai-san, she looks exactly like her mom. In closing, the two agree that Kanon might as well be called the "god of Berryz wota."
H!P member #2: Next, Chii draws Takagi Sayuki!
Chii: I think Takagi-chan is Angerme's- wait, no… (laughs)
Chii explains that she's very tired today — of these past 133 episodes of BZS1422, this is the most tired she's ever been. It's past midnight as they're recording this and Kumai-san reports that Chii's eyes appear to be only half-open right now.
Getting back on topic: Takagi-chan is the only member of Juice=Juice who Chii has exchanged contact information with, and the other day right before their Hello!Con tour began, Takagi-chan actually sent a message to her on LINE expressing a desire to talk with her senpai more. Chii replied asking why she felt that way all of a sudden, and Takagi-chan explained that she simply hoped they could speak more before Berryz' hiatus.
While the two haven't actually talked much on this Hello!Con tour, Takagi-chan is very sociable and she'll sometimes approach Chii just to tell her about what she's been doing lately. Watching over her on this past tour, Chii thinks of her junior as a really hard worker: she's very serious about her dancing and singing, and she can often be seen practicing her poses in front of a mirror.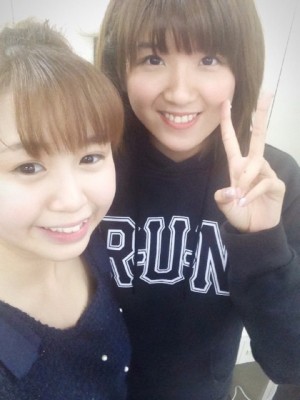 H!P member #3: Lastly, Kumai-san draws Country Girls' Ozeki Mai! Immediately Chii starts laughing and says how funny this girl is. Kumai-san says she really respects her: she was recently next to her at a Hello!Con rehearsal, and her first impression of her was that she talks to herself a lot. For example, when she makes a mistake with her dance steps, she'll mutter "I messed up…" When she doesn't mess up, she'll mumble "alright, I did it!" Kumai-san finds this adorable.
Chii, too, expects a lot from Ozeki Mai. Chii has been group mates with Momochi for the past ten years — a relationship she describes as a "business partnership" — and she feels that when Momochi becomes a full-fledged member of Country Girls, the new business partner replacing Chii will be none other than Ozeki Mai. Kumai-san says she kind of gets what Chii means by this.
"I really have high hopes for her. I hope she comes to hate Momo more and more," Chii says, laughing.
Song: Berryz Koubou – Munasawagi Scarlet