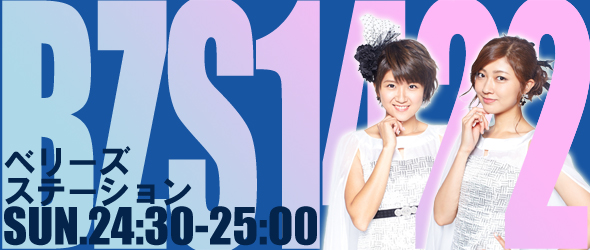 Berryz Station 1422 caster, Tokunaga Chinami, and special commentator, Sudo Maasa, warmly greet the listeners. There is excitement in the air this week: they have a super special guest visiting them! Without further ado, their guest introduces herself as Kumai Yurina, the 21-year-old in charge of good looks within Berryz Koubou!
Not long after, she inquires what is going on: it's usually Chii's role to be teased by forcibly making her the guest on occasions such as this. Still, even more worrying to her is how Maasa is back on the show so soon since her last visit — she suspects she might be aiming to become a more permanent part of the show. Maasa argues that she's innocent: this is all decided by the staff. "I'm just trying to do my job," she says. Chii takes the opportunity to point out why Maasa doesn't deserve a regular spot on BZS1422: to her and Kumai-san, doing this show doesn't even feel like work. Maasa laughs at this statement.
Maasa: So what is it then?! Are you saying you're on your time off right now?! (laughs)
Kumai-san: … We're just here to have some fun. Right?
Chii: … Yes.
Maasa: To "have fun?" This is work! Work, I tell you!
Chii asks DJ Yurina to introduce the first song of the show. Tragedy ensues.
Song: Berryz Koubou – 1oku 3zenman Sou Diet Oukoku
BZS1422 Dai Bounenkai
It's time for a special corner: the Great BZS1422 Year-End Party! That's a fancy name for what Kumai-san points out means simply a free-talk corner. Also, pizza.