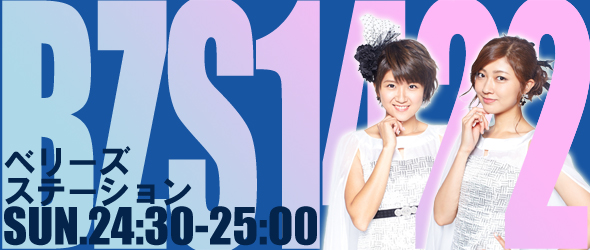 "Merry Christmas!" While this is the first broadcast of 2015, the hosts explain that this episode is actually being recorded on Christmas Eve. Still, as it still is the first broadcast of the year, Chii says she's sure she isn't going to flub her words even once during the show, partly also thanks to her recent enthusiasm towards rapping and "rhythm." Kumai-san expresses doubt at this claim, and as probably goes without saying, Chii's confidence turns out to be completely unjustified not many minutes after.
January marks the beginning of the final Hello!Con tour for Berryz, and our hosts were actually rehearsing for it prior to recording this episode. Chii says she has something she feels very sad about regarding this rehearsal: even though it's Christmas, the members received no cake, no nothing from the staff! Chii couldn't believe it.
Lack of cakes aside, the two talk about how there are now so many new members rehearsing with them. "It's overflowing with youth!", Kumai-san describes. But the rehearsal space seems to be overflowing with feelings of something else as well: Kumai-san has noticed how members of the staff — many of them who have been watching over Berryz for many years now — have been looking at them as they rehearse, some with perhaps a hint of nostalgia in their eyes.
Chii wishes to share something with the listeners before the first corner of the show. The other day, a fan who attended an individual handshake event with Berryz Koubou shook hands with Kumai-san and told her that they'd become a fan of the group through listening to BZS1422. The two were very happy about this, and they agree: if even one person became a fan of Berryz through BZS1422, then these 129 episodes of the show have all been worth it.
Chii: But for some reason, that fan didn't come and shake hands with me.
Kumai-san: … Huh?
Chii: Let us move on to the first number of this week's BZS1422.