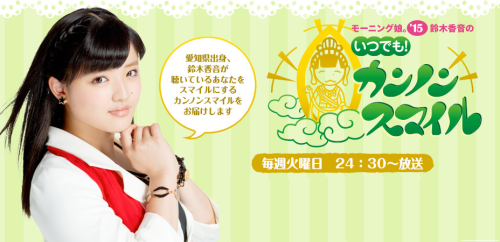 Maria is back for this show and Kanon starts two off with a discussion on their latest single. Starting with Sukatto My Heart, Kanon mentions that at the beginning of the dance, Maria is part of the small feature dance at the beginning of the song. When Maria found out she was chosen for that part with the four other members who were part of the dance team in Oh My Wish, she was super surprised and felt that she had to do her best no matter what. Moving on to Ima Sugu Tobikomu Yuuki, Maria-chan also has a solo part in this song. Initially, Maria thought for sure it would be a while before she received her own solo line because she isn't very good at being precise with rhythms. But, she paired up with Riho to work on things she felt she was bad at. During their concerts, when Kanon saw Maria was improving with practice, Kanon thought "Wow, she's working so hard!", since, she felt that Maria seemed like the type to not truly listen but actually is always listening closely to advice. For Kanon, she received a main vocal part on Oh My Wish! for which she is very thankful to receive. Lastly, they both recommend everyone checking these songs out.
Song: Morning Musume '15 – Sukatto My Heart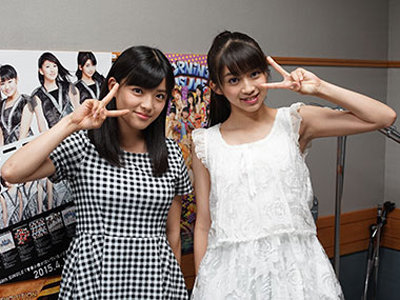 The two that hail from Aichi are back!
I, Suzuki Kanon Will Open Up To My True Feelings Message Corner!
Message 1: "Maria, please tell us your name origin."
As far as name origin goes, originally Maria was going to be named Rikako but, because of some sort of circumstance she doesn't really know about, her mother changed her mind. She named her Maria as it has a sense of "being loved by the world" and the last kanji in her given name is the kanji for love, which represents the "being loved" part. Kanon thinks that's a pretty great origin story. She asks if Maria has had any stories to tell regarding her name. She's a bit confused at first, but Kanon gives an example: when they were represented on a tv programs web page, she saw people seeing her name and commenting that the name had a wonderful feeling, 'like that girl must be really loved'. Understanding, Maria expands on her parents thought process, revealing her parents thought about just representing her name in katakana or hiragana, but then picked kanji for the name instead. Also, the name also holds meaning in English, which was also a nice factor.
Message 2: "Next year, Maria will graduate from middle school, right. So, what memories do you think you will keep from middle school?"
Right now, Maria says she's had a lot of fun in particular during her second her in middle school. Although, in the middle of it, she entered Morning Musume, so she transferred to a school in Tokyo. Fortunately for Maria, things worked out fine and middle school was the first time she felt she enjoyed going to school. It feels like everyone is unified in their youth; everyone goes through the same troubles so Maria is happy when she could come together with other students to overcome problems. It was also the first time Maria felt like she didn't want summer break to arrive. She excitedly shares a small story about first transferring to Tokyo: the teacher and students were pretty excited to receive a transfer student, so she ended up being kind of spoiled by everyone's interest in her. Over the course of this discussion, Maria has gotten really riled up talking about school, to which Kanon comments 'Wow you're really energetic about this, huh". Realizing she has taken up the whole discussion, Maria quickly asks, "What are your memories of middle school?!". Laughing, Kanon shares that when she joined her teachers and family were understanding that while she should have paid more attention to her school work, since she had just joined Morning Musume they understood that she was very busy. To end, Maria apologizes for monopolizing the discussion, although Kanon was totally fine with it.

The next song is one Maria chose to play because it is a song she has liked forever and always sings it at karaoke.
Song: Morning Musume – The Peace!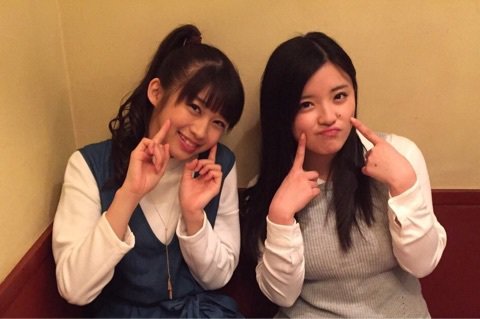 Maria's excitement is cute so Kanon ain't even mad
They continue reading messages in the second half of the show.
Message 3: "The two of you are both from Aichi, so what do the two of you have more in common with than any of the other members?"
Since they're both from the same hometown, there of course are many things, Kanon suggests. Of course they share a common dialect, but Maria reveals that she actually learned many things from the previous show from the postcards fans sent in about Aichi. Since they both can only return on breaks, it's easy for them to forget about many things regarding their hometowns. But of course, they both love Sugakiya. Kanon asks if Maria has eaten their Hiyashi Chuka. They both have and agree one must add in mayonnaisse to the dish. Its seems that in Tokyo, mayonnaise is pretty rarely added to things, much to the surprise of Kanon and Maria, who bond a small bit over both loving mayonnaise.
Message 4: "Speaking of things Kanon and Maria have in common, you both like Disney. Both Maria and Haruka have been to Disney parks overseas, so I'd like to know which park she likes best and if she has any stories from Disney,"
Maria has been to Disney World, Disney Land, and Tokyo Disney. When asked which park is her favorite, she initially says Disney World, then immidiately changes her answer to Tokyo Disney. Of course, everything just seems bigger at Disney World and she has spent two weeks there before, so it's a pretty memorable place for her as well. Once, Maria and her mother went to Disney Land for the new year and ended up just calling her father from home.  Kanon has never been to Disney park overseas, so she just simply says Maria's experiences sounds amazing. Maria's favorite character is Minnie and Kanon's is Mickey, so the two could get go and buy matching merchandise. In reality, Maria should probably go to Disney with Erina, since the two are both super into going to the parks, getting fast passes and going to all of the events.
Message 5: "In April, Maria got to perform the first pitch at the Tokyo Dome at a match between the Nippon Ham Fighters and the Seibu Lions. However, after she threw the pitch she looked incredibly frustrated since the ball went up and to left. However, it was probably Maria's first time holding a pitcher's mitt and baseball in that type of setting, so perhaps, Kanon, who has played softball, would be able to offer some advice or practice."
To start off, Kanon never pitched while playing softball so she isn't sure how much help she would be to Maria. So, she turns the conversation to Maria, asking her how that day of the first pitch went. The day of the pitch, Maria was pretty devastated when she threw the ball and it flung off to the left, especially because she practiced a lot the day before. During Hina Fest, she was constantly playing catch ball with her manager as well. But, performing a first pitch is a pretty unusual thing to be allowed to do for Morning Musume member so that's something to note, Kanon says, and that it's something Maria will remember for a long time. Maria agrees, although she still sounded a bit frustrated that the memory is of her throwing it slightly incorrectly.
Song: Morning Musume '15 – Ima Sugu Tobikomu Yuuki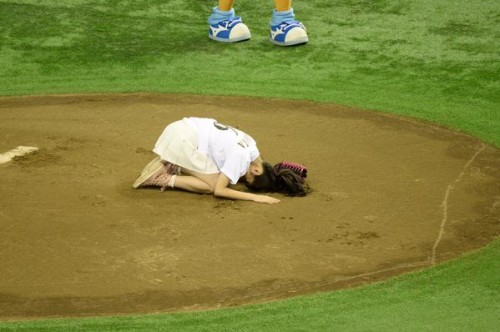 Well…there's possibly a next time, Maria
Otsukanon~!