Gaki-san starts the 50th episode of the show by reading a fan letter. The fan has heard that Kame's cheesecakes are famously well-liked by members of Morning Musume, and so they wish to know if the two hosts often get to do much cooking.
Gaki-san makes it clear: Kame's cheesecakes really are delicious. The two were actually just talking about this the day before, about how it's really no good if a girl can't cook properly. Kame, however, immediately says that she no longer cooks. Still, she thinks she might get back into it around Valentine's Day next year — like they discussed earlier, being good at cooking immediately boosts your womanliness. Gaki-san agrees, and wants to one day be able to cook foods that are easy and fast, and yet, delicious. That's the type of woman the hosts both agree to aim for.
Song: Morning Musume – Genki Pikappika!
Fan mail #1: The listener just recently finished their university entrance exams. As he was studying one night, he wanted to take a quick break so he turned on the radio and FIVE STARS happened to be on. This was the first time he'd heard the radio show and he became an instant fan — he says it's actually the first time he's become a fan of females. In any case, now that his exams are over, he's been catching up on the mountain of books, CD's and DVD's he has yet to enjoy, and the one thing he's learned from doing this is that he's become more prone to crying. While the people around him tell him that it's completely okay, he personally thinks it's rather effeminate and he wishes to "cure" himself. So his question: do the hosts think he should fix this about himself or not?
Kame thinks it's completely acceptable to be a guy who cries — in fact, she thinks people who purposefully try to hold back their tears are uncool. "It's much better to live honestly," she explains. Gaki-san agrees, and adds that since guys don't cry just because someone scolds them or something — it's always tears of deep emotion and such — she thinks it's completely okay. Kame thinks most women would like that sort of thing. "So please cry," Gaki-san tells the listener.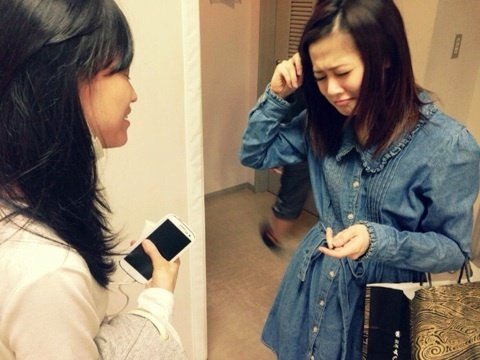 Fan mail #2: April Fool's Day is approaching, so the listener asks if the two wouldn't mind sharing (just between them and the listeners) what sorts of lies they plan on telling on April 1st.
Gaki-san says that while she does tell April Fool's lies, she's never even once gotten emails like that from Kame. Gaki-san herself puts some effort into it: she actually sends a different lie to everyone and they're all very plausible. Gaki-san once sent one to Kame that went along the lines of: "Oh no, I got a nose piercing. I don't know why, I just felt like it. I just did it. What am I going to say to the manager?!" Kame took it seriously and advised her to be honest and just tell it to the manager straight. Gaki-san received immense pleasure from having successfully fooled Kame. Even Yoshizawa Hitomi emailed Gaki-san about it all worried, and when Gaki-san apologized saying it was a joke, she received back a cold "stop screwing around" from their leader.
Gaki-san and Kame start planning a lie they could tell their manager. Gaki-san suggests telling one to their female manager: "hey, I heard Tsunku wants to put you in Morning Musume. Is it really true?! I mean, seriously?!" The two figure they could probably pull this off if it was a young, new manager — they picture her happily going "Whaaat? No way~♪"
Fan mail #3: The listener wishes to know what songs the two use as their ringtones.
Gaki-san asks if her co-host has a lot of different ringtones, and Kame answers that she does but that she doesn't know how to change them for different individuals. Gaki-san blames her for being too technologically incapable. Kame's current ringtone is a GReeeeN song (possibly one called "Kiseki"), whereas Gaki-san's is a Michael Jackson song. Regardless of their choices, though, the two ask listeners to make Morning Musume songs into their ringtones.
Fan mail #4: The final listener has a question — or rather, a silly joke — for Kame: "does your DVD "too sweet Eri" have anything to do with the manzai duo Audrey?"
"It does," Kame says. "Society simply wants to see a collaboration between Kamei Eri and Audrey right now. … What do you think about this completely made-up answer?" Anyhow, Gaki-san saw the related photobook and she warns that one shouldn't look at it too closely — it's apparently really quite sexy. "While Kame may always be fooling around being her usual airheaded self, there was an adult-like sexiness in the photobook that makes you forget about that altogether", she says.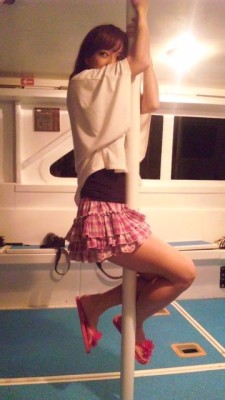 Song: Morning Musume – Aishite Aishite Ato Ippun
MY FIVE STARS
Gaki-Kame award five stars to whatever they're hooked on or interested in as of late
Gaki-san announces the recipient of her five stars of the week right away: her own hair! Listeners haven't yet seen her new hair, but she cut it short and got herself some bangs. Meanwhile, Kame's recent hobby is touching Gaki-san's new hair and making a mess of it, which Gaki-san understandably wants to end. And while she's on that subject, Gaki-san adds another thing on the list of things she wishes her co-host wouldn't do anymore. The other day she was filling out a questionnaire quite seriously, when Kame suddenly drew a huge pile of poop on the paper. "So now half my questionnaire was filled with poo," Gaki-san laments. "You know, the soft cream type."
So this all leads to Gaki-san changing the target of her five stars. "This week, I'm giving them to the ever-mischievous Kamei Eri."
Kame: Hooray!
★★★★★
Kame hopes everyone — especially the members of Morning Musume as most of them really love their moms — will listen to the following song.
Kame's recommendation: Aoyama Thelma – Mama e
Song: Morning Musume – Ano Hi ni Modoritai
Gaki-san: We're waiting for all your messages! Go ahead and ask us anything, such as "when did Kame wake up from her hibernation?" et cetera. Anything goes!