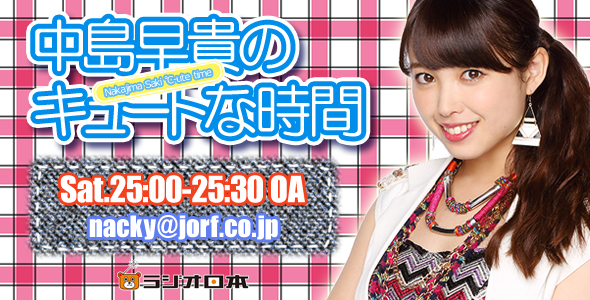 In the Jogakuin episode that preceded this broadcast, Kudo asked Nacky what her favourite hairstyle was. Kudo's personal favourite is the bun Nacky did in Bagel ni Ham & Cheese, with Nacky wota Oda-chan enthusiastically agreeing in the background.
Nacky prefers hairstyles that don't get in the way when she's dancing, so her current favourite is a half-up do. When she's dancing wildly, half-ups allow the half that's let down to go wild, making her dancing look even more intense. On the other hand, when she doing more laid-back dances, her hair doesn't get in the way of her face. She thinks that it's wonderful, so she'll continue to rely on half-up dos from now on.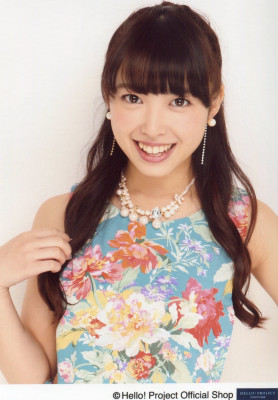 With Berryz' hiatus coming up, ℃-ute started thinking from roughly around December that they should do something for Berryz Kobo. They collected photos to make an album, but they didn't want to just give Berryz Kobo a present, they wanted do something that only ℃-ute could do, to make memories and have a good time together. Berryz' schedule was hectic at this point, with nary a break. The only free time they had was on the night of 29th January, so ℃-ute contacted Berryz' manager to book the time. Each member of ℃-ute had their own role to play in arranging the surprise party. The party was held in something like a karaoke room, decorated with Berryz Kobo posters.
Berryz themselves entered the room thinking that they were there for an interview. Then, ℃-ute rushed in with crackers – 'No more work for you today! It's time for US!' Momo-chan was the most surprised – she cried, overwhelmed by emotion. That caused Airi and Mai and Nacky to start crying as well, so Momoko was asked to stop infecting the rest with her tears.
Then the party got started. Midway through, as they were having fun chatting, ℃-ute announced that they had another surprise for Berryz! ℃-ute had compiled comments about Berryz Kobo from the various people who had worked with them, which had been edited into a video by Airi. They had issues with getting the video to play on the screen, so they ended up enlisting the help of their manager. In that way, the success of the party wasn't just due to the efforts of ℃-ute, but was also thanks to the help they received from the staff and everyone else.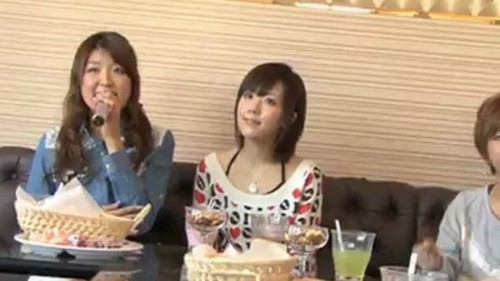 For the video, ℃-ute asked the staff to give comments to the members of Berryz Kobo for their surprise party, and received heartfelt comments. They also asked about any memories these people who had worked with them from since they were tiny: there were emotional stories, as well as amusing ones. Given that it's those very same members of staff who are now listening to the girls' opinions, Nacky really feels that they truly are in a wonderful, loving environment. The loving comments that the staff had for Berryz Kobo also went straight to Nacky's heart.
There was also a mode where the karaoke machine would line up a medley of hit songs from a certain period of years, so the girls had no idea what song would come up next. Those who didn't want to sing were penalised, and forced to eat some really spicy food. They really had fun.
Chisato got into really high spirits, not wanting to let go of the mike. As their time neared its end, Chisato insisted that she sing a song before they all went back. Cutting short the song that Mai and Captain were singing, Chisato livened up the place once again by singing Watanabe Misato-san's '10 years'.
The next time they met after the party was at the Fukuoka Hello! Cons,  and ℃-ute received an enthusiastic reply when they greeted Berryz Kobo. Nacky's glad that they held the surprise party, she feels like it deepened their bonds.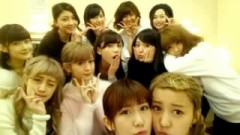 ♫ BeriKyuu – Amazuppai Haru ni Sakura Saku ♫
1 year since their last appearance, Bitter & Sweet  – Tasaki Asahi and Hasegawa Moemi – are making their second appearance as guests on the show! That 1 year seems to have passed in the blink of an eye. The girls of Bitter & Sweet remember being very nervous back then during their first time on ℃-ute na Jikan, since it was their first appearance on radio. At some point, there had even been an awkward silence during the recording. By now, the girls of Bitter & Sweet had also grown more used to being on radio – or at least, better at hiding their nervousness.
Nacky feels that the girls of Bitter & Sweet have gotten closer, communicating through things like Bitter & Sweet rock-paper-scissors. While it's just your run-of-the-mill game of rock-paper-scissors, the use it to decide who goes first. For example, when they're doing song covers, they divvy up the lines beforehand, then play rock-paper-scissors to decide who'll be the first to sing.
In fact, they've gotten close enough in this one year that they can even quarrel with one another, close enough that they don't hesitate to point out each other's missed notes during practice. The fact that they're close in age probably helped speed up the process, with Moemi as the older sister and Asahi as the younger. Nacky remarks that they do seem more at ease.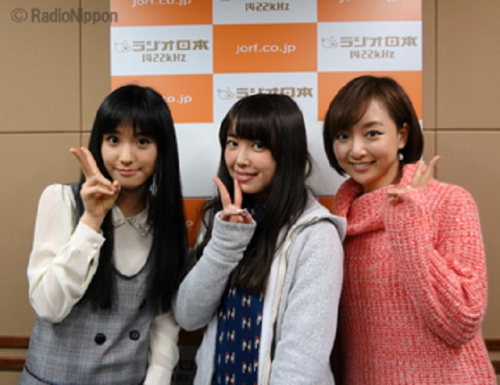 As Bitter & Sweet have been performing as guests for the Hello! Cons, Nacky asks them how they feel H!P has changed, with ℃-ute leader Yajima Maimi having taken up the mantle of H!P leader and the influx of new blood.
Asahi has noticed the large number of people in H!P. When Bitter & Sweet were doing the rounds and greeting people backstage, they got swamped with a barrage of replies. The atmosphere felt a lot more cheerful to Asahi.
Nacky asks Asahi if there's any member she's got her eye on. Asahi has been on good terms with Morning Musume。´15 Makino Maria from way back, back when Asahi was still a solo performer. They got to talking backstage, commenting on the performances on-stage. Asahi calls her 'Mari', while Makino calls her 'Asahi-chan', which comes as a surprise to Nacky. They don't have many opportunities to meet, but Asahi always misses her dearly. Asahi finds her friendliness adorable.
As for Moemi, it'd be the Sasaki Rikako, from the time that she was a Kenshuusei. Her cuteness and facial features from her mixed blood make her really Moemi's type. Even when she was a Kenshuusei, she'd give energetic greetings that would always turn Moemi's eyes into hearts. Nacky gets what Moemi means – Rikako's a girl that gives it her all.
Nacky asks them if there's anyone else, not necessarily H!P related, that they like.
Moemi: Sugaya-san and Natsuyaki-san.
Nacky: Ah, that's within Hello! Project though.
Moemi likes and adores how stylish and doll-like they are. She'd also like to learn how to apply make-up like they do. Nacky suggests that they just ask them, but while Moemi would like to, Asahi explains that they can't bring themselves to talk with them. Nacky gets it – she finds it hard to get along with people from her own generation that she doesn't know well. And those two have quite the presence.
Nacky doesn't really talk much with Bitter & Sweet, even at Hello! Cons. Moemi feels that there never is a good time to talk – to which Nacky agrees that there never is – and Moemi feels like they just pass one another by.
♫ Bitter & Sweet – Renai Wars ♫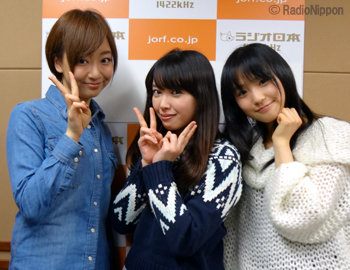 Nacky reads out a letter from Nacky no Ichibandeshi (Nacky's star pupil). This listener checks out the blogs of the H!P members every day, so they'd like to ask the girls if there are any entertainer's blogs that they make sure not to miss every day, and whether there are any H!P member blogs that have caught their interest.
Asahi often keeps tabs on 4-person rock group Radwimps, which Nacky finds surprising. She still checks their homepage out, though there haven't really been any updates. But when an update does turn up, it makes her happy.
As for H!P, Asahi checks out ℃-ute's blogs, which she uses as a reference. She tries to mimic their long blog posts, full of sentences that are rich in vocabulary. It doesn't take much to deduce that she's learning from ℃-ute leader Maimi's essay-length blog posts.
Moemi will occasionally check out blog posts by Miyazaki Yuka from Juice=Juice. She doesn't check Yuka's blog posts out every day, but she'll binge on several blog posts in one go. Having the same birthday, 2nd April, got both of them talking, and they became friends, going to watch movies together.
Yuka-chan's single kanji blog titles also pique Moemi's interest. It's amusing in a surreal way, which makes Nacky interested in checking Yuka-chan's blog posts out too.
Nacky admits to reading a lot of blogs. She checks out the Berryz Kobo blogs, though she doesn't really follow ℃-ute's posts. She also follows the blogs of models and talents, and she enjoys posts by mama bloggers as well.
Asahi: Amazing, that's really widespread!
This has led to Nacky's bookmarks overflowing, which kind of defeats the purpose of having bookmarks. Asahi asks whether Nacky learns anything through these blog posts. Nacky usually finds out what the current trends are. She's learnt through mama bloggers that the first year is super tough, and she knows roughly when kids start walking. It's not exactly what you'd think of as formal learning though.
While Bitter & Sweet have never followed mama bloggers, Nacky enjoys reading their posts and seeing their babies' growth. She recommends that Bitter & Sweet check mama bloggers out, as she finds blog posts by these mama bloggers soothing.
Oyasumi Nacky
Nacky: One sheep, two sheep… Hey, how long do you expect me to keep on counting sheep?