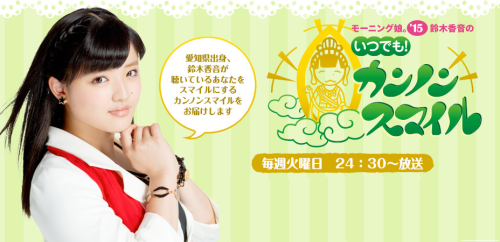 Sakura is back! For the intro, the two discuss Children's Day, which happened to be the day this show aired. Kanon asks if Sakura has any particular memories attached to the day. Sakura recalls the helmet her family would bring out, which was something Kanon's brother brought out too. While its simply called Children's Day now, it used to be called Boy's Day and the two associate most girl related celebrations with Hinamatsuri. They both reminisce about what they ate for the holidays, such as small cakes, mochi and a fancy lunch sets. Going back to Children's Day, it falls during Golden Week, meaning Morning Musume will be pretty busy during that time. This year, they'll be holding a concert at Nakano Sun Plaza, and the girls invite everyone to come. To finish their opening talk Kanon reminds everyone that Sakura is the first guest on her radio show so its going to be a pretty special show today.
Song: Morning Musume '15 – Yuugure wa Ameagari
I, Suzuki Kanon Will Open Up To My True Feelings Message Corner! (with Sakura)
Message 1: The writer thinks that Morning Musume's latest song "Yuugure wa Ameagari" seems like its a message for Sayumi and wonders what Kanon and Sakura think of that.
The two agree that recently they've been reigning in their Sayumi feelings. Sakura states that most of the DVD magazines and the past Spring Tour DVD have been released, and that means Morning Musume releases involving Sayumi will soon end.. Going back to the song, the two bring up the lyric "I'm reminded of the fun nostalgic days, but they won't come back". They delve into the lyrical meaning of not being able to go back; to Sakura, its more like "I can't return to the finale,". Kanon brings up Tsunku's Liner Notes, that explained "Its a sad song, but it's also a forward-looking song," also "Its sad that Sayumi left, but please leave the future to us,", which she thought was quite moving, but still reminds her of her time with Sayumi.
Message 2: This listener went to one of Morning Musume's latest concerts. They ask Kanon what goes on backstage at concerts.
Kanon thinks that the atmosphere backstage is very "Morning Musume-like" and everything they do throughout the rehearsal to the start of the show is very "We are Morning Musume '15". Sakura adds that the 12th generation act as if they dont' want to be seen as foolish. Kanon agrees, adding that before a performance Sakura seems to concentrate on the choreography and such. She's happy to hear she has that air especially since when she joined she wasn't sure what to do at all. To end this thought, Kanon thinks she's doing a good job as a support figure for the 12th generation.
Message 3: This listener requests that Kanon speak the opening dialogue from Shabondama, but in a Nagasaki dialect.
Kanon is Kanon!
As per request, Kanon and Sakura will be singing songs based on listeners suggestions! Kanon loves going to karaoke and has occasionally gone with Sakura. So they are both excited to sing together today.
First, they bring up Kanon's previous impersonation of Kanazawa Tomoko's part in "Ijiwaru Shinaide Dakishimete yo" and the staff wants Sakura to try the impersonation. Which they both do:
Request 1: Goto Maki's Suppin to Namida. Kanon got to sing this song during the 2014 Winter Hello! Concert and they have wanted to hear her sing it again ever since. Kanon comments that Sakura would be able to sing this song well, of course. This is in fact the case as Sakura has sung Suppin to Namida with Suzuki Airi, Fukuda Kanon, and Tamura Meimi, on a television program, and at a birthday event. This makes Kanon feel like Sakura is her senpai in this case, which Sakura denies, and they start the song:
After, they agree that they were both nervous; Sakura thinks this was especially so because they were making eye contact the whole time. Also, it was bit different from where she normally sings as the radio studio has different mic levels and such.
Request 2: Happy Daisakusen.The song is energetic and forward looking and the listener would like to hear Kanon sing such a happy song. This song also happens to be from Sakura's debut single. The two decide to sing the song in unision:
Once the song ends Sakura jokingly yells at Kanon for messing up the lyrics. But they had fun singing it.
Request 3: Kanons' favorite Berryz Koubou song. Because she is accompanied by Sakura, she thought she would pick a song that would be easy to sing together and has a karaoke feel. So she picked Yuke Yuke Monkey Dance. Sakura responds with a large "Yay!".
Sakura excitedly says she had a lot of fun singing that. They agree that they made the song more like they were hanging out in a Karaoke box which they thought brought a fun atmosphere.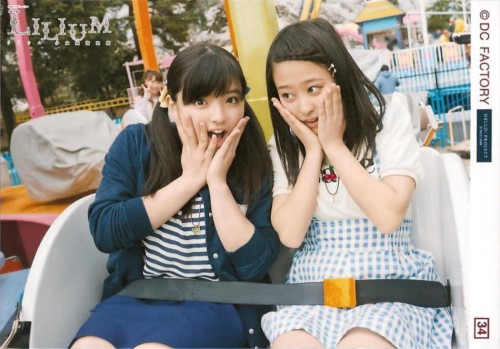 How cute was that?
Otsukanon~!