LoVendoЯ no LV-Я #71 (2015.02.03)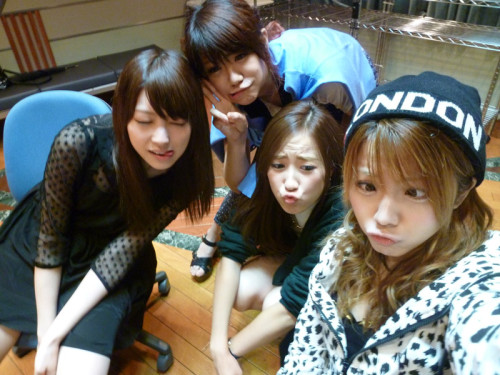 Some time ago, Reina noticed that she'd been cheated out of some money. She'd been given a 100 yen coin in change at some store she'd been to, only to later realize that the coin looked and felt like something entirely different from the usual 100 yen coin — it turned out to be a Korean won. She told her mom and her little brother about this unfortunate incident and left the coin on a table at their house for them to marvel at.
Now, several days after the fact, the coin apparently remains in place on the table exactly where she left it — no one cares.
Situation Music
Theme of the week: "songs for students preparing for their entrance exams"
Nee-san & Marin introduce songs that fit the theme
Nee-san's pick: GLAY – Hashire! Mirai
Speaking of her own experiences regarding studies, Nee-san reveals that she hated it so much, she developed atopic skin because of it: when she tried to study, her body just got unreasonably itchy. When she stopped studying, however, her skin healed immediately. She wishes students struggling with their exams all the best.
Marin's pick: Sambomaster – Dekikkonai wo Yaranakucha
"Fantastic," replies Okamari when Marin asks for everyone's opinions on the song. "I think I'm going to go and rent a Sambomaster album on the way home today." Okamari says she actually gets into phases when she just needs to listen to Sambomaster, and this has been the case ever since she was a student herself. Marin understands, highlighting the strong messages in Sambomaster's songs.
Okamari thanks Marin for her song choice. Marin is confused, not knowing how to react to the unexpectedly great response.
Song: LoVendoЯ – Ikujinashi
LoVendoЯ no LV-Я #72 (2015.02.10)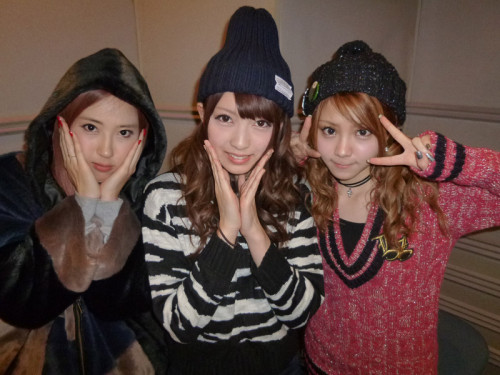 Okamari recently attended a fishing expo. To the surprise of absolutely no one, she couldn't find any friends who wanted to attend it with her, so she just went alone. She talks excitedly about the kinds of new lures on sale there and everything else she liked about the expo. The other three members of LoVendoЯ sound moderately disgusted.
Situation Music
Theme of the week: "Valentine's Day"
Nee-san & Marinintroduce songs that fit the theme
Nee-san's pick: Nishino Kana – GO FOR IT!!
"The lyrics are so cute!" That's the first thing Nee-san wants to say. "It feels very shoujo manga-ish." Marin is surprised by such a girly song choice from Nee-san. The latter reveals that she actually found out about this song by doing an internet search for "Valentine's Day songs." Reina — seemingly tired of the weekly onslaught of heavy metal tunes — pleads for Nee-san and Marin to only play these types of songs on the show from now on.
Marin's pick: Arashi – Love so sweet
"Nostalgic" is the word all members of LoVendoЯ would use to describe this song, having all seen the drama Hana Yori Dango for which this song served as an opening theme. Okamari announces her love of Ore-sama, aka Domyoji, whereas Marin was definitely more of a Hanazawa Rui fangirl — Domyoji and Hanazawa being the two love interests between whom the female protagonist tries to decide throughout the series.
Okamari wishes to explain that pretty much only the people who have seen just the drama will say that Hanazawa Rui is the nicer guy of the two — it's only with reading the manga that one realizes the greatness of Domyoji. Reina, however, liked Domyoji well enough even in the drama version. In any case, Okamari says she would be happy to lend the series to any of the members if they ever wish to check it out again.
Song: LoVendoЯ – UNDERGROUNDER
LoVendoЯ no LV-Я #73 (2015.02.17)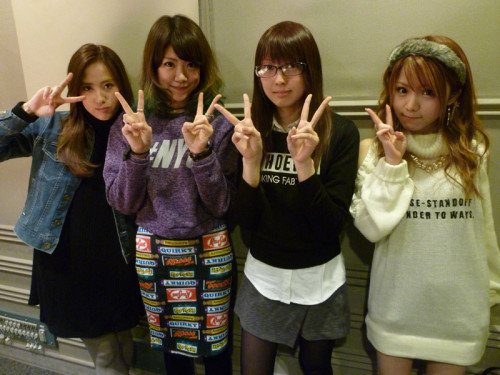 The members take a minute to talk about their blogs and how they are recently able to post videos on them as well. This has led to Marin taking up the hobby of posting good-for-nothing, mini-drama videos on her blogs. So far it's only been her and Okamari starring in them, but in the future she hopes to have other members act in them as well. Reina immediately squashes these hopes, saying she will not be doing Marin this honor. Ever.
Meikyoku Shiritori
Theme of the week: songs whose titles start with "i"
Nee-san & Marin introduce two great songs; Reina & Okamari decide which is better
Nee-san's pick: BABYMETAL – Ijime, Dame, Zettai
Reina was impressed by the drumming on this song. Marin agrees, saying the drumming was "so good I laughed." The members are all in agreement that they would like to see BABYMETAL live.
Marin's pick: B'z – Itsuka no Merry Christmas
Marin loves this song in all its mellowness. Reina notes how Marin and Nee-san will first notice how the playing on any particular track is, whereas her and Okamari mainly listen to the lyrics and vocals above anything else. This would appear to be just one of the many differences between guitarists and vocalists, they agree.
And the winner is…
…
It's a tie!

Reina says Marin, Okamari says Nee-san. This calls for a quick match of rock-paper-scissors.
And the winner is…
Marin!
Song: LoVendoЯ – Kono Yo ni Shinjitsu no Ai ga Hitotsu dake Aru no Nara
LoVendoЯ no LV-Я #74 (2015.02.24)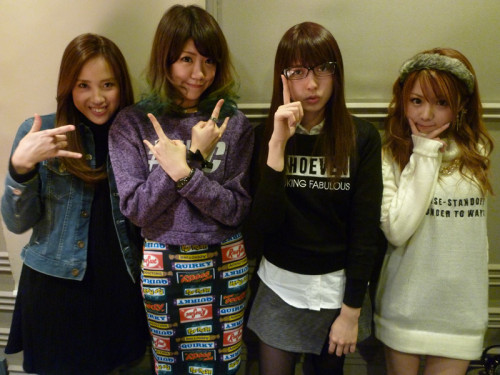 Situation Music
Theme of the week: "songs for fresh graduates"
Nee-san & Marin introduce songs that fit the theme
Nee-san's pick: Spitz – Sora mo Toberu Hazu
Another nostalgic song for many of the hosts — Nee-san especially remembers singing this at her elementary school graduation ceremony as a message of gratitude to the parents. She reveals though that she didn't remember all of the words, so half the time she was just lip-syncing her way through the song.
Marin's pick: Janne Da Arc – Furimukeba
Everyone loves the cover art of the CD (shown below) that fits the theme of the week perfectly. This leads to everyone talking about how they wish they could go back to their student days once more even if, like Reina points out, the funny thing about it is how during the actual time you are in school, you basically think of it as nothing but a chore. Marin hopes for all current students to put their all into learning and having fun in school.
Song: LoVendoЯ – Stonez!!