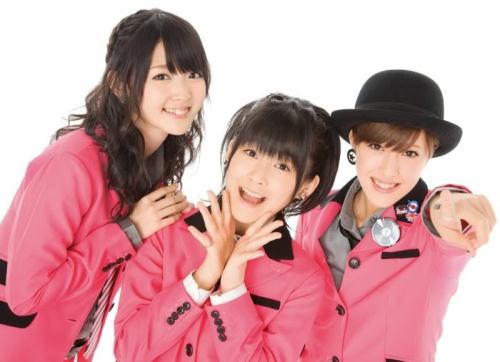 ♪ Buono! – Winter Story ♪
Momoko announces that the day after the show, December 21st, would be 'Enkyori Ren'ai no Hi' – 'Long-distance relationship day'. It's a day for long-distance couples to reaffirm their relationship before Christmas (Airi: 'Christmas should be sufficient though'). The girls do find it a tad unreasonable that these couples can't wait the three, four days until Christmas. The discussion spills over to them talking about the proliferation of couples in town during this period of time – all flirting here and there.
Momoko: Please, think about where you are.
♪ Jackson 5 – Little Christmas Tree ♪
Discussion topic: This year's Christmas presents recommendations for children
 Momoko thinks that there are quite a lot. Firstly, Yo-kai Watch. Miyabi comments that it feels like all the toy stores are inundated with Yo-Kai watch products. Not just the medals, but even the capsule toys seem to get sold out. It's similar to the Pokemon boom of their childhood days, though the girls don't really know the names of the characters. However, they are familiar with the sight of the series' mascot, the orange cat Jibanyan. The series' Pikachu, if you will. Momoko seems to be the resident expert, which is attributed to her involvement with the kids programme OhaStar.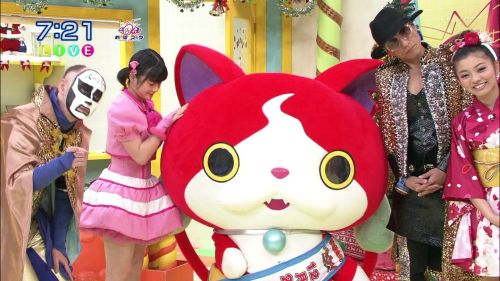 Next up is Frozen. The girls are in more familiar territory here, as the film was aimed at all ages. Halloween saw a lot of people cosplaying characters from Frozen, including Berryz Kobo's own Sugaya Risako, who dressed up as Elsa. It is a Disney film, after all. And who wouldn't be happy receiving something Frozen related?
On the other hand, things that people wouldn't be happy receiving would be study-related materials. Airi wonders if kids who like studying might be interested in dictionaries, but the other two aren't really buying that line. Even things like illustrated reference books aren't what you want for Christmas. They'd want something fun to open on Christmas Day, like games.
♪ Rudolph the Red Nosed Reindeer ♪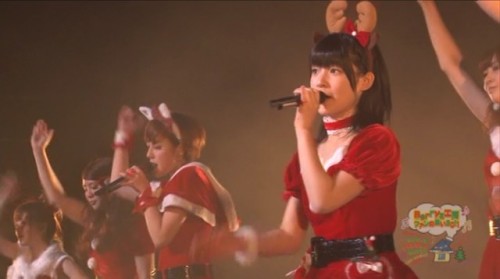 Himitsu no Dengon Note
Secret voice note
Today's secret voice note is from an 18 year old male listener, a high school student who's preparing for his university entrance exams. The National Center Test is happening in January, but he can't concentrate at all. By the time he realises it, he's just staring blankly at the television. He's thinking about getting rid of his television, but is getting stopped by his family. What should he do?
Airi understands the temptation of the television, but getting rid of the television just for the sake of his exams would be unfair to the family – they watch the telly too. And getting rid of a television isn't a trifling matter either. Airi remembers taking a page from someone on television, probably Okamoto Rei, and covering her television to stop it from becoming a distraction. Momoko suggests that at the very least, he could remove the TV card.
Momoko explains that her father really enjoys watching variety programmes on his days off. He'd seclude himself in his room and just watch variety programmes. In order to pull him away from the television to make time for meals with family, her mother would remove the TV card and hide it. This led to scary fights over the TV card. Momoko recalls her father got past this trick by taking the TV card from the television in her room, which led to them fighting as well.
Airi suggests that the listener try to go to a distraction-free environment, like a cafe or family restaurant, which would force him to focus on studies. That gets rid of the distraction of the television without requiring him to get rid of it.
Airi: So going to the cafe with the TV card removed, that would be good?
Momoko: It's meaningless if the TV card's removed when he's at the cafe though.
The girls agree with Airi's suggestion, and wish him good luck for his exams.
♪ Buono! – Blue-Sky-Blue ♪