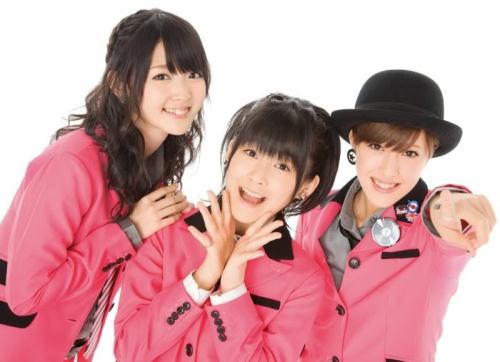 ♪ Buono! – Kira Kira ♪
Momoko announces that November 22nd is 'Ii FuuFu no Hi' – '(Married) Couple's Day'. Getting married is something everyone's dreamt about, and Momoko asks the others if their parents have good relationships with one another. Airi thinks that her parents have a good relationship. Her ideal marriage, perhaps from her observations of her mother, is one where the wife walks 3 steps behind the husband.
Airi: That's my ideal. But there are all types. Even ones where the woman is in control.
Momoko: That'd definitely be my preference. I'd keep my spouse on a short leash.
(Airi and Miyabi shriek and applaud)
Momoko: Wouldn't that be better? I'd seize all the power. In the future. If I get married.
Miyabi: (laughs) Momo would be like that. That'd happen.
Momoko: One step, two steps behind? No way, no way. Or even the same level? I'd rather be on top.
Miyabi: The same level would be fine for me.
For Airi, her father is the provider for the family. While in the Tsugunaga family, the mother may not be the backbone of the family, but she despite that, she still commands the father.
In Airi's opinion, being at the same level is fine. But she'd like to become a wife who would support her husband whenever anything happens. The other two agree that it's important to be supportive at times like that – what they've been discussing is a different thing altogether. When outside, of course they'd be supportive of their spouse, but their earlier discussion concerned domestic matters.
Airi thinks that she'd dislike a situation where you'd have the children observing that the mother is in control. The mood in her family is that the father of the highest importance (Momoko: 'It's definitely my Mama in my home'). Her mother would notice when her father wanted additional servings of rice and bring it to him. This doesn't happen in Momoko and Miyabi's homes – their fathers would have to ask for seconds. In fact, when Momoko's father asks Momoko to bring him some water, Momo's response is, 'Eh? Don't you have legs?' If he asks nicely and explains that he's tired, then Momoko will understand and go get it. But if it's just a 'Momo, water~' she'd just respond with a insolent 'Come agai~n?'.