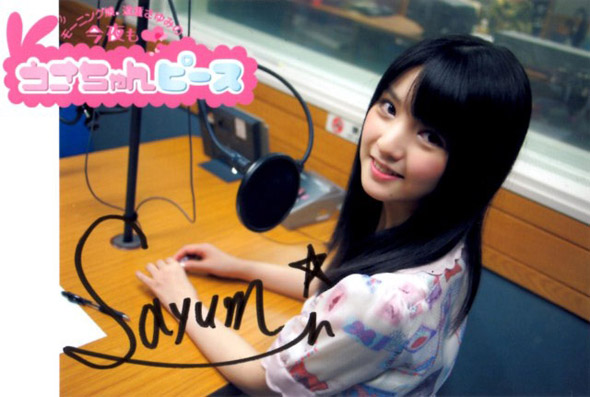 Sayu talks about "YOUR LOVE," her final photobook as a member of Morning Musume that was released last month. This being her 11th photobook, she feels thankful to the fans for having been able to release so many of them throughout the years.
Sayu is usually quite picky when deciding on live costumes or doing photo shoots for normal pictures — she'll want to have her say in everything from the shape of her one-piece dress or the length of her boots so she can look the best that she possibly can — but when it comes to photobooks, she always leaves everything up to the staff. This is because while she's normally very selective about what she wears, she feels that photobooks should be something where fans can discover new sides of her entirely.
The same thing applied to "YOUR LOVE." Sayu didn't say one word about what she hoped to wear, leaving all of it up to the staff. Lately in photobooks like "Mille-feuille" and "Blue Rose," Sayu has mostly been wearing more mature swimsuits with subdued colors, but since this was her last photobook as a member of Morning Musume, the staff prepared a pink swimsuit for her this time. Sayu really felt their love through that choice: it reminded her of her first photobook and how she was so happy she got to wear a pink swimsuit on that one, too. She still remembers doing that first photoshoot in high spirits and personally asking the cameraman to take a picture of her with a nearby cat, which actually made it into the photobook: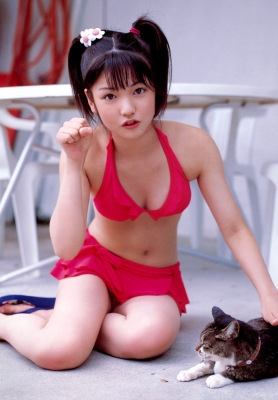 Looking back, Sayu remembers a period of nearly two years when she didn't get to release a new photobook, which was a source of sadness and anxiety for her. She was worried that maybe her last one didn't sell enough and if she'd ever be allowed to release another one again. She recalls being a bit chubby around then as well, so she went on a diet to better her chances of getting another one. She was really happy when she finally did get to release her next one, "Doukei," and it reminded her of how great a feeling it is to release a new photobook.
She hopes lots of fans get to see her last photobook, too.
Song: Michishige Sayumi – Shabadabadoo
Sayu no Kobeya
Letters from listeners
Fan mail #1: The listener reports to having had a dream about Sayu, which made their day. The details of the dream? The listener ran to the post office with Sayu and tried to buy some mochi even though it wasn't New Year's, only to be told that they didn't have any — even though they'd definitely had some the day before. They left the post office, not understanding how they couldn't possibly have had any. The listener asks Sayu to share any of her past dreams she might remember.
Sayu says the most memorable dream she's had might be the first one she ever remembers having as a child. There was a huge elephant and a giraffe in front of her house, and for some reason, everything aside from the two animals was in black-and-white. Looking back it was a really fantastical dream, but at the time Sayu just thought it was very frightening.
As for a more recent dream, Sayu dreamed about their dance instructor telling her that the choreography of "TIKI BUN" was going to be changed entirely. Furthermore, she was told that the 9th, 10th and 11th gen members had already memorized it and Sayu had to learn it right away, even though they were just about to go on stage to perform it. Needless to say, everyone aside from Sayu was able to dance it perfectly, and she felt really embarrassed.
Fan mail #2: The listener says they loved Sayu's big sister's drawings in her personal book "Sayu" and that they want to see a continuation of the story made by the two. They ask what Aneshige is drawing as of late.
Sayu says that her sister enjoys drawing the outlines of something and then coloring it in. But lately she isn't so much into drawing as she is into writing Sayu letters: the other day when Sayu came home after working late, her sister had already gone to bed but she'd left Sayu a letter just thanking her for working hard as always.
Returning to the subject of Sayu's latest addiction açaí na tigela, she mentions trying to get her sister into it recently. Sayu suggested they go out and try some at a restaurant. Her sister excitedly agreed, but since she'd only seen it on famous people's blogs and such, she has a very "celeb" image of it. Thus, she pronounces "açaí" like it's some sort of a fancy, celeb-like word. The Michishige household has gotten lots of good laughs out of this.
Fan mail #3: The listener feels sad about Konya mo Usachan Peace ending, saying that the show has become very dear to them. They came to know Sayu's personality and way of thinking through this show, and learned that Sayu isn't just cute on the outside, but they came to like her as a person as well. For them, this show played a big part in them becoming so devoted to Sayu. The listener thanks Sayu once more for these past eight years of Konya mo Usachan Peace.
Sayu thanks the listener, saying she felt touched reading this letter. For Sayu, too, this show changed a part of not only her career in Morning Musume, but of her life in general. It made her very proactive towards work, she came to realize how fun it is to talk, it changed many of her views and gave her a place to share those views with fans, so Sayu feels grateful for the show as well. She's very happy if the fans, too, felt something similar when listening to this show.
Moshimo Sayumin
Listeners submit what-if scenarios for Sayu to consider

Scenario #1: "If you had to leave your house under the watch of one member from Morning Musume '14, who would it be?"
The first person Sayu thinks of is Harunan, who she feels is the most reliable member for the job. Not only is Harunan the eldest, she also joined the group at an age later than most so Sayu feels she has a pretty decent amount of common sense, too. Sayu is confident Harunan could handle it if there was a sudden express delivery to the house or something.
Sayu thinks Ishida could probably manage it, too, but the only problem is… Sayu thinks she feels Ishida's gaze on her a lot as of late. Sayu says she's worried that if Ishida was left alone at their house, she'd look for certain things belonging to her. Sayu clarifies that she doesn't think Ishida would steal anything of hers, but she might stop and search for certain items. Sayu wouldn't want Ishida going through her old diaries or anything.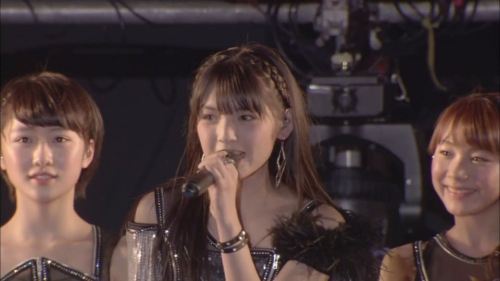 Scenario #2: "If you had to make an official T-shirt for Sato Masaki, what would it say?"
Maa-chan is well-known for her rather peculiar, original words such as "Tanasa-tan" and "Minishige-san." But Sayu's noticed that she doesn't use some of those words very much anymore — such as "konchikuwa." Thus, Sayu would like to create a T-shirt that lists all those words Maa-chan created but doesn't use anymore, crossed over with a large "X".
Scenario #3: "What would you do if you turned into a bug?"
Sayu sometimes thinks about this when she notices a bug that's flown into their house. What she would do as a bug is avoid getting close to humans as she figures doing the opposite is something that definitely raises their chances of getting killed.
Scenario #4: "If you were to create a game that had a boss at the end of each level, and each of those bosses was a H!P member, who would be the boss at the final stage of the game, i.e. the last boss? Also, who would be the weakest, first stage boss?"
Sayu would make either Yajima or Sugaya the last boss. Yajima will soon be the leader of H!P once Sayu graduates, and she also has lots of muscle that would protect her against attacks. Meanwhile, Sugaya just has this amazing presence for her age that Sayu doesn't think anyone could reproduce — even if she isn't wielding any weapons, she seems really tough to beat.
As for the weakling first stage boss, Sayu would make it Momochi. Sayu thinks both H!P fans and non-fans alike would appreciate seeing Momochi at the beginning, and especially the non-fans might get more into it if they saw a familiar face so early on in the game. In Sayu's mind, you wouldn't even need to attack Momochi: simply lightly touching her hair would be enough to defeat her.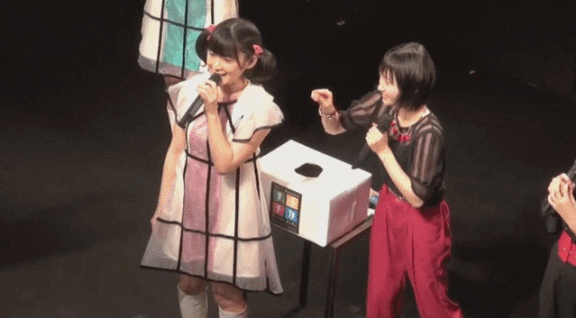 Scenario #5: "If you were a guy and you were picking up/hitting on Michishige Sayumi, how would you go about successfully winning her over?"
Sayu says she'd try saying something along the lines of "come over to my place, I have really fast internet." She thinks she might want to go as her own internet connection has a bandwidth quota, and Sayu is always annoyed when the speed is limited and she can't properly watch YouTube and such when she wants to. Sayu would appreciate an unlimited, snappy internet connection.
Song: Michishige Sayumi – Lalala no Pipipi
Tottemo Moechau Mousou Sexy Word
Sayu recites innocent words in a sexy way
Sexy word of the week: "Merci"
Sayu: Oyasayumin ♪