FOOD
This week's opening topic
Autumn foods: Kame names salmon as one of her favorites, although adding that she enjoys eating it pretty much throughout the entire year anyway. Gaki-san too is very much aware of how much Kame loves salmon — Kame mentions she actually just had some for breakfast earlier today.
Meanwhile, Gaki-san's favorite autumn food is shiitake, or just mushrooms in general. But more than any food out there, what Gaki-san is most excited about in regards to this time of the year is Halloween and the special Halloween events that one can experience at Disneyland. Kame tiredly asks Gaki-san to "graduate" from her Disneyland obsession already; Gaki-san says she absolutely will not.
Song: Muten Musume – Appare Kaitenzushi!
Fan mail #1: The first listener, pen name Gakincho (brat), has something to report to the hosts! They are currently attending nursing school, and this past summer they had been studying hard for tests to receive their first-aid knowledge qualifications. They've now learned that they managed to pass said tests! Starting from November, they will begin hands-on training at a hospital, adding that they will do their best and support Gaki-Kame forever.
Gaki-san: This really is great. You must have really done your best!
Kame: And to think that a gakincho could pull it off! If anything, you should call yourself an otonancho! (adult)
Gaki-san: … What is that?
Kame: Otonancho.
Gaki-san: What?
Kame: It's the opposite of Gakincho.
Gaki-san: I don't know what you want me to say.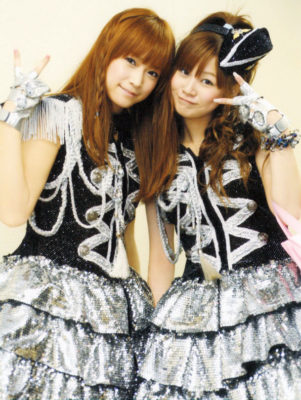 Fan mail #2: The second message is also from a young student, pen name Mukku. Unfortunately, they've been getting low scores on their tests at school as of late, and so they ask the hosts to give him some encouragement. "If you do, I think I might just be able to get into high school!"
Gaki-san thinks it's funny how, after just reading a message from someone who worked very hard to achieve what they have so far, they're now hearing from someone who sounds like the exact opposite. "I don't actually dislike this kind of thing!," Gaki-san laughs. Still, the hosts are glad if we the listener thinks the hosts' encouragement might help them succeed in getting in to high school. They thus do give him the requested encouragement:
Gaki-san thinks she just witnessed Kame being more energized than she's been all year. The hosts agree that if Mukku doesn't get into high school with this, they're going to be angry.
Fan mail #3: This listener has a question. While they've heard the origins of the name "Eri" somewhere, they don't believe they've ever heard what inspired the name "Risa"…
Gaki-san isn't sure she's actually heard the story behind the name "Eri." Kame reminds everyone: she was named Eri because her father is a big fan of the group Southern-All Stars who have a song called "Itoshi no Ellie." This song became the inspiration for "Eri."
Gaki-san was named Risa because her mother had a mental image of having a daughter who everyone would call by her first name: "Risa!" That is apparently the only reason she was named that. Unfortunately though, as she points out, hardly anyone actually calls her "Risa" — everyone seems to prefer "Gaki-san."
Song: Morning Musume – SONGS
Song: S/mileage – Onaji Jikyuu de Hataraku Tomodachi no Bijin Mama
FIVE PLEASURES
Gaki-Kame Self-Quiz Showdown!
Kame Quiz: Last night, Kame went to have yakiniku with her mother. They were there at the restaurant for about an hour. Kame's question is: in that time, how many times did they have to change the netting on their grill?
Gaki-san guesses it was four times — before quickly changing it to five. The correct answer? Four times. Kame does not award Gaki-san a point for this one. Gaki-san is not happy.
Gaki-san Quiz: This morning, Gaki-san said she was hungry and so she asked her mother to make her some fried rice. Soon after, something happened that made Gaki-san glad. What was it?
Kame's guess is that there were shiitake mushrooms in the fried rice that her mother prepared for her. This is incorrect. What made Gaki-san glad was that her mother had made the fried rice into the shape of Mickey Mouse.
Thus, this week's showdown is a tie.
Kame's song recommendation: Sakura Merry Men – Kimi no Kakera
Gaki-san & Kame (while imitating Korosuke of Kiteretsu Daihyakka): We're waiting for your messages! Go ahead and ask us anything, such as "is it true that Kamei Eri has met with Martians?" Anything goes!