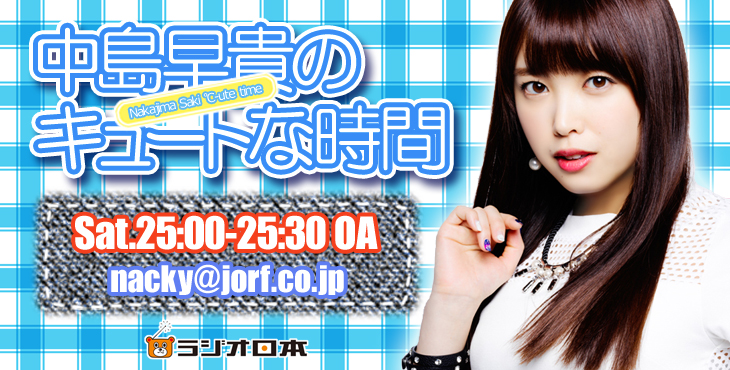 ℃-ute na Jikan took a break the previous week due to a special Morning Jogakuin broadcast. On that note, Musume。 subleaders Ikuta and Iikubo were the hosts of the Jogakuin episode that preceded this ℃-ute na Jikan broadcast. It's kind of strange to Nacky that they're subleaders. Nacky joined H!P because she admired Morning Musume。, but now the Musume。 are her juniors.  Still, along with leader Fukuchan, she'd like them to lead Morning Musume。´16 even further.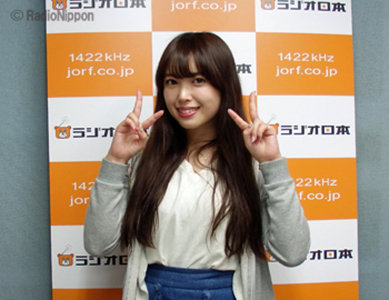 This broadcast was recorded prior to the end-May Tamura and Suzuki Kanon Budokan graduations, so Nacky'll touch on those Budokan concerts in a future broadcast. Instead, she'd like to talk about ℃-ute's Hong Kong and Taiwan concerts.
They had extra time during their three days in Hong Kong, which allowed them to have some fun. Nacky found the architecture in Hong Kong to be different, with the skyline decorated with tall and thin skyscrapers. She also found Hong Kong to be a colourful place, with cute red taxis.
At the Hong Kong concert itself, the fans had laid a surprise for ℃-ute: They'd prepared towels which carried the message 'Arigatou ~Hong Kong kara Mugen no Yell~' (Thank you ~An Eternal Yell from Hong Kong). The fans' excitement at ℃-ute's first Hong Kong concert also pumped ℃-ute up.
With just a single day in Taiwan, ℃-ute were mostly in a rush when they were there, but the staff members got them xiaolongbao and tapioca milk tea (Nacky: 'The xiaolongbao was awesome!'). The xiaolongbao were so delicious that Nacky wouldn't mind  coming to Taiwan more often.
Lots of people who had been at their previous Taiwan concert were in attendance, as well as people who were seeing them for the first time. Nacky feels that there were lots of girls in the audience, with quite a lot of them copying ℃-ute's outfits and hairstyles.
Since both countries are pretty close to Japan, Nacky hints to the staff members that ℃-ute wouldn't mind going again.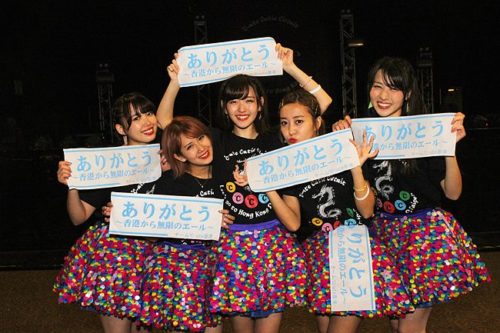 ℃-ute had also dropped by Saitama prefecture for their spring tour. As a Saitama resident herself, Nacky was pleased. But what made her even happier was that her grandfather had come to watch her concert for the first time in two, three years.
He mentioned that he would like to see the concert when she visited his place in early May, and she managed to secure some tickets  for him through her manager. He seemed to have really enjoyed it, even if he couldn't make out Saki out from the rest of the group – everyone seemed to look  the same to him. She's still happy that her grandfather enjoyed the performance though.
And at the Koshigaya leg of the spring tour, as well as in a blog post, Okai Chisato announced that she had been diagnosed with vocal cord nodules, and that she'd be receiving treatment after her 22nd June birthday event. She'd also be forced to stay quiet after the treatment, which became a topic of jest amongst the members. While it may seem like a joke at the moment, the members would like to keep an eye over her, and Nacky hopes that the fans would also wait and hope for a speedy recovery.
At handshake events, the fans have jested with the girls: 'While Okai-chan's not around, who should we oshihen to?' While Nacky finds this amusing, she asks that they not oshihen – Chisato is likely to return before you know it, after all.
Time for the first song. Nacky likes Chisato's singing in this one.
♪ ℃-ute – Urayanjau ♪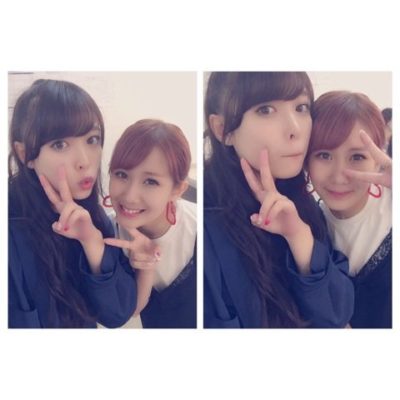 Nacky wishes many happy returns to Sayashi Riho, who celebrated her 18th birthday on the 28th of May. While she can't really meet Sayashi-chan, who's studying abroad, she hears news about her from the members of staff. It sounds like she's doing really well, living a really carefree life. While Nacky wishes that she could go to see that carefree Sayashi-chan, she's just too far away. Since Sayashi-chan's serious, Nacky's pretty sure that she'll excel and become fluent in English. In the meantime, Nacky will wait for the return of the English-speaking, carefree, and lively Sayashi-chan.
Next, Nacky draws a name to see which listener will win the gift for the April Power Up Week. This time around, the gift is a collaboration between Nacky and the Morning Jogakuin regulars (9-11ki) – signed sets of Nakajima Saki no ℃-ute na Jikan's original business card and Morning Jogakuin stickers.
There are plans for further collaborations in the future. Nacky is grateful to Radio Nippon for the abundance of H!P radio programmes, which allows for collaborations with various groups. She wonders who she'll collaborate with next – ANGERME seems the obvious next step after Morning Musume。 Going straight to Country Girls would be quite the leap for Nacky.
At least with ANGERME, she can talk with Takechan and Rinapuu. Though ANGERME's unique atmosphere troubles her a bit. Still, it'd be interesting to chat with the ANGERME members, so she'd like to try collaborating with ANGERME if another opportunity rolls around.
And so, for the second song, here's a ℃-ute song that ANGERME covered back when they were still S/mileage.
♪ ℃-ute – Kimi ha Jitensha Watashi ha Densha de Kitaku ♪
4th June marks the 19th birthday of ANGERME's Nakanishi Kana-chan, and Nacky sends her well wishes. When it comes to Kananan, the only thing that pops to Nacky's mind is when she was tasked to draw a portrait of Kananan for HaroSute, giving watchers a hint(?) about the next MC. Nacky feels really sorry about how bad the drawing was, and hopes that she'll see Kananan soon so that she can give a proper apology.
It doesn't feel like Kananan's nineteen. She's one of those people who can seem young at times and old at others, so it's hard for Nacky to pin down her age. When Nacky was nineteen, she couldn't wait to hit twenty, and she wonders how Kanana feels. But it's Kananan's last year as a teenager, so Nacky hopes that she enjoys her youthfulness.
On to messages from listeners. The first message comes from a listener who went to watch them in Taiwan. Watching the Taiwan audience get into the songs made the listener recognise how much music goes beyond borders. The listener stayed over for an extra night, had their fill of the food in Taiwan, and visited the standard tourist spots. Did ℃-ute manage to fit anything into their busy schedule?
It didn't feel that packed to Nacky, even though it was quite a whirlwind trip. Just having xiaolongbao was enough to satisfy Nacky for the trip. As for the tapioca milk tea, the sweet, springy tapioca was also many times more delicious than what you'd get in Japan, even if the milk tea was slightly sweet.
At Hong Kong, the five of them went for a massage. There were only four masseuses capable of giving oil massages, so Leader volunteered to get a lymph massage. Leader's shoulders were stiff, so forty out of the fifty minutes they spent were focused on her shoulders. The next day, poor Maimi even had muscle pains as a result of the massage. Didn't stop Nacky from laughing though.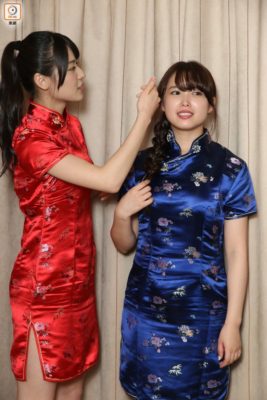 Next message comes from a listener who attended their April 9th Chiba concert. The cheers of the people around this listener made it difficult for them to hear the singing from the girls. Nevertheless, they enjoyed this rare opportunity to see ℃-ute in their neck of the woods. Nacky's sorry that this listener couldn't hear their singing, but is grateful that they enjoyed the show.
Nacky had asked for foreign drama recommendations, so the next letter recommends Sherlock to her. This piques Nacky's interest, so she'll be checking if it's on Hulu. She's watched a Sherlock Holmes story before, but probably a different one.
Nacky has actually been watching Japanese dramas on Hulu, such as 'Yutori desuga nanika' and 'Sekai Ichi Muzukashii Koi'. The former was on Mai's recommendation, while the latter stars Shimizu Fumika-chan, who Nacky worked with in SICKS. Another drama that she's into, even though she's only watched a single episode, stars Arashi's Ohno-san as a CEO who's awkward with women. Nacky finds Ohno-san's facial expressions impressive. She also caught 'Watashi, Kekkon dekinai janakute, shinain desu' when ℃-ute had oxtongue at a restaurant in Sendai, though that isn't on Hulu.
♫ Aiko – Atashi no Mukou ♫
Oyasumi Nacky
Nacky: 'We've entered the rainy season, so let's spend lots of time together under the same umbrella, ok.'