Kame has a message to read right away.
Fan mail #1: The listener poses a quiz for the hosts: in Okinawa, people may sometimes be heard saying "kameeee!" What does this mean?
Gaki-san has actually heard about this thanks to her visiting Okinawa quite often with her grandparents living there: it means "eat it!" Gaki-san proposes a scenario where, if the two were eating something in Okinawa, she might say to her co-host: "Kame, kameeeee!" Kame says she might take this as Gaki-san being really fond of her since she's calling her name so much. Gaki-san hopes Kame doesn't make the mistake of thinking such a thing.
Gaki-san: five-nk@interfm.jp
Kame: (singing)
Gaki-san: five-nk@interfm.jp
Kame: (singing)
Gaki-san: What is that, vocal training?
Kame: Yes.
Gaki-san: Do you have to do it while I'm trying to read the email address of the show?
Kame: That's the only time I can do it.
Song: Morning Musume – Nakidasu Kamo Shirenai yo
Fan mail #2: The listener — Miu-san — tells a story about how the other day their technologically-challenged mother was doing something on their phone when suddenly they called upon Miu-san to help them out with something. The mother wanted to know how to read aloud something that was on the screen, and that "something" turned out to be a smiley. Miu-san asks if the two hosts' mothers are more competent with their phones.
Gaki-san: So, how is your mother as far as this kind of stuff goes?
Kame: My mother isn't quite that bad. Please don't compare my mother and Miu-san's mother!
Gaki-san: Hey, that's rude towards Miu-san's mother! (laughs)
In any case, the two agree that the listener's mother is nothing if not cute. Kame's mom is a fan of using smileys herself — in fact, she'll sometimes answer Kame's emails with nothing but a single smiley. Kame takes some issue with this: in cases where Kame emails her mom saying something along the lines of "I'm going to head home now" and her mom just replies with nothing but a smiley, this can be sort of off-putting considering it was her mom who specifically asked Kame to email her in the first place. "That's being way too lazy," Kame complains. Gaki-san immediately interrupts her and says Kame is in no position to say that: she frequently does the exact same thing herself.
Gaki-san: The other day I emailed you and you just sent me this single emoticon in response! To make matters worse, it was this weird stick figure with its mouth open saying "…"
Kame: (laughs) But that was my first time ever using that smiley!
Gaki-san: I didn't want to be the first recipient of it.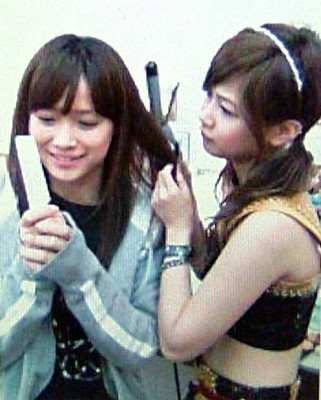 Fan mail #3: This listener was the winner and recipient of the third Risa☆Deco item (Risa☆Deco was something special where Gaki-san would give out hand-made items to randomly selected fan club members.) She just recently received it, and she wants to say thank you to Gaki-san.
Gaki-san is really into making these items as of late, and as there is obviously only one of each thing she makes, she does get curious about who gets them. Thus, she's happy to now know the destination of at least one of those items.
Fan mail #4: In reference to the lyrics of "Onna ga Medatte Naze Ikenai," the listener is curious to know how the hosts react if they're outside and a strong gust of wind happens to blow up their skirt. Do they mind it or not?
While Gaki-san recognizes that saying she wouldn't mind this the least bit might be the best thing to do in regards to the song and all, she's guessing most people wouldn't find this sort of unladylike behavior very agreeable. Kame, though, suggests that there might be something stylish, almost Marilyn Monroe-esque in just letting the wind do its thing and not worrying about it. Kame reveals that she actually was kind of like this back in her student days when she'd be wearing an extra pair of shorts under her school uniform. Nowadays, though, she can apparently feel the wind coming before it even arrives: "it's like I turn into a cyborg."
Song: Morning Musume – Namida ga Tomaranai Houkago
MY FIVE STARS
Gaki-Kame award five stars to whatever they're hooked on or interested in as of late
While Kame has been awarding her five stars to lots of particular foods or items as of late, today she's going to want to praise a certain atmosphere: the atmosphere at night before she goes to sleep. "I mean, rather than when waking up, everyone feels happy when they're going to sleep, right?" Plus, Kame loves to sleep and she's confident she's the most proficient sleeper in Morning Musume.
★★★★★
Gaki-san's recommendation: Rita-iota – Tokyo Dogs no Theme
Song: Morning Musume – Onna ga Medatte Naze Ikenai
Gaki-san: We're waiting for all your messages! Go ahead and ask us anything, such as "does Kame go into hibernation during the winter?" et cetera. Anything goes!