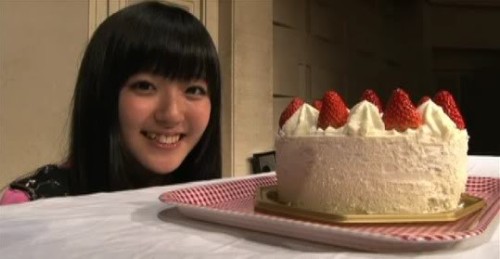 Airi starts off by explaining that this week and the next, she'll be hosting the special programme 'Pizza-La presents Pâtisserie Airi'. In French, a 'pâtisserie' is a shop that deals in sweets and cakes. So she'd like to deliver a sweet talk to everyone, as sweet as cake, and she'll do her best in her own way. It's the first time she's doing a radio programme by herself, without anyone else with her in the recording booth. She's half lonely, and half uneasy over whether or not she'll speak smoothly. Hopefully her words will get to everyone, as there are no subtitles when it comes to radio programmes.
♪ Buono! – My Alright Sky ♪
Solving your bitter worries in a refreshing way
Pâtissière Airi's sweet recipe
Airi reads out a letter from a female teacher, who teaches mathematics to 3rd year primary school students at a cram school. She found out that she's gotten a nickname from the students: Female pro teacher. The reason behind this – she resembles a female pro wrestler. 'Should I continue just teaching mathematics to the students with this nickname?'
Airi: Yo, female pro teacher.
Airi herself doesn't have a nickname, despite Suzuki being a common name in Japan (second most common, after Satou). It turns out that Airi went over well enough that it stuck. Tsunku♂-san once gave her the nickname 'Osuzu', but the Osuzu call never caught on with the fans at concerts.
Airi thinks that having a nickname isn't a bad thing – It'll make her memorable to her students. She suggests the listener build up on that nickname in the classroom, and make good memories for her students. Having a nickname should be something she should be happy about.
Airi: You know, like you could go 'dosukoi, dosukoi'… Wait, that's sumo.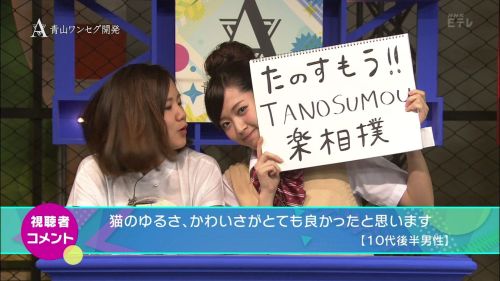 ♪ Music ♪
Discussion Topic: To Suzuki Airi, what are 'tears'?
The topic of tears immediately brings to mind the recent hiatus of her contemporaries, Berryz Kobo. When Berryz Kobo made their decision to enter a hiatus half a year ago, it was during the summer Hello! Cons. Before they announced it to anyone, they specifically went to see ℃-ute backstage and informed them directly. That incident really had her in tears. She doesn't normally cry, but she notes that ever since then, she's been crying more frequently. They were crying even at the rehearsals, feeling once again the roughly 12 and a half years of memories of their sole contemporaries.
And after that, all sorts of things happened that had her in tears. Another time she cried was at the last performance of the 2015 winter Hello! Cons, where they sang 'Ganbacchae' as BeriKyuu. As the Hello! Project Kids, Ganbacchae was the very first song that the fifteen Kids ever performed, and what's more, that very first performance had also been done on the stage of a Hello! Con. And so, the girls made a request to the staff – they wanted to sing 'Ganbacchae' at the very end. The girls received the staff's cooperation, and they performed it as the final encore. Even at the rehearsal, Airi had already started crying, so her face was a mess at the performance.
Next up would be the Berryz Kobo Matsuri at Ariake Coliseum. There, she performed as part of BeriKyuu as well as ℃-ute, but she highlights one other role in particular.
Airi: There, as Buono!, we stood on the stage. Though I understood that it wasn't the last, with Berryz Kobo entering their indefinite hiatus, we're in a situation where I have no idea when we'll meet again.
Also, the girls had decided on the setlist by themselves, and since it worked well with the flow, Tabidachi no Uta had been lined up as the last song. At the performance itself, Airi could feel the tears coming as the intro played. She held back, wanting to sing properly.
Then Tsugunaga-san came and looked at her with a really kind smile. 'That'll make me cry!' Airi thought, so she turned the other way, but alas, it was too late – the tears wouldn't stop flowing. Airi felt like she couldn't sing, but Momochi brought the mike to her mouth, and told her, 'Do your best. Sing.'
Once they were done with singing, the staff pointed out that she had been wailing a bit, something she hadn't noticed. But she really did cry, that's how much she treasured it.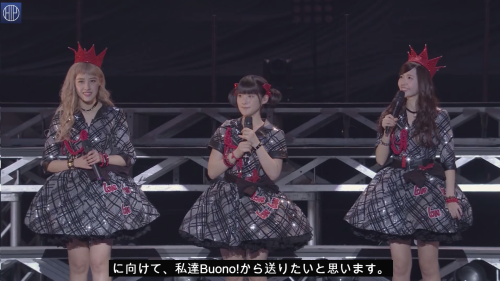 She starts comparing it to the sadness experienced at school graduation ceremonies, but concludes that it still felt different, it was a new feeling for her. But if all she does is continuously mentioning how sad she is, she can't move forward. Thus, she'll take her time, properly pick up from where Berryz Kobo have left off, and convey that to the juniors and the fans.
Fitting in with the theme of tears, she introduces the next song – 'Nakimushi Shounen' (Crybaby boy)
♪ Buono! – Nakimushi Shounen ♪
Talking about their recent releases, Airi comments that their new song 'The Middle Management ~Josei Chuukan Kanrishoku~' really highlights their position within the collective. Before, people used to comment on how small and how cute they were… and now, they've gotten to an age where they this song suits them.
Airi:  It'll be released on the 1st of April, and that isn't an April Fool's prank.