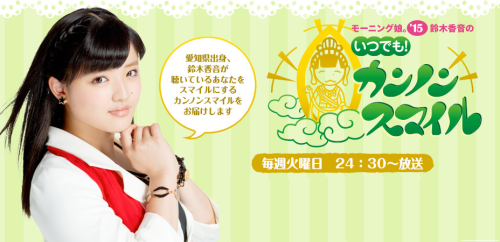 March is almost over, huh. That means its about time for graduation season and the new school year to start. Also, Kanon's sister is in 6th grade now. Kanon's sister has always been more serious about her studies than her and a proud moment of late she became the student council president! Apparently back in elementary school, Kanon tried for this position too, but didn't make it. Because Kanon loves her sister, she took her to Tokyo Disney Land as a congratulations.
Moving on, Kanon shares that she is entering her second year of high school and feels like everything in her life moving quickly. She doesn't know how long she will be in Morning Musume after she graduates, but she is going to treat every day with importance.
Song: Morning Musume '15 – Yuugure wa Ameagari
I, Suzuki Kanon Will Open Up To My True Feelings Message Corner!
Message 1: After the Osaka Hello! Concert everyone went out to get yakiniku. The writer asks for Kanon tell a story that wasn't shared about that day.
It was a super fun meal in Osaka, Kanon recalls. Because Morning Musume '15 is so large, the group had split up tables. Kanon sat with Iikubo Haruna, Ogata Haruna, Kudo Haruka, and Nonaka Miki. The 12th gen duo get along very well, Kanon thinks. It seemed like Miki hadn't really been to a proper yakiniku place, so Ogata was explained the process to Miki throughout the dinner. The five of them had a rambunctious, fun time teaching each other how to properly cook yakiniku, eating casually without the usually seniority hierarchy getting in the way.
Aside from that story, Katsuta Rina and Kanon are pretty goods friends so, at some point during the dinner Kanon went over to chat with Rina. When Kanon came over Rina responded positively with a "Oh I'm happy you came over!", however, Natsuyaki Miyabi happened to be at the table next the two. Miyabi started talking to Rina and the two ended up just talking to each other the whole time, making Kanon a little sad. She was hoping to talk to Rina for a little well but oh well, there's always next time.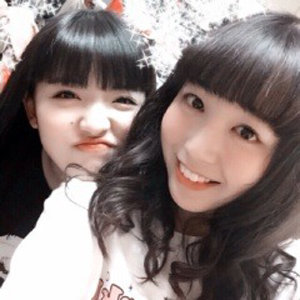 Jeez, way to ditch your friend, Rina.
Message 2: This listener first started listening to Morning Musume two years ago and has been a huge fan ever since. However, the upcoming (at the time) HinaFest will be the first concert they attend. They wonder if there is anything special they should prepare for if there is anything in particular they should purchase.
If they're traveling a long distance, buying light things would be a good idea. Kanon thinks about what would be good for a first time buyer and settles on the random photo grab thats only about 500 yen so its not too much of an investment, and a penlight so they can join in on all the cheering fun.
Message 3:  On a recent radio program Riho was asked to compared the 9th generation to family members. Riho compared Kanon to a grandmother. To keep that theme going, the writer asks Kanon what family member are each of of the 13 members most like?
For a bit, Kanon is puzzled as to why she was labeled as a grandmother. After questioning Riho's choice, Kanon goes ahead and starts deciding which role all of the members would be (I listed them in the order she chose):
Erina: The dad, because she works very hard and would be the type to really enjoy a day off.
Haruna: The mom, because she has a very kind atmosphere around her and it would be amusing to be scolded in an Osaka Dialect.
Mizuki: The big sister who is overwhelmingly kind, they type where you can feel her kindness.
 Haruka: The older brother because, well, Haruka is cool.
Akane: Naturally would be the little sister, as she is the baby.
Riho: A pet, due to her "do as she pleases" nature that can inconvenience others, but is cute anyway.
Haruna: Not a family member, but a school teacher. Kanon would like to see a stern Haruna.
Ayumi: The big sister who is consistently provides guidance for her siblings.
Masaki: The little sister who is troublesome and does as she pleases.
Sakura: A cousin who joins the family frequently.
Miki: The type of cousin who would ask you to speak English when you visit her house.
Maria: The sister who makes a big deal out of holidays.
And Kanon would be a big sister as well, she guesses. Although some members were harder than others, she had fun choosing roles for everyone.
Ambition to become that mayor of all cities!
The corner where it is Kanon's goal to receive letters from all around Japan. With each different city she receives a letter from she colors it in green.
This time, Kanon received postcards from, Yamagata in Gifu, Toyota in Aichi, Matsuzaka in Mie, and Tsuchiura in Ibaraki. However for the most part Kanon just reads the letters and says she would like to try going to those cities.  Also, the postcard from Toyota mention being the home of Kanon's beloved Sugakiya, so she gushes about the premier ramen again.
Two postcards, from the same sender, from Ogaki in Gifu and Taruichou in Aichi (they traveled to get different postage stamps) asks Kanon if she has all of the Hello! Project members names memorized and if she can recite them.
Kanon thinks this a mean request as she isn't the type to memorize numbers all that well. She does however successfully list off all of the current Morning Musume members birthdays. She asks the sender to not request such mean things, as Kanon thinks there is no way she could successfully list off ALL of the Hello! Project members birthdays.
Song: Country Girls – Koi Dorobo
Sexy Word: Miso Nikomi Udon
(The kanji she is holding up was a particularly difficult one she had a hard time reading from one of the postcards she received)