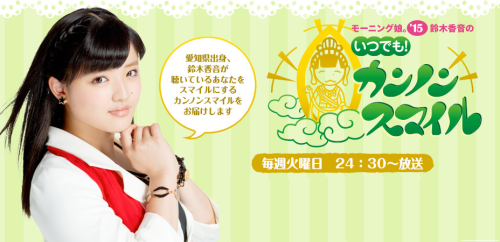 As most of us know, Kanon got the flu not too long ago. Because of this she wasn't able to perform in Nagoya for the Hello! Concert. Last time she got the flu before this was when she had just entered Morning Musume in 6th grade. She mentions writing on her blog that she hadn't been eating while she had a fever. She decides to expand on this by explaining that she does eats while she has a fever, however it takes significantly more effort as Kanon finds it difficult to hold chopsticks while she has one. The other problem is that she gets hungry and wants to eat, but then after she'll vomit, Kanon laughs. Apparently this would happen every hour sometimes. According to Kanon's experience this flu is a pretty nasty one that takes a while to recover from, so she hopes everyone will be able to avoid getting it entirely.
Changing the subject to something more pleasant, February 2nd was Makino Maria's birthday! She has just recently joined the group, but they are both from Aichi and have been able to discuss places and things about Aichi with ease. Kanon thinks that 14-year-old Maria will be a precious member to Kanon from here on out.
Song: Angerme – Taiki Bansei
I, Suzuki Kanon Will Open Up To My True Feelings Message Corner!
Watashi, Suzuki Kanon no Honto no Kimochi ga OPEN ni Nacchau Meseeji Corner!
Message 1: Morning Musume has a song called "Joshi Kashimashi Monogatari", right? It would be great to hear a Kanon version of the song that I have written. Wow! Please sing this version I wrote!
There hasn't been a new a version of Joshi Kashimashi Monogatari made for the new members since the spring 2012 concert, so she wants to try this version and gives its a go:
"Although I may have a chubby character, don't misjudge me~ With my Smile Beam, I'll make everyone smile~"
After singing, Kanon is very happy they were able to come up with a new version for her. Kanon likes the "Kanon Beam" idea the fans have created. Kanon starts to reminisce about her lines in  the 2012 concert version, but then the staff suddenly starts up the music and has her sing it:
"I passed the audition with my "parodies" and now I'm a fast companion~ It doesn't matter if my jokes are good or not, I'm going to do it my own way~"
"Ahh! Its been such a long time!" Kanon exclaims. Its been so long since singing her lines she was nervous she wouldn't remember it all. It would be great if there was a version for the 13-member line up and maybe it will happen soon, she hopes.
The Full 2012 Version
Message 2: Konbansumairu! Do you have any hobbies you really like? Please tell us!
Kanon reveals that she is kind of the type of person that doesn't have a ton of hobbies. She does like going to karaoke by herself. She often feels like she wants to go and then sing songs she likes by herself. She also likes watching videos on her phone and sending them to other members. Its a good way to kill time and if the videos are good she'll get a positive response from them. November 11th is Pocky day and Kanon watched many videos about it. She sent some of them to Haruna and Haruka and the best one's resulted in them having a "Gyaaa!" response. For Kanon, its a fun way for her to mess around when she has the time.
Message 3: Zukki-chan, Konbanwa! During Lilium rehearsals, Riho-chan had a lot of songs to remember so she didn't take many breaks to eat. I was very moved when I heard that you brought Riho-chan her beloved Mentaiko Nigiri one day. On Riho's radio show, she has said that the sushi had made her so happy she was brought to tears. I was wondering what Kanon thought about that. Did you really help her out? Thats too cool of you.
Its real! During Lilium they had to practice about 15 songs and it was also the first time they had to make a recording of a musical. Besides remembering all the songs, they had Morning Musume's regular schedule as well; they were on tour and had special events as it was during Golden Week. It was a troubling time for all of them; Kanon often thought "I have to learn everything quickly!", however Riho had a lot more stuff to remember than everyone so Riho would act like she had to do her best with the songs constantly and say things like "Ah I won't have time to eat,". At some point, Kanon heard her say that so she went to the convenience store and bought her onigiri and ice cream for her; according to Kanon she was really just trying to help Riho do her best. Riho wanted to pay her back, but Kanon told her it was fine. So, yes, the story is true, although Kanon doesn't think it was cool for her to do that for Riho.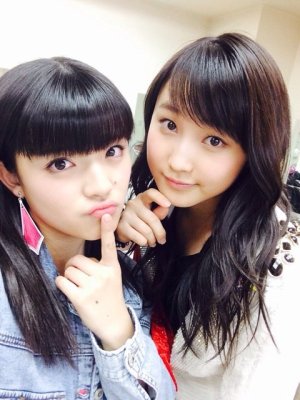 Saving Riho from starvation, no big deal.
Message 4: I have a test for you! You have to purchase presents for each Morning Musume member and gift wrap them one by one with ribbon. Who's present would get wrapped last? Also, please tell us what color you ribbon you would use.
Kanon thinks for a while about how she would go about wrapping the presents. After a bit, she thinks she would want to wrap them lovingly and decides that the last present she would wrap would probably be for Haga Akane because she is the youngest. As far as ribbon…Kanon thinks that maybe yellow is the most Haga-like.
She then reads her choice means, which apparently is "The last person you would give the present to is the person you have the most feelings for". To which Kanon responds with a "What did I do!?" and apologizes to Haga-chan for getting her wrapped up in this silliness. She then looks at the ribbon color meaning, which reveals how the person she picked and Kanon communicate. Apparently yellow means "you have fun talking with them and they are the type of person who can talk and forget about time passing,". Kanon is a bit surprised and says "Oohh, Haga-chan has that type of feeling!". Kanon hasn't talked much with Haga-chan yet, to be honest, she thinks she has only has had one real conversation with her. Since this test thinks that they have a high compatibility, she'll try talking with Haga-chan more, Kanon decides.
Song: Morning Musume – Joshi Kashimashi Monogatari
Michishige-san ga yatteita Konusa-pi kara no Hikitsugi Corner
Inheriting Michishige-san's Konusa-pi Corner
A corner where the fans help Morning Musume come up with their own characters for the new Morning Musume '15 and to move past Michishige's eternal cuteness Essentially.
Idea 1: You now have someone who is especially good at speaking English and Japanese perhaps they could speak in broken language (both Japanese and English?), Nonaka Miki.
Hm, Kanon doesn't think that it suits Nonaka Miki, though. But, she is VERY good at speaking English. From age 2-8 she lived in America, so naturally her English speaking level is high. And, it can be surprising to some that she has such skilled fluency in both English and Japanese. Kanon has been learning English since 2nd grade, but has always thought it was difficult, especially medical equipments names, which are difficult in Japanese to begin with. For Morning Musume '15, Kanon thinks that Nonaka's abilities will be a wonderful thing for the group.

Idea 2: The really bright type of girl who is carefree but doesn't show it in front of her Senpai, Haga Akane.
Kanon thinks Akane-chan probably hasn't quite opened up yet to her Senpai. However, Kanon thinks Haga-chan is pretty hardworking and is actually pretty calming. She seems like she could become a bright character, not that anyone can confirm if this true or not as of yet. Erina actually asked "Is Haga for real?" because of her general calming nature. She hasn't shown off a carefree side yet either, but Kanon thinks we'll probably see her character blossoming soon.
Idea 3: The Figure skating 12th generation member, Ogata Haruna, whose intensity would make her seem kind of lame Morning Musume, like Erina and Ayumi.
As far as Erina goes, when new members join she would ask like "who is the nicest Senpai?" "Which senpai do you admire?' and would ask a lot of those questions. Erina would ask that to Oda Sakura a lot when she joined and she would answer "Ikuta Erina,". But, with the 12th generation members they had been warned that Erina might do that, so surely, Ogata-chan won't trail down the same path entirely. Erina and Ayumi can sometimes seem lame with their delivery (on jokes and what not), but Ogata-chan is from Osaka and the way she talks naturally make it seem like that wouldn't happen.
Idea 4: Normal as always, but not always on time, Oda Sakura
This like Sakura-chan a lot. She's good at singing and would have to be at many places to be, but seems to often be the last one to arrive. Other members will ask "Sakura isn't here yet?". Also, Kanon and Sakura will go on "curry dates" Sakura-chan will sing "lets dance!" during their dinner will actually start dancing, even though its embarrassing for everyone involved. These two anecdotes I think show that Sakura will be herself in any situation.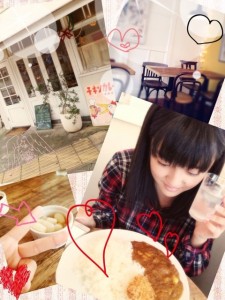 A Favorite Pastime of Two: Curry Dates!
Idea 5: Upon losing their wallet, would get mad at the other members and would try to get them to buy and lend her their own wallet, Satou Masaki.
This is very close. Although she probably wouldn't make others buy things for her, the overall character is correct. Before rehearsals the teacher will let everyone prepare for the lesson, but Maachan doesn't seem to ever properly prepare for the lesson. Perhaps because she's in middle school she seems to not have a concept of time, Kanon wonders. While the older members will prepare for the lesson properly, she will often ask Sakura-chan "Hey, how is the choreography supposed to be here?" and it will seem like she is the only one who didn't prepare. Maachan overall has a "Ah I have to see you do it" character and its to the point where everyone just thinks "Ah, whatever,".
Song: Morning Musume- Suki na Senpai
At the end of the episode, Kanon reveals that she got a small present for completing ten episodes of the radio show. It is a small pin that has a buddha on it.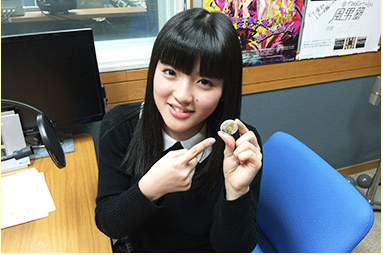 Otsukanon!